Oakland Raiders: Chaz Schilens Still Has a Lot to Offer
November 23, 2011
Tim Umphrey/Getty Images
In the 2008 NFL Draft, arguably the biggest pick of RECENT Oakland Raiders history was made when Darren McFadden was brought into the Raider Nation.
Also in that draft, Tyvon Branch, Arman Shields and Trevor Scott were introduced to the Silver and Black.
Oh.. and Chaz Schilens too.
Chaz Schilens was an interesting pick in the 7th Round as his draft combine information is impressive, very impressive at that. With first glance, his physical stature, his 40 yard dash time and vertical leap is very similar to Megatron's, only difference is; Megatron has an inch in height and 15 to 20 pound weight advantage.
Chaz Schilens stands an imposing 6'4" and weighs roughly 225 pounds these days. He ran his 40 in 4.38 seconds and had  43'' vertical leap.
Impressed?
Now factoring in the injuries that Chaz has suffered since his debut in 2008, there has to be a decline in those numbers. However, he still has an amazing set of hands, something that followed him from his days in San Diego State.
For the most part, though, Chaz has a problem staying healthy. Every season, high hopes are set for this man, but it does not translate well once the season begins due to injury.
In the 2011 preseason though, Chaz Schilens, for the first time in a while was injury-free and showed some life, but as the season begun, he was bit again.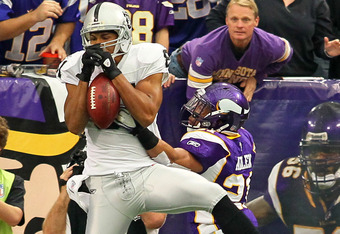 Adam Bettcher/Getty Images
Injuries aside, Chaz Schilens has a lot to offer the Oakland Raiders. His size alone is impressive, his speed and route running (as mentioned) might of taken a little hit from the operations, but nothing that should slow him down to the point where he can not get into open space.
When healthy Chaz SHOULD be used as a red-zone threat. Most cornerbacks in the NFL will attempt to bump a receiver off the line or before the five yard grace, but most cornerbacks are just a swim move away from being left in dust for Chaz to get past. He should be given the chance to make the same 'jump-ball' fades that Calvin Johnson has made famous recently, a man with a 43'' vertical that stands 6'4" must have great arm length that will be 6 points when the ball is delivered correctly.
A lot of fans within Raider Nation called for Chaz' head due to injuries, but the man bleeds Silver and Black. He will not hesitate to take a step away from his usual humble self to throw a vicious verbal beat-down towards a certain ex-Buccaneer that showed up in Oakland one day and played solely for cash.
Yeah; you Warren Sapp.
Many can question why Chaz can't stay healthy, but everyone's body is different. What matters is, when Chaz can contribute, flashes of brilliance shows. The touchdown he had against the Minnesota Vikings in Week 11?
Simply beautiful.
The catch-and-go TD against Houston?
Excellent show of smarts and determination.
Just like fellow 2008 draftee- Darren McFadden, Chaz Schilens is prone to injury and there is nothing he can do to change that. Chaz is a great player to have, and this season he has only missed one game (through research I did) due to injury, the rest of the time he did not play was due to 'packaging differences' he had in Hue Jackson/Al Saunders offense.
Maybe Chaz and Megatron have similarities, but Megatron just exploded and is on a whole other level. What doesn't change is Chaz' attitude which always is 'Raiders First.' He never complained about wanting a new contract or about playing time.
He is a true Raider, a warrior.. a no-nonsense young man from California.
This season, Chaz has scored two crucial touchdowns- both of which allowed Oakland to eventually pick up the victory. It would be scary to see a completely healthy Chaz Schilens all season, and who knows? Maybe this year showed he can keep himself good? Maybe next year, he'll play the whole season?
At the end of the day, Chaz has a low-scale rookie contract that is up in 2012. Bringing him back will not hurt the team, either financially or morally. Many said this is a make or break season for him, he might not have a lot of receptions, but he scores when given a shot either in the red-zone or near it.
Chaz Schilens has a lot to offer the Oakland Raiders; what was seen against Minnesota and Houston is just the tip of the iceberg; keep Chaz around and he will continue to produce as a Raider.
Let him go? We might pay for it. Miami probably wishes they held onto Wes Welker.
Go #81, bring some pride to that number like Tim Brown did before he retired.
Do it for Al, the one who believed in you.