The 50 Funniest Sports Signs of All Time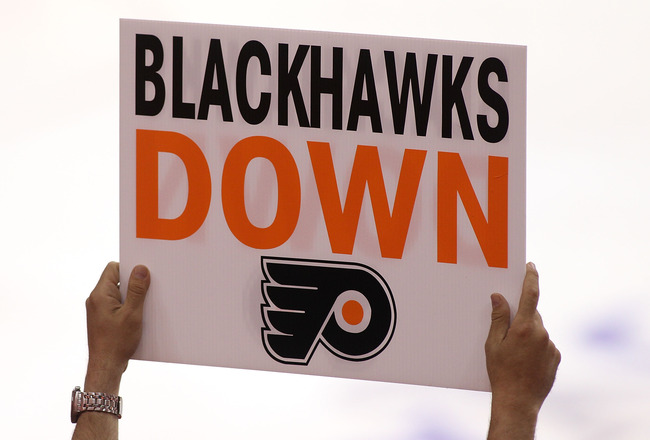 Andre Ringuette/Getty Images
Signs, signs, everywhere are signs.
The sign is the one chance a fan has of getting on television to display their clever—and occasionally even poignant—perspective on their team, the opponent or the referees.
Most times, these signs admittedly suck pretty badly. But every so often, a camera crew or photographer will capture an absolutely hilarious sign. On this slideshow, we honor the sage, snarky and sometimes silly signage that has been documented throughout the years.
Enjoy.
50. Magic Isn't Real...Duh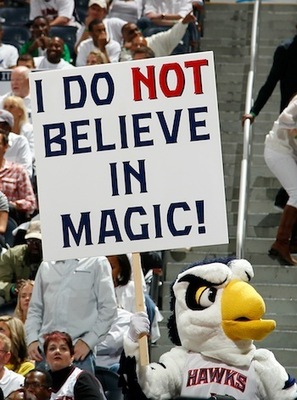 Simple yet effective. And appropriate, as the Atlanta Hawks eliminated the Orlando Magic from the NBA playoffs last year.
49. Don't Take His Advice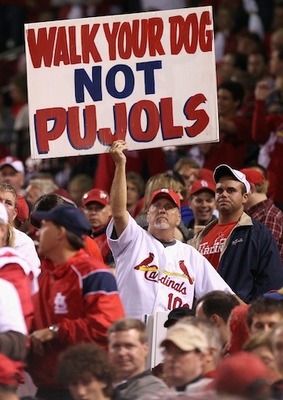 Yes, you should walk your dog. Yes, you should also walk Albert Pujols with an open base and runners in scoring position.
48. Twins Fans for the Win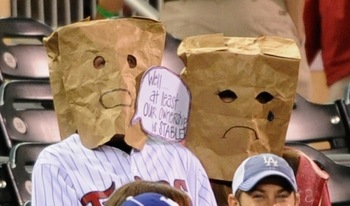 The Twins pretty much sucked this year. But as these fans reminded the Dodger faithful when the two teams met in interleague play this June, we're all thankful our teams didn't have to deal with Frank McCourt.
47. Double the Fun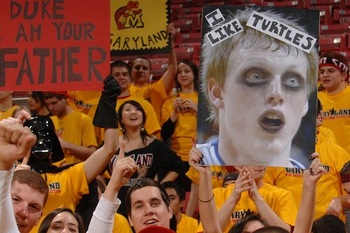 We've got two solid signs going on in this one.
1. Duke...I am your father.
2. To understand this one, you need to understand three things. First, they are known as the Maryland Terrapins, hence the turtle reference. Secondly, I believe that is a picture of Kyle Singler. And finally, the joke comes from his apparent resemblance to this kid.
Good work, Maryland fans.
46. It's True
Neither are Fresno, Alcorn, Kent or Sam Houston, for that matter.
45. The Classic Mastercard Theme...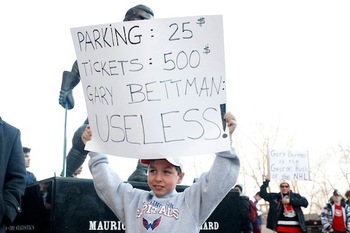 ...With an accurate twist this time around, however.
44. What Can Braun Do for You?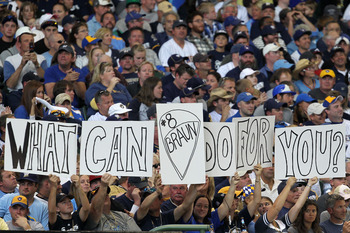 Jonathan Daniel/Getty Images
43. Got Steroids?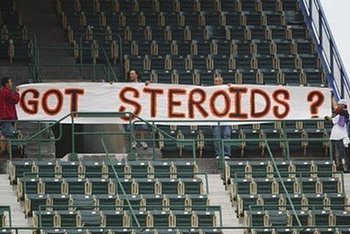 And baseball's all like, "Yeah, we've got steroids. It was fun while it lasted."
42. Oh, Dear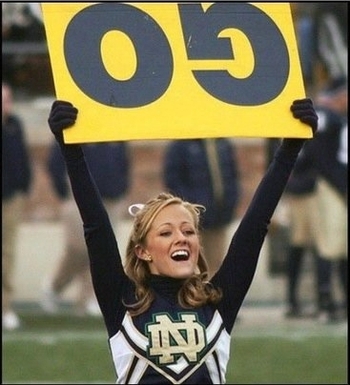 This shouldn't be a funny sign, but—bless her heart—she's a little confused here, isn't she?
41. Texxxting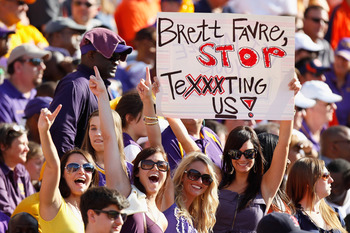 Kevin C. Cox/Getty Images
OK, OK, so the sign itself isn't that clever.
But I had my reasons for including it nonetheless.
40. Bite Me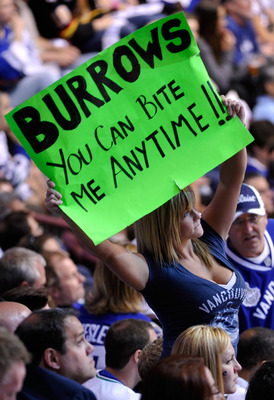 Rich Lam/Getty Images
39. Priorities Are Vital to a Healthy Relationship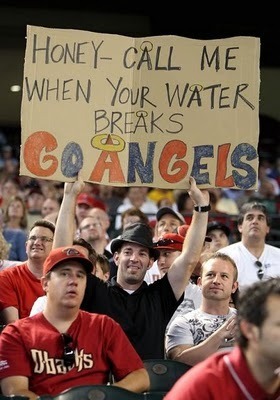 She, of course, made her own sign that she put up on a locked bedroom door: Don't even try to sleep in this bed with me. I put some sheets on the couch.
38. Only Funny If It's Ironic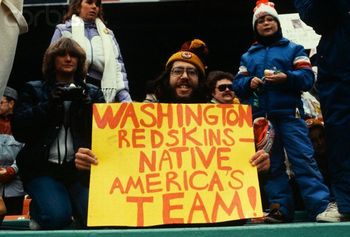 Let's just pretend it's ironic, OK you guys?
It's so much less depressing that way.
37. Kitten Mittens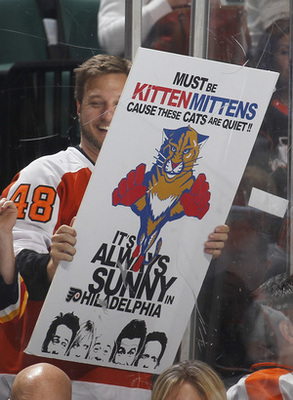 36. That's More Like It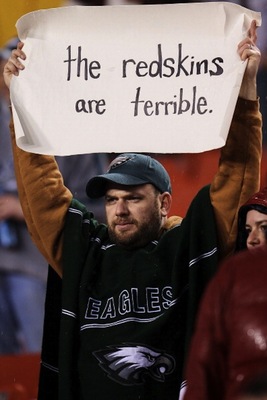 Sometimes, being forthright is the surest way to be funny.
35. A Boise State Fan Gets It Right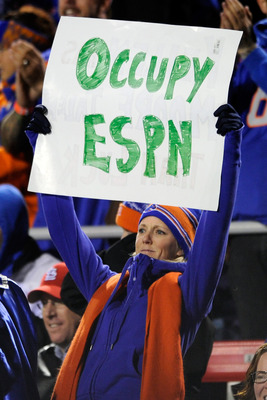 Ethan Miller/Getty Images
In sports, ESPN truly is the one percent.
And we've covered the extent of the political commentary you'll find on this slideshow. Let's move on.
34. Ashamed to Be a Fan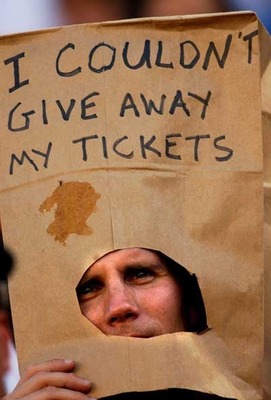 When you've reached this point, you finally know what it feels like to be a fan in Cleveland. Or Seattle. Or a Cubs fan.
Or until 2008, a Philadelphia fan. I feel for you, guys.
33. We're Moving On, NBA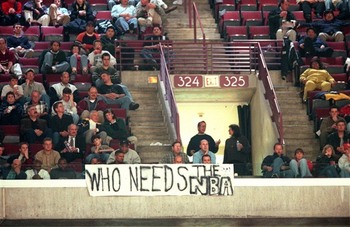 Sure, once football season ends, we'll realize just how much we need you.
But until then, we're totes over you, NBA.
32. Old Man Pierce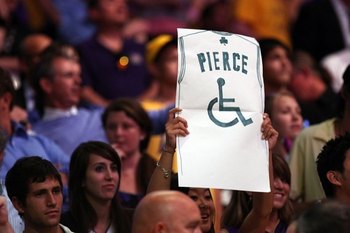 It could be worse. He could be a character from Shrek.
31. See What I Mean?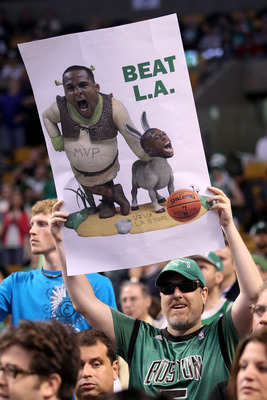 Ronald Martinez/Getty Images
This means that Rajon Rondo is Puss in Boots, doesn't it?
I'm OK with that.
30. That's Just Mean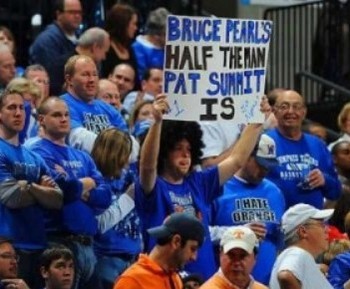 I feel bad including this given Pat Summitt's current medical condition.
But I'm not going to lie—at the time, I probably would have snickered after seeing this one. Mostly because I don't care for Bruce Pearl, but...yeah, mostly because I don't care for Bruce Pearl.
29. I'd Rather See Clay's Sack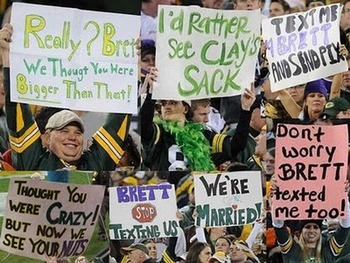 The clear winner of this "Hey you guys, Brett Favre sexted!" montage was the incorporation of Clay Matthews.
Well done.
28. Ole, Ole Ole Ole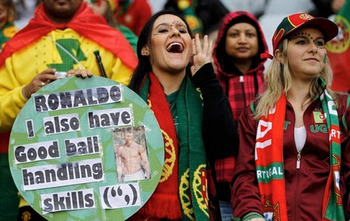 You aren't supposed to use your hands in soccer, honey.
27. He Might Be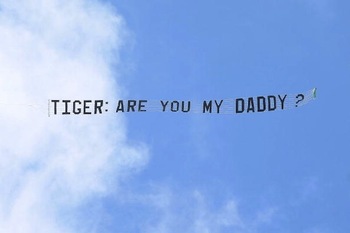 The most hilarious thing about this sign is the great lengths somebody went to make this joke.
Sure, I could make a basic sign, but what if I paid to have somebody fly this message up in the air?
Yeah, let's do that.
26. Commitment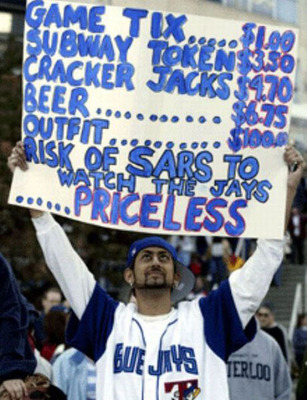 I'm not sure watching the Blue Jays at the risk of SARS is priceless, but I'm entertained by the reference nonetheless.
25. West Virginia Fans Might Not Want to Talk...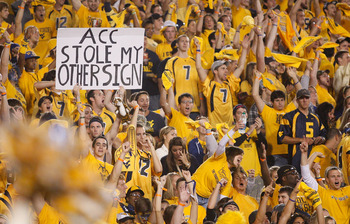 Jared Wickerham/Getty Images
24. To Be a Phillies Fan
Anytime you can incorporate Thomas Edison into your sign, you've probably got a winner.
Which is obviously the only winning that was going on in Philadelphia on this evening.
23. Spelling Is Hard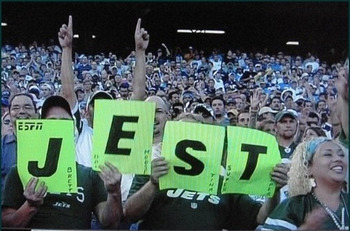 Either that, or they were calling another one of Rex Ryan's, "We're going to win the Super Bowl this year" bluffs.
22. Do We Have to Travel to Toronto for Them Though?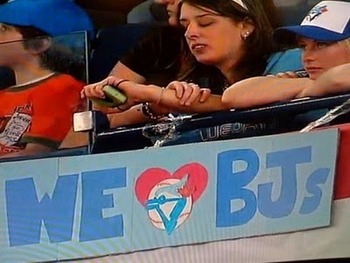 Oh, it stands for Blue Jays...I got confused there for a second.
21. The Inevitable Sequel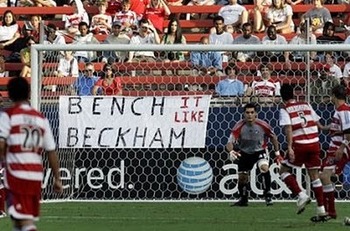 This one pretty much speaks for itself.
20. That's One Way to Get on Television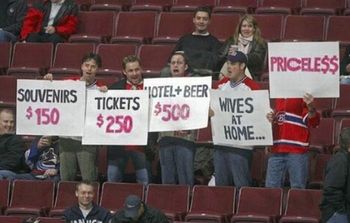 "Aw look, the guys got on television...and they made signs." Wow, they must think they are sooooo funny, huh ladies?
19. Poppa Wade and Baby Bron-Bron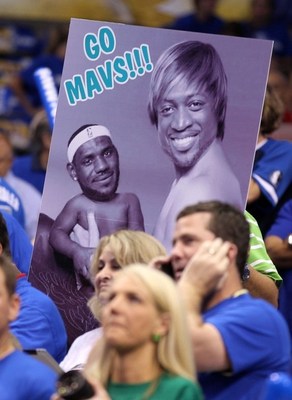 That is such a disturbing and amazing sign, all at once.
Thank you, to whoever made it.
18. No Insult Is Too Low in a Rivalry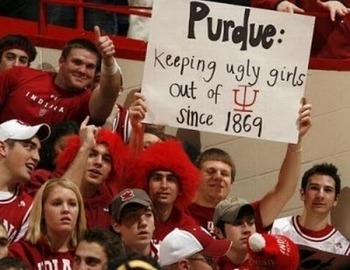 And then Indiana fans were all like, "Purdue? More like Poordue. Hahahahaha."
Alcohol plus fandom generally equals bad jokes that everyone laughs way too hard at.
17. And Now for the Refs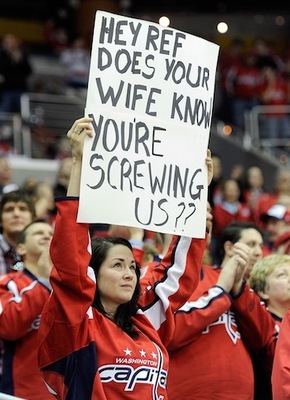 Nobody likes refs.
And that's the way we like it.
16. The Classic Eye Test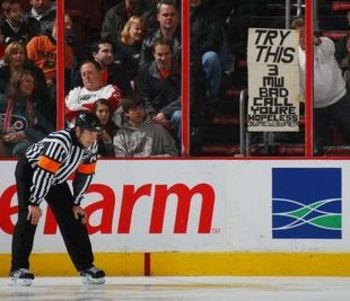 Which is clearer? Number one or number two?
15. We're All Thinking It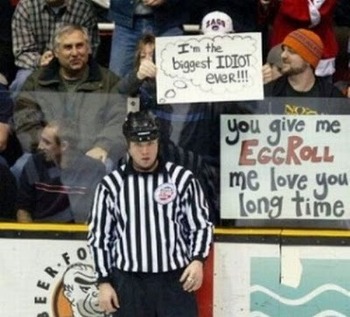 Even the refs know it's true.
14. Stepping Up the Ref-Insulting Game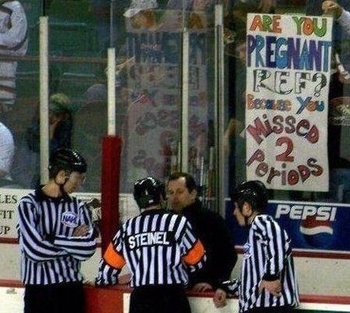 Corresponding sign: Hey ref, why don't you kiss me before you [expletive removed] me?
Referees are the worst, am I right?

13. Cam Newton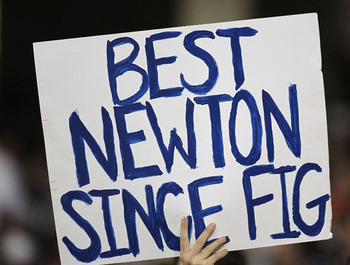 Mike Zarrilli / Getty Images / January 24, 2011
I would have gone with "Best Newton Since Isaac," though that wouldn't have been nearly as funny.
The best Newton is not necessarily the most entertaining one.
12. Gross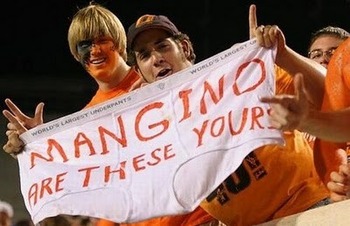 My coats are smaller than that.
Disturbing.
11. Frostbite Trumps Suffering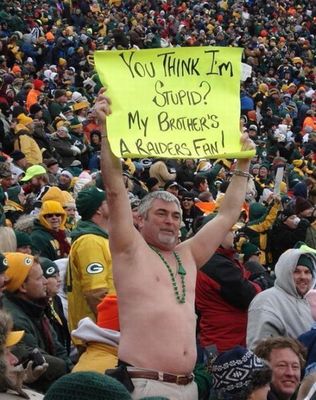 It's "Just Win, Baby" versus "Just Freeze, Baby."
And somehow, "Just Freeze, Baby" does seem like the more appealing choice.
10. Tit for Tat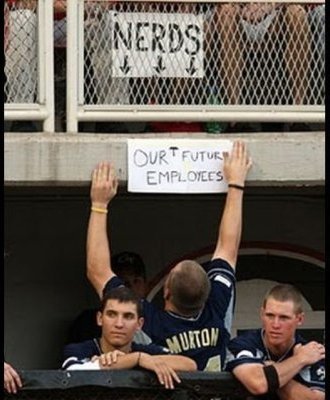 Fans aren't the only ones capable of sharing their feelings via signage.
9. Pau "The Llama" Gasol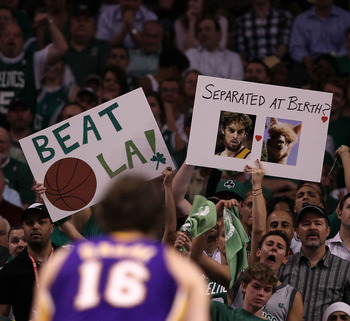 Elsa/Getty Images
The answer to that question is yes, by the way.
8. Blackhawks Down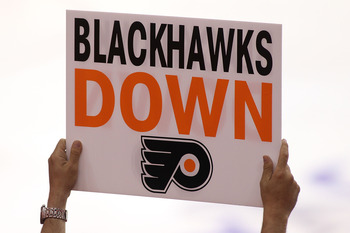 Andre Ringuette/Getty Images
This sign from the 2010 Stanley Cup Finals between the Flyers and Blackhawks was not accurate.
It was clever, however.
7. Poor Cleveland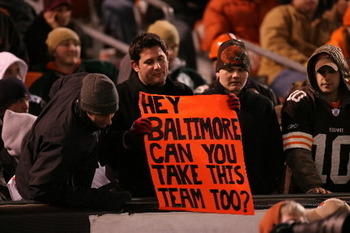 I'm sure in a few years there will be signs at Cavs games begging Miami to take a few Cavs' players as well.
6. Stadium Intruder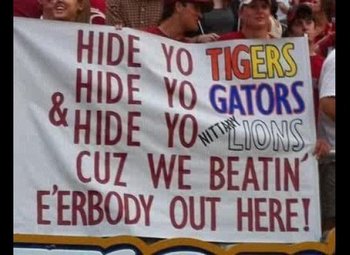 5. Sign Warfare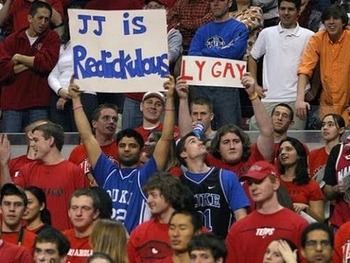 And that, ladies and gentlemen, is the best retaliatory sign ever. (Not that I'm condoning calling somebody "gay" as an insult—but for a college kid at a basketball game who was more than likely drunk, it's the effort that counts.)
And Duke likes to think it has the clever fans. Pssh.
4. Duke Fans Regain Their Swagger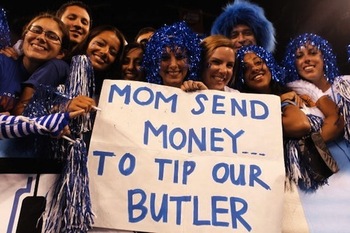 Now that's the sort of clever and derisive sign we've come to expect from Duke. And when it comes in the national championship, you definitely get bonus points.
3. Joe Cox Approves This Message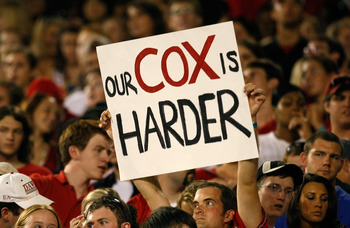 Kevin C. Cox/Getty Images
Georgia's quarterback Joe Cox finished strong in this 2009 game against South Carolina, as the Bulldogs beat the Gamecocks 41-37.
2. San Diego State with Some Real Talk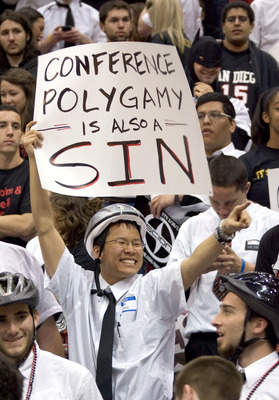 Kent Horner/Getty Images
First off, this San Diego State fan was dressed that way for a reason—to mock BYU when his Aztecs faced them in a basketball game last year, of course. From SignOnSanDiego.com:
"The Show" student section has been scheming for months as the debate has raged over whether a line of decorum should or does exist. A year ago, dozens of students wore short-sleeved white dress shirts, ties and bike helmets to mock Mormon missionaries.
So far as I can tell, BYU is in two different conferences—the West Coast Conference and the Mountain Pacific Sports Federation—along with being independent in football.
At least for now, the Big East is making a hard push to add BYU to the conference.
1. Truth

In case this is too small to read, it says the following: "Ruth did it on hotdogs and beer. Aaron did it with class. How did YOU do it?"
What do you say to that, Barry?
My name is Timothy Rapp, and I put the "grrrr" in Swagger.
Keep Reading