Chris Ogbonnaya: Is the Cleveland Browns RB Actually Good?
November 22, 2011
Matt Sullivan/Getty Images
On the list of topics I expected to be writing about five weeks ago, let alone at the beginning of the season, an evaluation of whether or Chris Ogbonnaya is actually a good running back would not be very high on the list.
Let's just say it how it is. Ogbonnaya was picked up off the scrap heap when the Browns needed another running back due to injuries. Were it not for both the Brandon Jackson injury in preseason and then the Peyton Hillis hamstring issues, Ogbonnaya would still be on Houston's practice squad.
However, as fate/fortune/destiny/providence would have it, Ogbonnaya got his shot with the lowly Browns getting the start at running back for the last three weeks.
After an unimpressive (to say the least) performance against his former team when he racked up 28 yards on 13 carries (that's a 2.2-yard average if you're scoring at home) there was little doubt why this guy hadn't really caught on with any NFL teams in his third year out of college at Texas.
But after the last two weeks one could make the case that Ogbonnaya has been the Browns best offensive player.
After going for 90 yards on 19 carries (4.7 yards per carry) against St. Louis, he totaled 115 yards on 21 carries (5.5 YPC) and a touchdown against Jacksonville, out-gaining Maurice Jones-Drew in the process. He also added an oddly identical two catches for 19 yards in both games.
OK, stats are fun to look at, but they don't tell the whole story. Is Ogbonnaya a better RB than Jones-Drew? Heck no.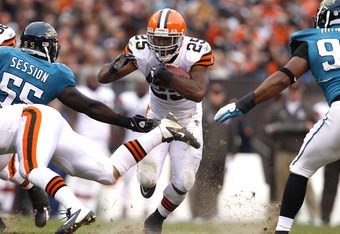 Matt Sullivan/Getty Images
A better question, however, might be: Is Ogbonnaya the best RB on the Browns?
From what I've seen so far this year, yes.
He's blowing away the competition in terms of yards per attempt:
Ogbonnaya, 4.3
Hillis, 3.5
Montario Hardesty, 3.3
Thomas Clayton, 1.5 (not really sure why I even included him in the discussion)
But the most important thing to me is the eye-ball test.
Chris Ogbonnaya looked good running the football Sunday. He made a couple really nice cut-backs, showed patience in allowing holes to develop and then hit them hard with pretty impressive quickness.
He's had runs of 40 and 32 yards in the last two games.
All this is enough to get me excited about the possibilities with the Browns running game and help me to forget about the two guys in hoodies and sweats they keep showing all game long on my TV. (We get it—they're injured.)
However, before I get too carried, let me remind Browns Nation about a few recent running backs who showed flashes of "greatness" but failed to sustain anything impressive.
Don't forget about the preseason All-Stars James Davis and Armond Smith.
Also don't forget Chris Jennings, Cleveland Brown record-holder Jerome Harrison, or—ahem—Peyton Hillis.
So, before we all rush out and buy our No. 25 Chris Ogbonnaya jerseys, just remember that it might not last. Maybe not even through this weekend.
Eh...screw that.
CHRIS OGBONNAYA! BROWNS SAVIOR!
Believeland.
You can follow Benjamin Flack on Twitter @ClevelandFlack.