Duke Basketball: Blue Devils on Track to Snag Another Title at Maui Invitational
November 21, 2011
Streeter Lecka/Getty Images
No. 6 Duke has won the Maui Invitational each of the previous times it's played in it, and there's little reason to believe that Mike Krzyzewski's kids won't dribble and shoot their way to a fifth title in the Hawaiian islands this week.
Doing so won't be easy for the Blue Devils, not amidst arguably the most loaded field in the tournament's history. Duke will tip off its latest run against Tennessee, still getting its act together after firing Bruce Pearl and bringing on Cuonzo Martin in his place.
The Volunteers still sport a solid contingent of talent, though they'll be hard-pressed to match up with the likes of Austin Rivers, Seth Curry, Ryan Kelly and the high-flying Plumlee brothers.
Beyond the Vols, the Dukies will have to contend with the likes of Michigan, Georgetown, Kansas and/or UCLA on the way to another Thanksgiving prize. The 15th-ranked Wolverines have already walloped No. 8 Memphis, 73-61, behind the talented trio of Tim Hardaway Jr., Trey Burke and Zack Novak.
If anyone knows how to handle Coach K's patented press, it's the Wolverines, who play a 1-3-1 scheme of their own under head coach John Beilein.
The Hoyas are probably too young and inexperienced to win three games in three days, with 10 freshmen and sophomores on their roster, but don't think John Thompson III won't find a way to feature Jason Clark and Hollis Thompson early and often if Georgetown sneaks its way into the final.
The biggest threat to Duke's supremacy on the Valley Isle, though, lies with No. 14 Kansas. The Jayhawks lost a ton of talent from last year's Elite Eight squad, but the athleticism and scoring prowess of Tyshawn Taylor and Thomas Robinson figures to give the Blue Devils' defense fits in a potential championship matchup.
The Blue Devils are themselves in a state of flux following the early departure of Kyrie Irving and the graduations of Kyle Singler and Nolan Smith. Curry, Kelly and the Plumlees provide Coach K a nice nucleus of experienced returnees around which to build, though the difference between Duke being merely good and great rests on the shoulders of Rivers, the freshman phenom.
The invitational will be a big proving ground for Doc Rivers' son, who—win or lose, success or failure—will learn plenty from playing in a far-away land against top-quality competition and, ultimately, will be better for it.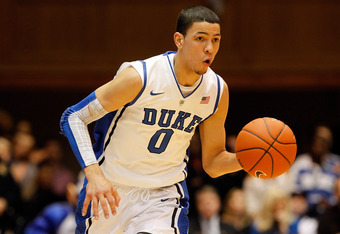 Streeter Lecka/Getty Images
That sort of growth is and should be the ultimate goal for Duke. Sure, the extra hardware is nice, but for the Blue Devils, the real value of the Maui Invitational lies in the opportunity it provides a young-but-talented team to measure itself against quality competition.
Just as it has for two of the last three NCAA Men's Basketball Tournament champions—UConn last year and North Carolina in 2008.
Duke may not look like a national champion just yet, but few teams at this point ever do, though the cauldron in Hawaii that lies ahead should help Coach K to forge a more perfect union between his current crop of players and the title chase that lies ahead.