Kevin Kolb Injury: Updates on Cardinals Star's Week 12 Status and Fantasy Value
November 21, 2011
Rob Carr/Getty Images
The news is not promising for Kevin Kolb.
The Arizona Cardinals franchise QB has missed the last three weeks with a turf toe injury that forced John Skelton into action.
The Cards are a surprising 2-1 since Kolb went down, which is impressive considering they were 1-6 with him.
UPDATE: Sunday, Nov. 27, 12:01 p.m. ET by Donald Wood
Kevin Kolb looks like he won't be starting today for the Arizona Cardinals against the St. Louis Rams. The turf toe injury he sustained will be keeping out his third straight game.
ESPN NFL Insider Adam Schefter is reporting on twitter about Kolb's status: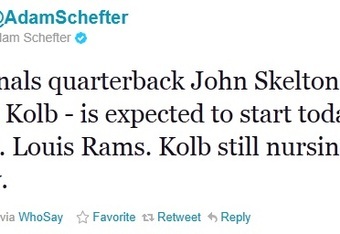 While Skelton has looked solid at times, the skittish quarterback can also throw three interceptions and less than 100 yards like he did last week. That would be bad in the fantasy world.
Update: Monday Nov. 21, 3:30 P.M. EST  
Head coach Ken Wisenhunt doesn't sound thrilled with the progress of Kolb as the Arizona Republic's Kent Somers reports: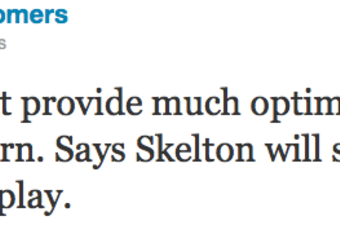 It doesn't look good at this point. In his Monday press conference, Wisenhunt said Kolb "wasn't close" to playing against the San Francisco 49ers.
Fantasy Impact:
Very minimal. If you are relying on Kolb to be a big contributor for your fantasy team you have some serious issues.
Kolb isn't worth starting when he's healthy, and he certainly isn't a viable option right now.
I'd take Matt Moore over Kolb right now. I hope you don't own Kolb, but if you do, get rid of him right away.
What They're Saying:
It sounds like Kolb isn't responding well to the training sessions he is completing during the week. Reporter Craig Morgan of CBS Sports was able to catch up with Kolb: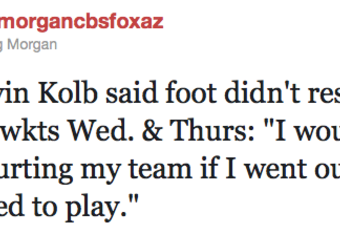 The outlook doesn't sound promising, and the urgency isn't there considering the Cardinals are waffling away in third place in the horrific NFC West. Kolb and the Cards are going nowhere, so the need to rush him back isn't there.
Kolb will likely play again this season, but it doesn't sound like it will be on Sunday against the St. Louis Rams.