MLS Cup 2011 Final: David Beckham Caps American Mission with Triumph for Galaxy
November 21, 2011
Jeff Gross/Getty Images
It took five long, grueling and often controversial years, but in the end, David Beckham did right by the LA Galaxy, the MLS and the sport of soccer in America by delivering a trophy to the team that brought the world's most famous athlete across the pond.
Beckham didn't do himself many favors in the process, nor did he accomplish those goals by himself. He struggled through all manner of injuries, took lengthy sabbaticals to Europe to play with AC Milan in Italy and, at times, feuded with Landon Donovan, his teammate with the Galaxy and America's favorite soccer son.
All of which left growing legions of footy fans in LA and across the union resenting Becks for seemingly taking the money and, well, not running. In their eyes, he had accepted a $32.5 million deal—by far the largest in US soccer history—along with millions more in endorsements in bad faith, choosing to leave Europe more for the money than for the opportunity to grow the game in the most sports-crazed nation on the planet.
Of course, Beckham's charge was never to lift the game all by his lonesome self and, in fact, he didn't. His mere presence lent the fledgling MLS a huge boost in credibility. It planted a seed in the minds of some of Europe's biggest stars, a seed that said, "If it's good enough for Becks, then maybe it's good enough for me."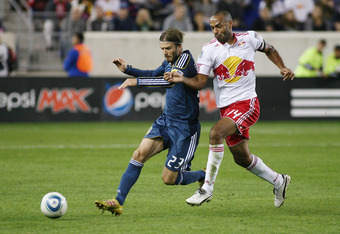 Andy Marlin/Getty Images
That was enough to draw the likes of Thierry Henry, Rafael Marquez and Robbie Keane—guys with plenty left in the tank, much more than a hobbled Pele had when he joined the New York Cosmos of the North American Soccer League in 1975—to play stateside.
Getting Beckham and Henry on the field together in the Western Conference semifinals between the Galaxy and the New York Red Bulls wasn't just a pleasant rekindling of their professional rivalry from their days in the English Premier League with Manchester United and Arsenal.
Rather, it was a validation of the MLS, a marquee matchup the likes of which the league could hardly have dreamed before Beckham's arrival in 2007.
Nowadays, jumping the Atlantic from east to west isn't quite the anathema to one's reputation and soccer stardom that it once was.
Today, the MLS is a reasonable landing spot for big names to grow their personal brands abroad while playing in America's fastest-growing sporting association. It is finally nearing league-wide profitability, with expansion fees growing to $40 million and most of its clubs playing in soccer-specific stadiums rather than former NFL wastelands.
Most telling, though, is that the MLS is now getting paid for its content.
Where once before the league had to shell out its own money to put matches on TV, the league is now busy signing multi-year, multimillion-dollar deals with ESPN, FOX Sports and Time Warner to broadcast games right into millions of homes.
The Galaxy just committed to a deal of their own—10 years, $55 million—to join the Los Angeles Lakers on a regional sports network with Time Warner Cable.
Of course, that wasn't all Beckham's doing, but one can reasonably assume that such growth wouldn't have happened (at least as quickly as it did) without his services.
Neither would LA have celebrated another MLS Cup at the Home Depot Center without Beckham's header to Robbie Keane, which the Irish national team captain passed along to Donovan, the captain of Team USA, for the game-winning goal against the Houston Dynamo on Sunday night.
That match may well have been the last for Becks in the MLS. His contract expires at the end of the calendar year, after which point he figures to take his talents back to Europe, with Paris St. Germain, or to Asia or the Middle East or whatever far-flung corner of the Earth that has not yet seen him bend it like he does so famously.
Yet, he may well decide to stay in LA, having found a comfortable life with his growing family in sunny California. No choice could possibly diminish what he was able to accomplish here, the triumph amidst years of turmoil and doubt.
So berate Beckham all you want for being a mercenary, the Blackwater of professional soccer, but don't deny the man his due. He did what was asked of him—to legitimize soccer in America, to popularize the MLS, to bring hardware to the City of Angels.
And for that, he deserves our praise.