Dallas Cowboys and Tony Romo Singing, "I Feel Good!"
June 2, 2016
Rob Carr/Getty Images
In the past five games, Dallas Cowboys QB Tony Romo has thrown nine touchdowns and only one interception. His quarterback rating during that span is an eye-popping 109.7.
In related news, the Cowboys are sporting a handsome 4–1 record during the same five-game stretch.
In a league that often gives too much credit to the quarterback for his team's victories and too much blame for losses, it is still safe to say, "As goes Tony Romo, so go the Dallas Cowboys."
A couple of games ago, after posting a near-perfect 148.4 rating by completing 23 of 26 passes for 270 yards and two touchdowns, Romo boiled his recent resurgence down to one pretty simple factor: good health.
According to Todd Archer of ESPN.com, Romo repeated that sentiment last week as he prepared for Sunday's game with the Washington Redskins:
"I don't have a broken rib now, so that's a positive," Romo said Thursday, three days before the Dallas Cowboys' rematch with the Redskins. "It just feels good. I don't know. You get used to playing hurt, but it's just a little different kind of thing."
Some in the league, in the media, and in the stands have questioned just how much Romo's injury was affecting his play. Suggestions were offered that maybe he was playing up the whole fighting through the pain thing. Maybe it was just a convenient excuse.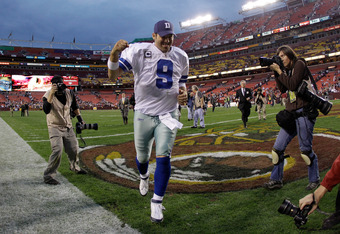 Rob Carr/Getty Images
Apparently, these yardbirds think being kicked in the ribs by a mule is no big deal.
I, on the other hand, can identify with Tony. Just recently, I had a terrible head cold that I could not shake. Despite going for a steroid shot and an antibiotic, the nasty malady worked its way into my chest and there it stayed for a solid week.
I can tell you, my enthusiasm for work waned. I found it difficult to concentrate. My production slipped. This is all true and I must also confess that I have the kind of job that almost never involves angry, amped-up, 300-pound men using every means at their disposal to grind me into so much powder.
So, here's to Tony Romo's health and the continued success of the Dallas Cowboys, who, like it or not, have their very fortunes tied to just how well Tony Romo feels.