The Best Practitioner in Each Martial Art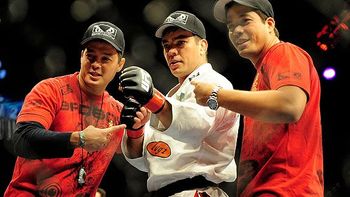 When mixed martial arts and the UFC began, the purpose of these no-holds-barred fights was to find out which martial art was the most effective.
As the sport has evolved, fighters and fans alike have found that proficiency in all aspects of combat is more important than the clashing of styles.
Despite MMA athletes becoming well-versed in many different arts, many have taken a liking to a specific part of the game or a certain martial art that shines through in their bouts.
Guys like Demian Maia, Lyoto Machida, and Chael Sonnen all use their base styles effectively in the cage as their high level of expertise in their respective arts is quite easy to see.
Here are the best practitioners in each of the major martial arts found in MMA today.
Honorable Mentions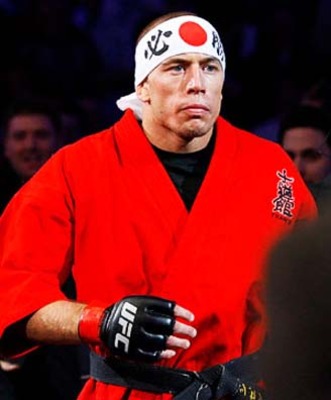 There are many styles of martial arts that have been practiced by various fighters but are not showcased once they enter the ring.
Here are a few well-known practitioners of styles that are not as prevalent in MMA today.
Sumo - Lyoto Machida
Kyokushin Karate - Georges St. Pierre
Kenpo - Frank Mir
Kung Fu - Pat Barry
Quyen Dao - Nam Phan
Savate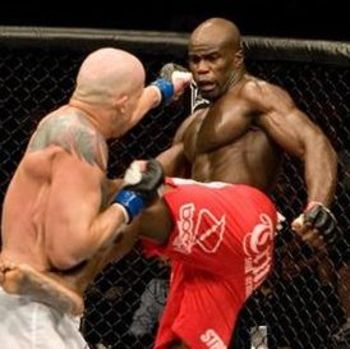 A French kickboxing martial art, Savate is a popular style that uses various kicks to inflict damage on opponents. Interestingly, savateurs wear boots when in the ring as Savate is French for "old shoe".
Savate also focuses on kicking with the foot, a vastly different approach from Muay Thai where the focus is on the shin.
In MMA today, UFC heavyweight Cheick Kongo is one of the best known savateurs.
Training in kickboxing in France, Kongo uses many of the art's deadly kicks to dominate inside of the Octagon.
Kongo has also effectively used his Savate training to amass a 21-2 record in kickboxing, knocking out 12 opponents.
Sambo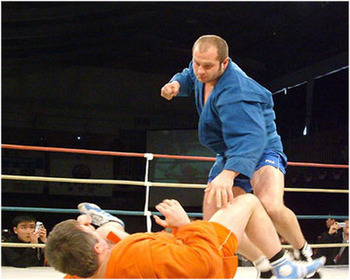 This grappling art combining elements of wrestling and judo. Sambo is huge in Russia and eastern Europe.
Some forms of Sambo, such as combat Sambo, resemble MMA as they incorporate striking and more extensive submission techniques.
Fedor Emelianenko, widely considered the best fighter in history, is Sambo's lauded son.
Emelianenko is one of the few people to hold the rank of the International Master of Sports in Sambo and is highly decorated in the art, having dominated as the World Combat Sambo champion on four occasions.
Combining this art with his Judo skills, Emelianenko was once the most domiant force in MMA's heavyweight division, going unbeaten for almost a decade.
Back to his winning ways after defeating Jeff Monson, Emelianenko remains the best Sambo practitioner in MMA.
Capoeira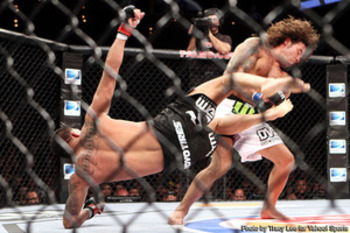 An afro-Brazilian martial art that is more akin to dance than fighting, many of Capoeira's flashy moves have been integrated into MMA by the sport's more creative fighters.
Former WEC Lightweight champion Anthony Pettis has proven to be the most proficient at using its unorthodox kicking techniques to baffle opponents.
Often Pettis will post up on one hand and kick his opponent while still on the ground, a move he most recently used against Clay Guida.
Utilizing spins and odd angles from this art, Pettis has used Capoeira to become one of the most exciting and creative fighters in the sport.
Judo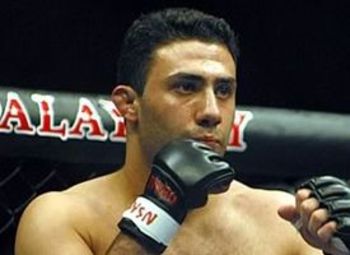 Karo Parisyan was the poster child for Judo in MMA when he started out his career.
Effectively using various throws and sweeps to whip his opponents around the cage, Parisyan amassed a fantastic record in the UFC before falling off due to his battle with an addiction to pain killers.
Parisyan is a decorated black belt under famed Judo grandmaster Gene LaBell and at one point was looking to compete in the Olympics.
At only 29 years old, Parisyan's career has already taken a major downturn because of his personal problems, but he still remains active in MMA and will always have some of the best Judo skills in the game.
Sanshou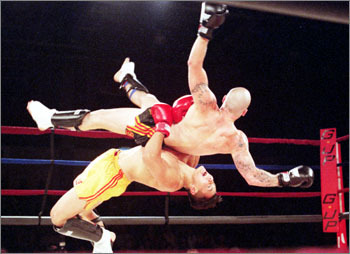 Sanshou, a Chinese martial art derived from Kung Fu and modern combat techniques, is a hybrid style that incorporates full-contact kickboxing as well as takedowns and sweeps.
The art's best known practitioner is former Strikeforce Middleweight champion Cung Le.
Le went undefeated in his professional Sanshou and kickboxing career, going 16-0 with 10 knockouts.
In MMA, Le uses the flashier aspects of the style, including spinning back kicks and hopping side kicks to devastate opponents. He also uses the many take downs and sweeps to get fights to the ground.
An art not widely practiced by fighters today, Le has shown that more traditional styles can be very effective in MMA.
Tae Kwon Do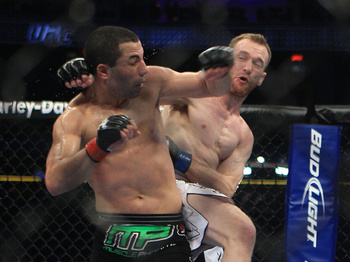 Critics of traditional arts point to Tae Kwon Do's flashy kicks and point-fighting system as to why these arts aren't effective in MMA.
However, fighters like Anthony Pettis, Anderson Silva, Dennis Siver, and Ben Henderson can attest to Tae Kwon Do's usefulness in the cage.
Many current fighters started their martial arts training in Tae Kwon Do when they were younger with only a few still using the various kicks and spinning techniques as a part of their arsenal today.
UFC lightweight John Makdessi actually does not hold a black belt in Tae Kwon Do, as his dojo closed when he started high school. Finding a new home in Shotokan Karate, where he does hold a black belt, Makdessi's style is actually much more Tae Kwon Do based.
In each of his bouts in the UFC, Makdessi has shown off his flashy kicks from his youth, using spinning back kicks, downward heel kicks, spinning hook kicks, among a plethora of other techniques to completely dominate opponents.
Against Kyle Watson at UFC 129, Makdessi knocked him out with a spinning back fist in the third round.
Set to face Dennis Hallman at UFC 140, expect to see Makdessi's Tae Kwon Do based striking in full force.
Wrestling
With wrestling taking a distinct place in MMA as one of the most dominating aspects of the game, there are so many great wrestlers in the sport now, making it difficult to choose who is the best.
Because of his recent smothering of Brian Stann at UFC 136 as well as his grinding out of UFC Middleweight champion Anderson Silva for four and a half rounds at UFC 117, Chael Sonnen gets the nod.
Sonnen has dominated other accomplished grapplers like Nate Marquardt and Yushin Okami, showcasing his great top control and devastating takedowns in many of his bouts.
Like many wrestlers, his submission defense when in top guard has been exploited on many occasions, but the control he displays is purely amazing.
Set to face another top wrestler in Mark Munoz—most likely at UFC on FOX 2—the winner of this match will become the consensus best wrestler in the middleweight division, if not the entire sport.
Until then, Sonnen is the top dog in my book.
Muay Thai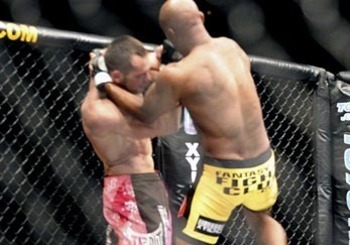 UFC Middleweight champion Anderson Silva is the best striker in the sport overall, but his Muay Thai specifically is one of the most technically sound and devastating in the game.
Using the vast array of techniques from this ancient art, Silva effectively integrates knees and elbows to brutally destroy his opponents. Against Rich Franklin in both their bouts, Silva decimated the former champion with is amazing Thai clinch, raining down knees that Franklin could not answer.
Silva also has devastating leg kicks that are a trademark of the art.
A counterstriker that picks his opponents apart, Silva waits for the perfect opportunity to use his unpredictable arsenal of strikes.
Shotokan Karate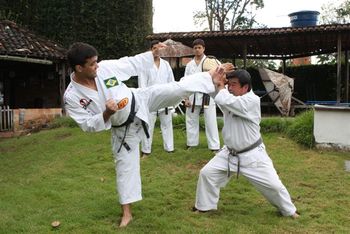 Unlike sport Karate or Tae Kwon Do, Shotokan Karate is less flashy and uses a more traditional approach to fighting.
Using a wide stance and various angles to maximize speed and efficiency, Shotokan also employs sweeping takedowns as well as knees and elbows, although the later are not allowed in kumites, or full-contact sparring.
Former UFC Light Heavyweight Champion Lyoto Machida uses this art as his main style when fighting in MMA. Using Shotokan's traditional fighting stance as well as its various strikes and sweeps, Machida has become one of the most elusive and enigmatic fighters in the game.
Machida's dominant use of this ancient style proves traditional martial arts' effectiveness in MMA.
Brazilian Jiu-Jitsu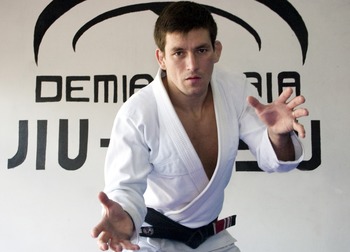 Just like the wrestlers in MMA, there are a plethora of top level Brazilian Jiu-Jitsu practitioners that could be considered the best in their art.
Accomplished grapplers such as Shinya Aoki, Jake Shields, and Roger Gracie could each claim to be the best jiu-jitsu practitioners in the sport. However, for his dominance in the UFC based purely off of his grappling, Demian Maia is arguably the best.
Making his debut at UFC 77, Maia went on a five-fight winning streak to start off his UFC career, winning each fight by submission. These early wins include wins over Chael Sonnen, Nate Quarry, and Jason MacDonald, resulting in four Submission of the Nights.
Maia has made vast improvements in his stand-up game, but the third degree BJJ black belt is always a huge threat when going to the ground.
Boxing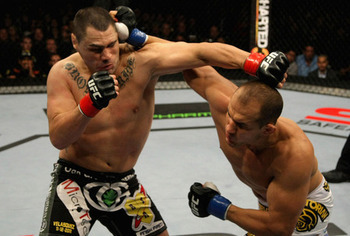 The sweet science has become an integral part the stand-up side of MMA as many of the sport's best are seeking out top trainers and fighters in boxing to improve their hands.
UFC Welterweight champion Georges St. Pierre and UFC Middleweight champion Anderson Silva have on many occasions sought out famed boxing coach Freddie Roach to work on their punches. Former Strikeforce Welterweight champion Nick Diaz also has extensive boxing training and is 1-0 in his boxing career.
However, it is current UFC Heavyweight champion Junior Dos Santos that has the most devastating hands in the entire sport.
Putting Cain Velasquez away in just 1:04, Dos Santos loves using his punching combinations to pick apart and decimate his opponents.
Training with one of Brazil's best boxing coaches in Luiz Carlos Dorea, Dos Santos has become one of the best punchers in MMA and even wants to try boxing at the next Olympics in his home country.
Keep Reading