Has John Skelton Lost Starter's Position? Arizona Cardinals QB Dilemma Continues
November 21, 2011
Ezra Shaw/Getty Images
If you asked most fans in Arizona coming into the Arizona Cardinals' game against the San Francisco 49ers, the starting quarterback's job was John Skelton's to lose.
Following the team's embarrassing loss in San Francisco, few would disagree that he may well have done just that.
Skelton is a fan favourite in Arizona, and that has not changed, but many of his fans will be much more hesitant in calling for his continuing to start under center for the Cardinals.
Coming into this game, many had argued that Skelton, not Kevin Kolb, should play out the season, and, if successful, the Cardinals should look to cut their losses and jettison Kolb and his sizable contract.
Skelton will still have his believers—I am one of them—but on the evidence of the Cardinals' most recent game, it'll be a much harder case to make.
Skelton was pulled from the game in the fourth quarter, following an abysmal start which saw him complete only six of 19 passes for 99 yards and three interceptions.
His replacement, Richard Bartel, didn't exactly make a case for himself to start next week but was able to cap an impressive drive—albeit one in garbage time—with a 23-yard touchdown pass to Larry Fitzgerald to ensure that the Cardinals were not shut out. 
Throughout the game, Skelton looked confused, unsure and, at times, completely lost on the field.
In the first half, the Cardinals defense managed to keep the team within touching distance of the 49ers, following multiple blocked fields goals and some impressive red-zone stands, but Skelton was unable to do anything to capitalise on that. In the second half, following a chance for his team to regroup, Skelton looked, if anything, even worse.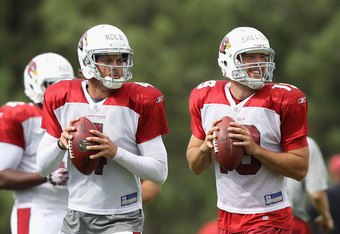 Christian Petersen/Getty Images
In his first two games this season, Skelton looked positive. He was not the finished article and made mistakes, but he dealt with them well. He rebounded from his errors and appeared to learn from them. He improved as time went on, eventually leading his team to back-to-back victories.
The John Skelton on display against the 49ers couldn't have looked more different. 
The 49ers defense was good, but Skelton made things much easier for them than it needed to be. The interceptions he threw were avoidable and originated from bad reads—and even worse throws.
So what happens next in Arizona?
Throughout the first half of the season, the Arizona Cardinals have seen three quarterbacks: Kevin Kolb, John Skelton and Richard Bartel.
All of them have had real positive moments, and all of them have also struggled. All signs point to the fact that, by next week, the Cardinals will have a choice of all three players, as Kolb looks set to return from injury.
Who they start is not an easy decision to make.
The obvious choice is Kolb. The Cardinals paid a king's ransom to bring him into Arizona and did so because they believed he was not only their quarterback of the future, but also a player who could lead them to a winning season and playoff berth here and now.
Following a loss in San Francisco, both of those things are looking increasingly unlikely, but when you have bet the farm on someone, the smart money says you will keep backing that guy and hope for the best.
If he keeps losing, you have hardly made things any worse, but if he wins, it looks like your gamble paid off.
Skelton, however, has still won more games than Kolb. What's more, the game he lost came against a San Francisco team who have dropped only one game all season and are tipped as a real Super Bowl contender. Yes, Skelton was firmly beaten, but he was beaten by a team who are amongst the best in the NFL in many defensive categories, including turnover differential, yards allowed and red-zone defense.
That Skelton struggled should not be a surprise to us—he is only a second-year starter who has played in only eight professional games.
He was well out of his depth, but on the evidence of what we've seen so far this season, would Kolb have been any better? Anything is possible, but it's hard to imagine Kevin Kolb would have been much more likely to hand the 49ers only their second loss on the season.
If more experienced quarterbacks like Eli Manning could not manage to overcome the Niners defense, why are we surprised that Skelton couldn't?  
And then there is Richard Bartel. Yes, the game was likely already out of reach, and yes, the 49ers defense were likely not playing at 100 percent intensity, but Bartel was able to lead the Cardinals on two long drives, one of which resulted in a touchdown, the other which would likely have ended in a field goal in different circumstances.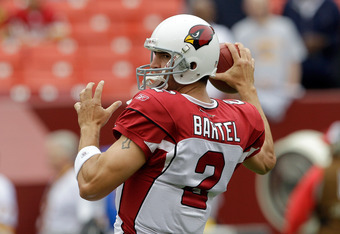 Rob Carr/Getty Images
When weighing up the players, there is no clear front-runner.
Kolb may have the inside lane, as the Cardinals coaching staff have more to lose if he turns out to be a bust. On the other hand, his salary may mean that there is pressure from inside the organisation to develop either Skelton or Bartel into a legitimate starter before the end of the season, which would allow them to drop or trade Kolb without incurring too much financial burden.
His contract is large, but his guarantees are much smaller, meaning that the Cardinals could drop him before the start of next season and give themselves plenty of much-needed cap space as they try to rebuild if they believe Skelton or Bartel can lead them.
Personally, I believe that Skelton still has the skills to succeed in the NFL. A loss against the 49ers, though a tough pill to swallow, is nothing for a young quarterback to be ashamed of. The team are performing amazingly and have found ways to hurt much better and more experienced quarterbacks than Skelton.
Skelton is still 2-1 on the season, and though the three interceptions will hurt his stats, I believe he has the mental capacity to rebound and overcome them as the Cardinals prepare to visit the St. Louis Rams, a team he has already beaten once this season.
Although the Cardinals will likely start Kolb against the Rams, if he is healthy, I believe this is the wrong call. Yes, Skelton was bad against the 49ers, and yes, he needed to be pulled, but I still believe that Skelton, not Kolb, is now the Cardinals' future and should be given the chance to develop into it.
Three missed games for Kolb, given how much he was already struggling to learn the offense, has likely put him back still further.
Skelton has already proven his ability against this Rams team, just a few weeks ago, and should be given the chance to continue to earn his place as the Cardinals' starter of the future.
With Skelton under center, the Cardinals may face an uphill battle to return to Super Bowl contention, but I do believe he can get the Cardinals there. If Kolb had managed to lead the team to a few victories sooner, then perhaps the investment would have been worth it, but since both players appear to be similar projects, I have to feel that the younger, less costly project is the one they must pursue.
What happens next week against the Rams will be telling as to which quarterback the Cardinals believe is their future, but if I had a vote, mine would go to Skelton at this point.