Chiefs vs. Patriots Monday Night Football: Why KC Is Completely Outmatched
November 19, 2011
Scott Boehm/Getty Images
Tom Brady starts at QB for the New England Patriots. Tyler Palko debuts as the starting QB for the Kansas City Chiefs. Is it possible to be more "completely outmatched"? Yes, unfortunately, I think it is.
There is a reason that the Patriots are favored by more than two touchdowns. Actually, there are quite a few reasons.
New England Defense versus the Kansas City Offense
This is probably where fans think that the Chiefs can make some headway. The New England defense is no good, right? That opinion is so last month, folks.
Yes, for the season as a whole they rank 17th overall and 32nd against the pass. Big break for new starter Tyler Palko, certainly? Well, in the past month, New England has allowed 30 less aerial yards per game.
Granted, they have given up over 100 yards on the ground. But the Pats were playing against the Jets, the Giants and Pittsburgh. To say that these three teams know how to field a rushing attack is to say that Brady can sling the ball a little. So, I cut the New England D some slack.
With Palko under center, Todd Haley is going to have to try and run the football. Enter Jackie Battle, who is trying to prove that he can be the Fred Jackson of the West.
Battle is averaging 4.6 yards per carry, so he is a legitimate threat to the NE LBs. When he gets tired, Palko can hand off to jazzy Dexter McCluster and Thomas Jones is still around in a pinch (although the veteran has hardly been used this season and should probably retire).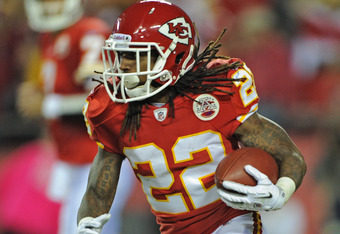 Peter Aiken/Getty Images
If Battle can run the ball, it will be one of the very few matchups that might contribute to an upset by the Chiefs. I expect to see Pats' D-lineman Vincent Wilfork stuffing every running lane he can squeeze into. Advantage: Equal.
The middle of the New England defense would seemingly open up some possibilities for the Chiefs. The Patriots have a ton of injuries at LB and safety. New England lists seven linebackers on their injury report. Brandon Spikes and Dane Fletcher are out, Jerod Mayo is still recovering from a knee injury and newcomer Jeff Tarpinian is sick.
Of course, Bill Belichick is the same coach who put Tom Brady on the list for what seemed like years with an ankle injury, so let's not get too excited about a New England injury report.
Legit injuries are a concern at safety. Patrick Chung did not practice Friday and even James Ihedigbo has a shoulder problem, although I expect him to play.
These injuries would be wonderful news for KC—if they had a star-quality pass-catching TE who wasn't on I-R. Current starting TE Leonard Pope is rarely targeted as a receiver.
Kansas City's only hope in this level of the field is to get Steve Breaston and/or Jerheme Urban cooking in the slot. Neither former Cardinal has exactly dazzled now that Kurt Warner isn't throwing the passes. Advantage: Patriots.
Patriot CBs have taken a hit, too. Last year's rookie sensation Devin McCourty is doubtful. But, he was already in a sophomore slump. Fellow cover man Kyle Arrington is questionable.
If Cassel were throwing the ball, I'd say that this would give Chiefs' exceptional WR Dwayne Bowe a great chance of scoring. Even with Palko, I wouldn't be shocked to see Dwayne in the end zone.
Jim Rogash/Getty Images
In addition to blanketing Bowe, the Patriots will simply have to cover rookie Jonathan Baldwin after that most amazing of all behind-the-back-of-Brian-Dawkins catch. I know it didn't count, but he still caught it. Advantage: Equal.
But Matt Cassel has a broken hand and the passer on Monday Night Football will be fifth year, 28-year-old Tylker Palko. I'm sure 90 percent of the NFL world uttered a collective, "Who?"
On the surface, Palko against anybody would favor anybody. He has played in the NFL, the UFL and the CFL on six different teams. He has thrown only a handful of NFL passes. Etc., Etc.
However, one should remember that this is the young man who beat out Joe Flacco for the starting job at Pitt, forcing Flacco to transfer to Delaware. I'm just saying.
The New England Patriots were able to completely ruin Matt Sanchez' Sunday night last week by rushing four linemen. That's it. Four. Uh-oh. 
Did I mention that New England defensive end Andre Carter had four-and-a-half sacks last week? Yes, that's by himself. Advantage: Patriots.
Kansas City Defense versus the New England Offense
All levels of this matchup have to be viewed through the Tom Brady prism. Almost nothing fools No. 12 and almost nothing rattles him. And few have ever thrown the ball to better effect, whether deep to Randy Moss or short to Kevin Faulk. Brady is single-handedly the reason that this matchup favors New England.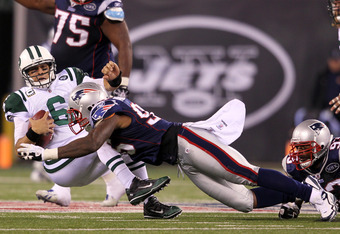 Nick Laham/Getty Images
However, not even Brady is without chinks in the armor. I'm going to say this for the umpteenth time since 2005: "The only way to beat Tom Brady is to put him on his…back."
Enter Chiefs' OLB Tamba Hali. The Pro Bowler has started nine games this year. He has 39 tackles and six sacks. The entire KC defense has nine sacks. Yes, he's really good.
For the Chiefs to have a chance in this game, Hali and his compatriots must raise that team-wide sack number considerably. If the NE QB is standing in the pocket, doing his nails, while he waits for teammates to get open—it will be over. Advantage: Patriots.
Ideally for KC, defensive coordinator Romeo Crennel will show a bunch of creative blitzing schemes and everyone will stay disciplined. Brady is a master at freezing the opponents' linebackers with play-action, allowing those devastatingly talented TEs a chance to get open in the middle.
How this fake-out continues to work in an offense without benefit of a strong running game is a tribute to not only Brady's acting expertise (and he says Manning is the better thespian), but also to that New England offensive line. This group has one primary mission: protect Tom Brady. The fact that they can occasionally run block is impressive.
The Patriots' O-linemen were proud of the 28 rushing attempts made against the Jets. Okay, but those rushes totaled 60 actual yards. But, not to worry, the Chiefs' rushing defense is 26th in the NFL, allowing 4.2 yards per carry and over 150 yards per game. Advantage: Patriots.
This week, neither the Patriots' O-line nor their running backs are in top shape. Five lineman are on the injury report. Four will probably play anyway, but Tackle Nate Solder's concussion may keep him out of the contest.
NE RB Ben Jarvis Green-Ellis isn't at full-strength with a toe injury and third-down wonder Kevin Faulk's knee is still a problem. Patriots' fans would like to see change-up man Stevan Ridley get more carries. And don't forget about diminutive dynamo Danny Woodhead.
Since the Chiefs have injuries at both linebacker and safety as well, this matchup is a draw.
The lack of a healthy starting runner signals that this game, like so many in the past two seasons, will be all about TEs Rob Gronkowski and Aaron Hernandez. Gronkowski has 709 receiving yards and eight touchdowns. Hernandez has 37 receptions and 5 TDs. Wow.
Then there is Wes Welker, who is having a career season vacuuming up anything Tom Brady throws his way and adding tons of yards after the catch. Welker has a sore knee, but he'll still be dangerous.
Part of freezing the defensive center is the fact that Belichick and Brady continue to send at least one WR deep on the outside, forcing at least one CB to leave the middle of the field. Frankly, one of the few mysteries in the MNF game is whether or not Chad OchoCinco will finally start catching deep footballs with anything approaching consistency.
Trying to prevent this from happening will be KC cornerbacks Brandon Carr and Brandon Flowers. Both are very talented and have the absolute potential to pick off a Brady pass or two. Unfortunately for KC fans, both are dinged up. Advantage: Patriots.
The bottom line is that this is a KC defense that gave up 31 points to the Miami Dolphins and let Tim Tebow beat them on a bubble screen. Oh dear.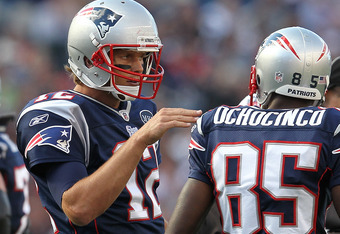 Jim Rogash/Getty Images
Turnovers
New England has a +3 turnover ration while the Chiefs have given the ball up 16 times this year. And that was before they lost their starting QB. Advantage: Patriots.
Coaching
Blill Belichick is obviously a far more credentialed Head Coach than Todd Haley. However, there is virtually no game film on Palko playing with any first-string offense. That could hurt Bill in the game-planning department.
And Bill likes to make a plan and stick to it. One of the reason that the Giants won that Super Bowl was that Belichick did not make adequate half-time adjustments on either side of the ball.
Don't forget that Kansas City's defensive coordinator Romeo Crennel used to be New England's defensive coordinator. Romeo knows a thing or two about Tom Brady. Hmmm.
Ultimately, it probably won't matter. Advantage: Patriots.
Special Teams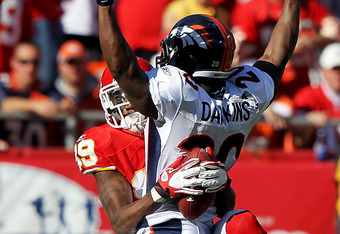 Jamie Squire/Getty Images
Stephen Gostkowski erased any Bostonian thoughts of Adam Vinatieri years ago. The Pats' PK is one of the most dependable kickers in the League.
Zoltan Mesko is a good punter, who has been averaging well over 40 yards per kick. Of course, he has only had to punt the ball 13 times in the past three weeks.
The New England return game is a little thin and primarily features Julian Edelman. He is fine, but not anyone giving Devin Hester a run for the records.
Kansas City has excellent kickers as well. Succop makes 80 percent of his attempts and Colquitt is a reliable punter.
However, I give the Chiefs a slight advantage in the return game with Javier Arenas on kicks (averaging over 20 yards per return) and the aforementioned speedster McCluster on punts.
Advantage: Equal
Any Given Sunday
The Kansas City Chiefs can win if they:
1)    establish a power rush early with Jackie Battle and control time of possession
2)    get to Brady with Tamba Hali
3)    stop all four Patriots runners with the D-line and LB Derrick Johnson
4)    pick off Brady at least three times with injured cornerbacks
So, what does this mean? The New England Patriots will win and cover on their way to another AFC East Title. By the way, the game will be played in New England. Sorry, KC.