Why Philip Rivers' Luck Won't Get Any Better vs. Tough Chicago Bears Defense
November 19, 2011
Stephen Dunn/Getty Images
San Diego Chargers quarterback Philip Rivers has struggled to find the time he needs in the pocket all season long and is having the worst year of his career as a result.
After having been sacked six times against the Raiders last week and watching as three more of his offensive lineman fell to a variety of injuries, Rivers must now face off against the red-hot Chicago Bears (6-3) at Soldier Field on Sunday.
At 4-5 and a game back in the AFC West, it's about as close to a must-win situation as it could be for the Chargers, who have a tough schedule down the stretch.  Behind a patchwork offensive line made up of players whose names most of the league has never heard of and probably couldn't pronounce anyway, Rivers is being asked to find a way to win.
He'll be lucky to get out of the Windy City in one piece though, if the Chargers can't find a way to provide better pass protection this week. 
When left guard Kris Dielman was lost for the year, right guard Luis Vasquez shifted over to the left side and struggled to adjust. Then Vasquez went down with an ankle injury against Oakland and is listed as doubtful for Sunday's matchup against the Bears.
All-Pro left tackle Marcus McNeill, who had also been having what was arguably the worst year of his pro career, was carted off early in the first quarter during the same game.  McNeill is expected to be inactive for the game in Chicago. 
Backup guard/center Tyrone Green, who had been filling in on the right side for Vasquez, moved over to the left side when Vasquez went down. Now Green is doubtful, leaving backup center and third-string guard Scott Mruczkowski to play at left guard.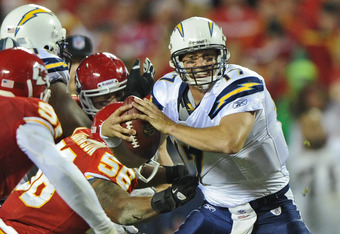 Peter Aiken/Getty Images
Stephen Schilling, a rookie offensive tackle taken in the sixth round of this year's NFL draft, has taken virtually all of the snaps at right guard in practice this week and is likely to start against the Bears on Sunday. 
Schilling, who was brought up from the practice squad when Dielman went down, took the first and only snap of his fledgling NFL career when he came in for Mruczkowski for one play against the Raiders.
McNeill's backup, Brandyn Dombrowski, has gotten plenty of reps with the starting unit over the past couple of seasons, but got absolutely spun in circles by the Raiders last week.  Dombrowski will have to turn out a much better performance in Chicago if the Chargers hope to keep Rivers out of the intensive care unit.
But Dombrowski and Mruczkowski are solid football players, who will benefit significantly from having worked together all week in practice.  That said, a lot is being asked of Schilling to step in at right guard. 
And while the Bears pass-rush may not exactly strike fear into the hearts of men this season, having recorded only 18 sacks so far, expect Chicago to aggressively attack the right side of the Chargers' makeshift offensive line early and often.