3 Reasons Why the Orlando Magic Should Re-Sign Jason Richardson
Jason Richardson.
J. Meric/Getty Images
One prominent free agent is Jason Richardson, who spent the 2010-11 NBA season playing for both the Phoenix Suns and the Orlando Magic. Richardson holds career averages of 18.0 points in the regular season to go along with 5.1 rebounds.
Currently an unrestricted free agent, the athletic shooting guard is a dynamic player the Orlando Magic should look to re-sign. However, the Magic could have trouble re-signing Richardson due to having the large contracts of Hidayet Turkoglu's and Gilbert Arenas already on file.
However, listed in the following slides are three reasons why the Orlando Magic should bring back Jason Richardson!
Jason Richardson Is a Three-Point Shooter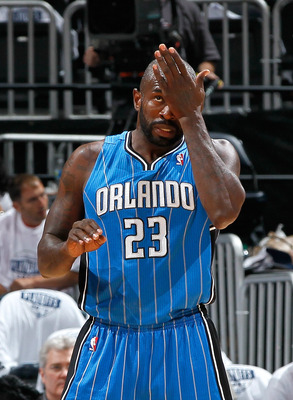 Jason Richardson.
Kevin C. Cox/Getty Images
Over his NBA career, Richardson has shown an improvement on his three-point shot, something that the Orlando Magic consider important to their offensive scheme under head coach Stan Van Gundy.
By re-signing Richardson, opposing defenders will have to guess whether they should double-team Dwight Howard and leave Richardson open on the wing ready to let it fly when needed. Additionally, Richardson is athletic enough to use his quickness to get past his defender and go into the painted area for a higher-percentage basket.
Jason Richardson Is a Dynamic Athlete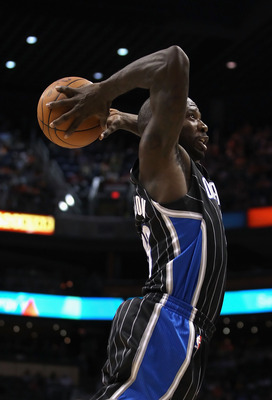 Jason Richardson.
Christian Petersen/Getty Images
Richardson is one of the most athletic players who can benefit from playing alongside Dwight Howard. Additionally, with his ability to get by defenders or shoot the outside jump shot, he could really become a weapon for the team (either off the bench or as a starter).
The Orlando Magic know that other teams will be courting him as he is one of the top free agents on the market.
Jason Richardson Is an Above-Average Defender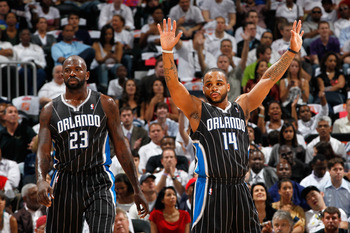 Jason Richardson & Jameer Nelson.
Kevin C. Cox/Getty Images
Jason Richardson has also shown that he is an above-average defender and has attempted to slow down many scorers during his NBA career. However, with his quickness, Richardson is one of the few players in the league who can defend and be a decent offensive player—making him a dual threat.
He will also help out point guard Jameer Nelson on the defensive side of the basketball as well as possibly handling the ball at times depending on matchups.
It is unknown at this time what will happen to Gilbert Arenas or Hidayet Turkoglu. If there is an amnesty clause permitted in the new collective bargaining agreement, is Arenas or Turkoglu out?
The Magic should re-sign Richardson as he will make a good pairing with point guard Jameer Nelson in the backcourt.
Keep Reading

Orlando Magic: Like this team?