Week 11 Fantasy Rankings: Top 30 WRs Plus Analysis on the Week's Best Plays
November 18, 2011
Harry How/Getty Images
With so many wide receivers either doubtful, out or on a bye, along with all those others who went down for the year, it's getting tougher and tougher to figure out who the top plays are from week to week.
That's why those of us in the fantasy industry put together these lists for you—to give the reader a gauge of what to expect from his or her players on any given Sunday.
With that, here are the weekend's top 30 wide receivers along with some detailed analysis on the five best plays for the week:
***A.J. Green, Jeremy Maclin and Julio Jones are excluded from this list due to the fact they are all unlikely to play on Sunday. If any of them do end up playing, they would be ranked 12th, 17th and 24th respectively.***
30. Early Doucet (at SF)
29. Mike Williams – TB (at GB)
28. Torrey Smith (vs. Cin)
27. Percy Harvin (vs. Oak)
26. Vincent Brown (at Chi)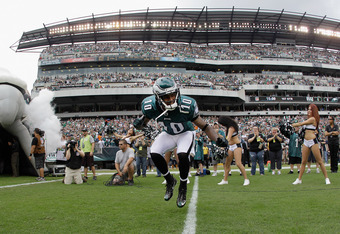 Rob Carr/Getty Images
25. Damian Williams (at Atl)
24. Michael Crabtree (vs. Ari)
23. DeSean Jackson (at NYG – Sunday night)
22. Earl Bennett (vs. SD)
21. Steve Johnson (at Mia)
20. Dwayne Bowe (at NE – Monday night)
19. Sidney Rice (at StL)
18. Deion Branch (vs. KC – Monday night) 
17. Laurent Robinson (at Was)
16. Vincent Jackson (at Chi)
15. Mario Manningham (vs. Phi – Sunday night)
14. Denarius Moore (at Min)
13. Brandon Lloyd (vs. Sea)
12. Jordy Nelson (vs. TB)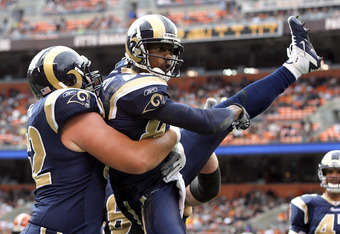 Matt Sullivan/Getty Images
11. Anquan Boldin (vs. Cin)
10. Hakeem Nicks (vs. Phi – Sunday night)
9. Roddy White (vs. Ten)
8. Dez Bryant (at Was)
7. Victor Cruz (vs. Phi – Sunday night) 
6. Brandon Marshall (vs. Buf)
The Top 5

5. Steve Smith – Car (at Det)
The key to getting good production out of Steve Smith is by getting him at least nine targets during the game. Last weekend he had eight, thus the lack of production.
In the five games he HAS seen nine or more balls thrown his way, he's put up 100 yards or more in every single one of them. Maybe it's a fluke, maybe not, but I'm sticking to the theory.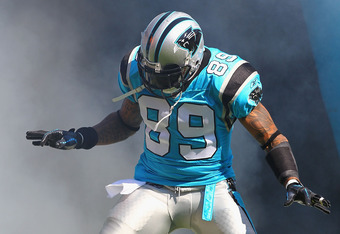 Dilip Vishwanat/Getty Images
Either way, Smitty is going to see enough targets in this one to do some fantasy damage because Carolina should be playing from behind for most of the game.
Besides, he seems to really enjoy playing against teams in the NFC North as he's already put up 100-yard games against the Packers, Bears and Vikings.
Trends are your friends, people.
4. Greg Jennings  (vs. TB)
Greg Jennings has caught a touchdown pass in seven out of nine games so far—and I don't expect this one to be the third game he goes without one.
The Buccaneers have let all different types of receivers put up numbers on them this season, but the quickest and most elusive of them, such as Pierre Garcon was for the Colts in Week 4, carve them up the most. Jennings is one of those guys.
Of course, in this spread-it-around Packers offense, it's tough to tell which guy is going to put up the best numbers from week to week. But considering Greg has had a couple of slow weeks lately when he is usually Rodgers' favorite target, you have to think "Aaron It Out" is planning on getting his top dog the proper amount of love in what should be an easy win this Sunday.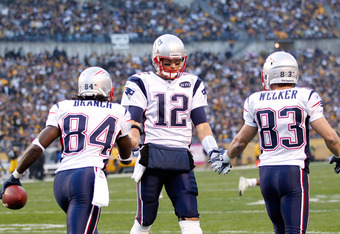 Gregory Shamus/Getty Images
3. Wes Welker (vs. KC – Monday Night)
"The Slot Machine" has been relatively held in check over his past five games, but in knowing that, you also have to consider that each of those teams possessed a top-tier defense—something the Kansas City Chiefs certainly do not have this season.
Tom Brady and the Patriots seem to have righted their ship against the Jets last week and with that, I expect Welker to get right back on track as well.
Big-time players tend to come alive on Monday night, which Brady has certainly done throughout his career averaging 2.3 TDs and 279 yards in such games.
If he does it again, which he should, then I expect Wes to follow suit and once again give fantasy owners what they've been looking for.
2. Calvin Johnson (vs. Car)
Calvin Johnson may have been "contained" (seven catches, 81 yards) and held to his lowest fantasy output of the season against the Bears last weekend, but Carolina doesn't know Calvin the way Chicago does.
Concerning this weekend, the overall numbers actually make the Panthers look like they have a good defense against the pass, but what they don't say is that teams simply don't feel the need to pass on them because of the ease with which they can be run upon.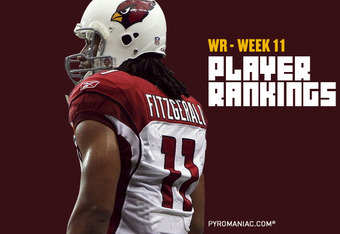 The problem here is that the Lions lack a strong running game, so I expect Megatron to get the same amount of attention he usually gets from Matthew Stafford, which means he should be able to put up his normal numbers.
1. Larry Fitzgerald (at SF)
Like I say every week for players going up against the 49ers, Arizona is going to find out real quick just how hard it is to run on this team and will end up turning to their passing playbook for the duration game the second they do.
Because of this, Larry Fitzgerald will see anywhere from 12-20 targets in the game and with that kind of action, there's no way they keep him from going over 100 yards and grabbing a TD or two.
Besides that, San Fran has had trouble containing top-flight receivers the entire season and with the amount of love Fitz gets from QB John Skelton anyway, fantasy owners should come out of the game real happy with his production.
Click here to see the full list of WRs 1-75, plus rankings for all other positions.

Brought to you by pyromaniac.com.
Listen and subscribe to our Pyro® Weekly Podcasts: http://pyromaniac.buzzsprout.com.
Follow Pyro® on Twitter:  https://twitter.com/pyroman1ac.
Follow Pyro® on Facebook:  http://www.facebook.com/pyromaniac.