Minnesota Vikings Punter Chris Kluwe on Football, Gaming and Being a Dad
November 21, 2011
Hannah Foslien/Getty Images
Depending on your interests, this name could hold varying connotations:
Minnesota Vikings punter.
World of Warcraft enthusiast and ultimate gamer.
Bassist for Minneapolis band Tripping Icarus.
Family man.
Whichever hat he wears in your experience, one thing is for sure: Kluwe is a man of many talents. On Nov. 15, I had the privilege of sitting down with him and conducting a personal interview and learning more about who he is and what he stands for.
In an article published this summer, Star Tribune writer Jim Souhan wrote,
"...the Vikings punter had to be the most popular guy at Los Alamitos (CA) High School. How many people can hang out with jocks, geeks, science-fiction nerds, musicians, artists and intellectuals without snapping a synapse or pulling a hamstring?"
Being a huge Vikings fan, I've watched Kluwe punt successfully game after game. However, Kluwe's football journey didn't take off until high school. A video gamer since age four, Kluwe admits he only began playing sports because his mom made him go outside occasionally.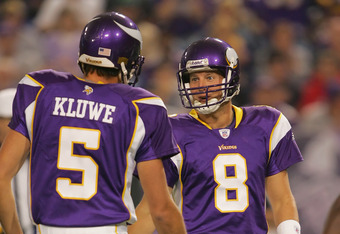 Lisa Blumenfeld/Getty Images
Kluwe needed to register for a fall sport at Los Alamitos High School. "I could kick a soccer ball pretty well," he said, "so I decided to try out for the football team. It worked out pretty well."
"Pretty well" is quite the understatement. Kluwe's name rang recruiters' ears when he kicked a 60-yard field goal against Loyola. The play forced the game into overtime and led to an eventual victory.
The rest is history.
Kluwe attended UCLA, where he promptly developed into one of the top Pac-10 punters. As a senior, he ranked No. 4 in the conference with an average of 42.9 yards per punt.
The Seattle Seahawks signed Kluwe as an undrafted free agent in 2005. The West Coast team didn't see the young athlete's potential, cutting him from the final roster. However, he found himself picked up by the Minnesota Vikings the following day—the move proved to be one of the best decisions the Vikings franchise has made.
In 2006, fellow UCLA alum Ryan Longwell joined Kluwe in purple and gold, and the two often give each other a hard time. "In college, [Longwell] was a first team All Pac-10 punter, and I was a second team All Pac-10 punter," Kluwe explained. He still likes to flaunt his 60-yard field goal, so Longwell's typical response is that he's the better punter on the team, and Kluwe's the better kicker.
On October 25, 2007, Minnesota signed Kluwe to a contract extension through 2013, and the transaction pulled the punter into the top 10 highest-paid punters in the league.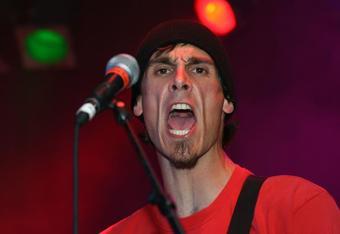 In the football world, many followed the somewhat heated "debate" between Kluwe and former Broncos tight end Nack Jackson. The Minnesota punter posted on Twitter, referring to those players threatening to enter an NFL lockout and calling them greedy. Jackson publicly called out Kluwe on Deadspin.com, but Kluwe stuck by his comments.
Kluwe stated that, while he respected those four players he targeted, he felt that they had "no idea just how privileged we are to play this game for ridiculous amounts of money." He reiterated this for me, once again showing his support and appreciation for the NFL fans and what we stand for:
"I think a lot of people lose sight of the fact that without fans going to games—paying for merchandise, paying for tickets—there's no professional football. The fans are ultimately the people who pay our salaries—I don't think a lot of players get that."
So, he's a solid athlete, a reliable teammate and a friend of the fans—but anyone who follows the California native on Twitter knows there's much more to his life than the pigskin.
Football might pay the bills, but Kluwe splits his time among several different interests—one of the biggest being video games. He goes by Chris Warcraft on Twitter, paying homage to one of his favorite games.
"When World of Warcraft came out, I started playing it and really enjoyed it," Kluwe said.
"It was probably one of the first online games that kept me interested for more than two years […] The company, Blizzard, makes a well-crafted product. Pretty much any Blizzard game that comes out, I'll definitely try it out. They've had a pretty good track record."
Kluwe's Warcraft character is a troll rogue named Loate, and his guild, The Flying Hellfish, has been ranked among the top in the nation.
The avid gamer's fans might wonder if he's ever been part of a world-first raid. "We were server-first on most of the bosses in Black Temple and in Burning Crusades," Kluwe said. "We never got a world-first, although we were third in the U.S. for an Illidan kill." He laughed, explaining, "The guild I was in was a pretty advanced raiding guild—we were pretty hardcore."
Although it may come as a surprise to some, Kluwe hasn't played WoW in about seven months, after the expansion game Cataclysm came out. "Raiding became pretty simple," he explained. "It was basically 'don't stand in fire, and you're fine.' Yeah—I figured out how to not stand in fire about three patches ago."
According to Kluwe, it's a point most games come to. "WoW's had a good run, but every game dies eventually."
The father of two young daughters, Kluwe also opts to play games that allow him to keep his priorities. "[My family] always comes first, not games," he said. "I need to be able to play games that I can pause or put down."
His latest game of choice, then? Kluwe's current project is Elder Scrolls: Skyrim. He talked up the series, saying, "I'm a big fan of the Elder Scrolls series. I've been playing ever since Daggerfall." Follow the Viking on Twitter, and you'll be sure to be updated of his advancements in the game.
Football player, gamer…band member?
Never one to let a new adventure pass him by, Kluwe plays bass in a Minneapolis band called Tripping Icarus. How did it all get started? A video game, of course!
Being a gamer who enjoys all genres (except sports games—he claims he's no good at those), he played Guitar Hero when it first came out. After mastering all three versions of the game, Kluwe generated an idea:
"Hey, I've gotten as good as I'm going to get on the plastic guitar. I should learn how to play the real thing." Kluwe caught on quickly to the bass guitar, being that it's fairly similar to the violin that he played growing up. It was his friend Andy Reiner, a writer for Game Informer, who offered to impart his "band member wisdom" on the amateur Kluwe, and the two joined up with drummer Matt Marshall to get started. Jesse Revel brought in the vocal talent, and they've been delivering a message to Minneapolis ever since.
The band's lyrics could be called political, to an extent. "Sort of like Rage Against the Machine," Kluwe suggested. "Maybe not as far as they go, but there is definitely a message there." The band collectively shares a concern for the trend of shallow materialism leaking across America, and they strive to make a point. "People aren't worrying about the important things—whether people are being fed, being healthy, being able to find jobs."
Kluwe describes their sound as unique. "We're influenced by grunge, but also blues and heavier rock," he said. "Hopefully the music's good, but also if you listen to the message—there's some serious stuff to be said about our society." If one talks to Kluwe, it's obvious that his passion goes beyond playing music and lies rather in presenting fans with something significant to take with them.
Over and above all of this, however—more important than punting, raiding or playing—Kluwe is a normal, everyday guy who loves coming home to spend time with his wife and two daughters.
Kluwe met his wife, Isabel, while at UCLA. Isabel worked in the football recruiting office and, according to Kluwe, was impressed by the incoming freshman's test scores. The two started dating during Kluwe's first year. "We've been together ever since," he said, smiling.
The couple has two daughters: Olivia (age three) and Remi (age one). Will the two girls follow in Daddy's footsteps? Kluwe hopes so.
The learning's already started for Olivia, who likes to play Toy Story on her Nintendo DS.  A proud father, Kluwe told me she's already learned how to jump and run around on the game. "I'm hoping that, as they grow up, they'll be gamers as well. But we'll definitely have to make sure they balance that with school work and athletics."
Tripping Icarus will perform a CD release show at The Entry at First Avenue on Dec. 1.