Oakland Raiders vs. Minnesota Vikings: Spread Info, Line and Predictions
November 18, 2011
Harry How/Getty Images
The Oakland Raiders (5-4) travel north to take on the Minnesota Vikings (2-7) on Sunday, Nov. 20 in a non-conference game, with the 'Silver and Black' right in the thick of the highly-contested AFC West playoff race.
Both teams are trying to adjust to new quarterbacks, as injuries and poor play have claimed the starting spots of signal-callers all across the league. Who will win on Sunday?
Here's an in-depth look at the matchup.
Where: Mall of America Field (Minneapolis, MN)
When: 1:00 p.m. EST on Nov. 20, 2011
Watch: CBS and DirecTV: 704
Spread: Minnesota (+1), according to Covers.com
This is a highly-surprising spread in my opinion, considering the Vikings are coming off a 45-7 loss to the Green Bay Packers. The Raiders, on the other hand, are coming off a 24-17 win over the San Diego Chargers.
Carson Palmer seems to have picked up the Raiders offense incredibly fast, and Michael Bush is an incredible option at running back in the absence of Darren McFadden. When the Raiders are clicking on offense, their defense is able to execute as they'd like to.
Minnesota has shown some bright spots with Christian Ponder running the offense, but Ponder is still raw. He mixes in bad throws, as a rookie is expected to.
The Raiders have shown their ability to get ahead early in games. They've been ahead at the half in three of their last five games. When they get ahead on Sunday, Adrian Peterson will be taken out of the equation.
Take Oakland.
Over/Under: 45.5, according to Covers.com
Oakland's defense is better than the stats suggest. On many occasions, the Raiders have allowed points because of offensive ineptitude. When running is their focus, the Raiders defense doesn't score as much. Running will be their focus on Sunday.
The Vikings are sixth in the league against the run, but will be forced to drop more players into coverage because of their weak secondary. The Raiders speed on the outside will scare the Vikings.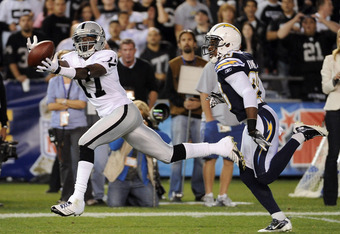 Harry How/Getty Images
However, once the Raiders get ahead, they tend to stick to the run and trust their defense.
Take under.
Key Injuries: (according to ESPN)
Oakland
Darren McFadden (RB) is doubtful with a foot injury.
Jacoby Ford (WR) is doubtful with an ankle injury.
Richard Seymour (DT) is questionable with a knee injury.
*None of the three participated in Friday's practice
Minnesota
Michael Jenkins (QB) is probable with a knee injury. He was a full participant in Thursday's practice.
Fantasy Big Plays
Start Carson Palmer: The Raiders QB is bound to have a good day against the 30th-ranked pass defense. Michael Bush will open up the passing lanes with runs like this.
Sit Percy Harvin: The Vikings wide receiver is a great talent, but Ponder will struggle to get him the ball on Sunday. Harvin is yet to score this year. The Minnesota offense has only recorded seven passing touchdowns this year, which is tied for third-worst in the league.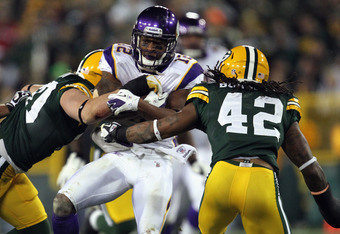 Jonathan Daniel/Getty Images
Keys to Oakland Win
The Raiders need to establish the run, then test the Minnesota secondary. Aaron Rodgers exposed it last week, and Palmer has the speed around him to do the same this week.
On defense, the Raiders need to force Ponder to beat them. If they contain AP, they're golden.
Keys to Minnesota Win
The Vikings should utilize Peterson, their strongest offensive weapon, as much as they can. They should mix in screens and direct snaps to get their star back against different defenders.
In addition, Ponder needs to build a relationship with Visanthe Shiancoe, who is capable of being a touchdown machine. In 2008 and 2009, Shiancoe combined for 18 TDs. 
Prediction
Oakland 20, Minnesota 13