Army vs. Temple: Will QB Trent Steelman Lead Black Knights?
November 19, 2011

At Thursday night's "This Week in Army Football Radio Show" held at West Point's First Class Club, head coach Rich Ellerson hinted that junior quarterback Trent Steelman might be back in action on Saturday. Steelman has not played since the October 22 Vanderbilt game, when he suffered a high ankle sprain. Otherwise expect to see freshman Angel Santiago lead the Army offense. 
Coach Ellerson said Steelman "had practiced" and that he is "hoping Trent's back." In past weeks, Ellerson had said that Steelman would need to be able to practice on Wednesday in order to play on Saturday.
Last week at Yankee Stadium, I watched Steelman long toss with Max Jenkins and test his footwork. He looked a bit careful but comfortable. I will not be surprised to see No. 8 run out on the field with the Black Knight offense. 
Steelman's presence in the lineup would be a lift to Army, which has lost two straight games to Air Force and Rutgers. Both games were opportunities for the Black Knights to win but second half mistakes caused them lose control of both contests. Ellerson detailed what Angel Santiago brings to the offense versus the experience in decision making that Max Jenkins would provide:
We absolutely need the quarterback's legs. They require those legs to be evident, and Angel's got better feet than Max. Max makes great decisions and Max has got a million reps and I trust Max implicitly. What I really didn't know was how Angel would handle all that. I don't know that I could imagine him handling it any better than he did as a competitor. I'm especially pleased with how he threw the ball.

Obviously, he's one of those guys who is very, very comfortable playing the game of football. You put the ball in his hands and surround him with the football team and he's in his element. I'm not surprised, but I'm pleased that that's the way it looks.
Steve Addazio, comes in as head coach for Temple, after the departure of Al Golden to Miami. In five seasons, Golden had taken Temple from 1-11 to 8-4 last season. Previously, he had been the offensive coordinator at Florida.
So far Addazio has the Owls at 6-4 with a signature 38-7 win at Maryland, a dominating 42-0 win at Ball State and a 34-0 home win over Buffalo. They held Penn State to 14 points in a close loss at Lincoln Financial Field on September 17. Temple comes off 24-21 home win over Miami of Ohio on November 9.
This is Army's fourth game traveling to the Mid-America Conference. So far they have lost 49-26 at Northern Illinois, 48-21 at Ball State and 35-28 at Miami of Ohio. The challenge has been defense and turnovers.
At his Tuesday press conference, Ellerson described the challenge of playing another good team that is already eligible for a bowl:
"Temple's another real challenge. They've already gotten themselves bowl eligible. They're a very, very physical, very veteran offensive football team, particularly on the run side. The quarterback's legs - (Chris) Coyer is really something. Obviously, the running backs we've seen in the past, (Bernard) Pierce and (Matt) Brown."
The Owls average 254 yards per game rushing the ball, eight best in the NCAA. Much of that comes from junior tailback Bernard Pierce, who is averaging 115 rushing yards per game, 13th-best in the NCAA and best in the MAC. Junior Matt Brown is averaging 70 yards per game while also be a threat on kickoff and punt returns. Ellerson continued about the Temple offense: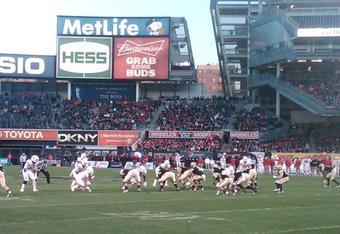 They have a senior, veteran, physical offensive line that's been really productive for them, and had their way with us a year ago. Defensively, they've just put some tremendous numbers up this year. You look at them a little bit like you look at Rutgers, except you can't watch them defend the option, so you have to prepare very generically. They're a big, athletic outfit that has put some really impressive numbers up this year. So, we've got our work cut out for us.
 Coach Ellerson talked about his own team in reassuring terms:
They're so resilient. They're excited to play. They've got their heads down. They're playing hard. They're trying to stay in the moment and win the next fight, and they're giving themselves a chance.

That speaks, I think, to that internal leadership that they have. Those guys aren't letting the record talk them out of having fun, talk them out of competing, talk them out of trying to get better. They're doing all those things. I couldn't be more impressed with their resilience and their toughness and their ability to get ready to go fight again.
Army played last week against Rutgers with three freshman in key offensive positions—Larry Dixon at fullback, Ryan Powis at center and Angel Santiago made his first collegiate start at quarterback. Ellerson appeared pleased with the performance of Santiago.
"We're pleased with how Angel (Santiago) came out and played last week," he said. "It was his first time in a stadium like that against an opponent like that. To go out and play with that kind of poise and consistency was really impressive and speaks volumes about his character."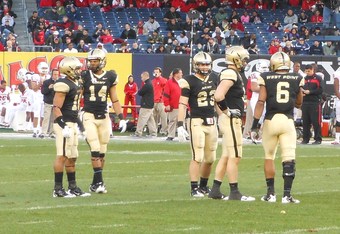 Last week, the freshman QB Santiago carried 30 times, more than half of Army's 54 rushing attempts.  Slotback Raymond Maples leads the team in rushing with 891 yards, sat out with an injury. Ellerson commented on the availability of Maples to play this week in his home town of of Philadelphia:
"I was almost sure that we were going to have him, but I'm not sure anymore. He took a test today and got a headache. I don't know. We'll stay loose and adjust here. Obviously, with the new standards, we're very, very conservative and cautious with that. Our medical folks are on top of it, and they'll let us know. I'm optimistic, but I think it's still somewhat questionable."
One of the examples of leadership that was great to see last week was Trent Steelman running out to encourage Santiago after the freshman had made an apparent fumble on the Rutgers goal line, a call which was reversed on replay. Ellerson commented on the leadership among his three top quarterbacks:
"They have that relationship. Max (Jenkins), frankly, has got them all under his wing a little bit. At West Point, you're not just going to win part of the day, you have to win all day. Max is one of those guys that wins all day. He does a wonderful job, not just of managing the quarterbacks, but the offensive side of the ball and the team in general."
One of my questions this week for the coach was about the 15 pass attempts Santiago threw against Rutgers, it appeared West Point can open up the offense a bit with passing when Santiago is in the game.  Ellerson said: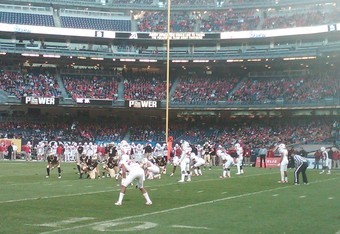 The situation was such that we had to, we needed to, and he was reasonably proficient doing it. There were a couple of throws he made that we've had a hard time making, which is encouraging. It doesn't necessarily change our approach to the game. We've never been hesitant to throw when Trent (Steelman)'s playing or, for that matter, when Max (Jenkins) is playing, when we thought that's what we needed to do. But it was nice to see that he was that comfortable in that phase of the game and that accurate.
Later, I asked the coach about the improvements in the Army defense and maturity demonstrated by the young players in recent weeks against both Air Force and Rutgers: 
 "I love the way they're competing. Obviously, every week we're having to come up with some novel solutions to the challenge at hand, given what we are physically. You mentioned the number of tackles our free safety had; that's typically not a good sign. But, we're using all 11 guys. There are some young guys who have been pressed into service and in some cases pressed into service in positions that are not typically theirs who have grown into it and played a little bit better each week."
The coach was very specific about the threat from the Temple offense:
This is an outfit that had their way with us a year ago running the football. That's a veteran offense. That's a very good, very physical, very veteran offensive line. They've got four of five seniors. Their tight end is a senior. Their fullback is a senior. Pierce and Brown are both little nightmares and now they've added the quarterback's legs to the equation. Then you go out on the perimeter and you've got two 6'4", 6'5" receivers on the perimeter who every time they stand up they're open."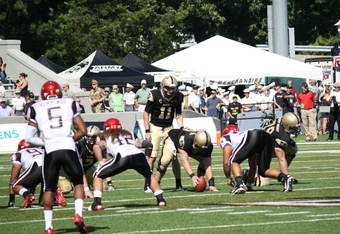 When a team reaches the point of not being able to achieve its goals for the year such as qualifying for a bowl game or beating a major rival like Air Force, frustration can set in. Ellerson was very appreciative of the leadership being provided by his three captains Steve Erzinger, Max Jenkins and Andrew Rodriquez:
I really do think just as an entity, the Army football team is in good hands with our senior leadership and especially those captains. They've kept us together. A lesser group of guys faced with the kind of adversity and the challenges that we've had would have given in to their more baser instincts, and these guys haven't let that happen.

We've stayed together. We've been resilient. We've continued to fight back. We're doing so many things well enough to be successful in spite of our relative immaturity physically. We're giving ourselves a great chance. I think that speaks volumes. We shouldn't be surprised that we have some great character and some great leadership on an Army football team. That should be the standard and these guys do not disappoint in any meaningful way.
It could be a tough one for West Point Saturday in Philadelphia. They may have their starting quarterback for the past two and a half years, Trent Steelman, back—we will see. They play a Temple team that beat Ball State 42-0—a team which beat Army 48-21 two weeks before that in September.  Perhaps this is the week that Army puts four quarters of solid football together. We know they will be making a major push in three weeks to break the streak and beat Navy, an achievable goal.
Perhaps the drive to "Beat Navy" begins on the familiar field of Lincoln Financial Field against Temple.


Ken Kraetzer covers Iona basketball and West Point Football for Sons of the American Legion Radio. He will produce a special one hour Army-Navy game special to be broadcast on WVOX 1460 AM and nationally on WVOX.com Tuesday December 6th at 5 PM EST. He can be reached at KGK914@aol.com.
Unless otherwise noted, all quotes were obtained first-hand.