Syracuse Basketball Allegations: Bernie Fine in a Mess
November 18, 2011
Rick Stewart/Getty Images
I went through last week with a chip on my shoulder.
I was angry about the news circulating regarding the grand jury findings and subsequent charges against former Penn State defensive coach Jerry Sandusky.
I was mad as hell and I wasn't going to take it anymore.
Even with some of the rumors circulating about what people knew or didn't know, I felt I said my piece and had no inclination to revisit Sandusky or any other molestation story. It's not exactly what sports writers dream about writing and the whole vocabulary needed to write such columns churns my stomach.
With the unpleasantness out of my system, I decided it was time to start writing about the upcoming matchup between the much-heralded Syracuse Orange and its once and future conference rival, Virginia Tech, in next week's NIT Season Tip-Off semifinals in Madison Square Garden.
Then I read this headline...Syracuse coach Fine in molestation inquiry. I was shocked.
I feel the world has desensitized me somewhat.
Mass media has evolved into a beast that spews every factoid a person wanted to know was out there but was afraid to ask.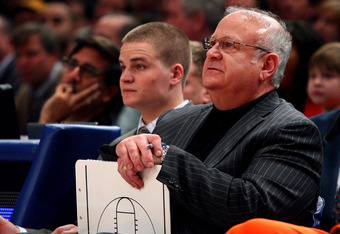 Jim McIsaac/Getty Images
We also get everything we never cared to know. 
We used to get our news from just three major networks.
If something crazy happened in the world, it had to be important and shocking enough that it would make the 6:30 news or it wasn't getting broadcast.
We were rationed our crazy world with a 19" pixelated sippy cup.
Today, anything and everything that happens in the world from Kardashian to Kazakhstan is a click or a pop-up away and nothing shocks me anymore, or at least I thought.
The Sandusky story shocks me. Not Sandusky's alleged acts, but that a perceived good man such as Joe Paterno could make such terrible decisions for what seems to be either loyalty or school pride.
As far as Sandusky is concerned, the charges aren't as shocking as they are sickening, but that is because I haven't been familiar with the man other than him being a name in passing over the years at Penn State.
Syracuse men's basketball assistant coach Bernie Fine, on the other hand, is someone who I've been familiar with since I was a lad.
Again, I'm shocked at a time when I didn't think it was possible.
I've had the pleasure of meeting Coach Fine a few times. Nothing more than a handshake or two, and I won't ever claim to know the man, but something about this story just isn't sitting right with me.
He didn't come off creepy like Sandusky. He just seemed to be a guy who, like his longtime coaching partner Jim Boeheim, bleeds orange and loves the game of basketball.
So what's different?
I had to look deep into my own psyche and figure out if I was just in denial.
I've been following Syracuse Basketball since before I could spell Seikaly.
We never really know our sports idols intimately, save a few sound bites here and there, but when we put our time, treasure and hearts into our sports teams, they feel like family.
We fight and argue, all in the name of being a good fan.
The problem is that even if it's family, there are some things that can't be overlooked.
The allegations against Bernie Fine are just alleged at the present, but they can't be overlooked nor dismissed just because he seems like a good guy.
When the Sandusky story broke, I wondered how I would feel if one of the beloved teams I root for went through a similar allegation.
I've been through New Jersey Net Jayson Williams killing his limo driver, Dwight Gooden and Darryl Strawberry's cocaine problems and Mike Tyson...well, take your pick with Tyson. But molestation is something I'm not familiar with and it makes me uncomfortable and angry, as it should.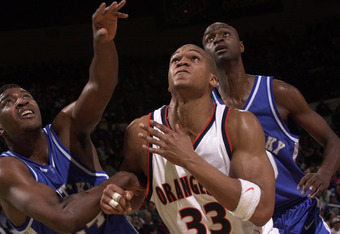 Doug Pensinger/Getty Images
I would now, unfortunately, get the answer to my inquiring mind.
It's far too early in the process to pass judgment, but if Jim Boeheim's word is worth anything, he vehemently claimed that Fine's accuser, Bobby Davis, is lying about statements involving seeing Jim Boeheim in Fine's hotel rooms at various locations.
I'd like to take Boeheim at his word.
If Davis is lying about this detail; what else could he be lying about?
Everything will come out in the wash, but the once-clean image of a man whose development of Syracuse's big men has been almost as significant as the implementation of the 2-3 zone at the Carrier Dome, is forever tarnished.
If Davis is telling the truth, then may Fine be damned.
If Davis turns out to have made up a story to ruin a man's career, well, I guess I'll just be shocked again.
This time around, I would welcome the shock.