Penn State Scandal: Say It Ain't So, Joe Pa
November 9, 2011
Rob Carr/Getty Images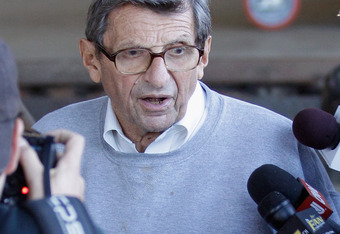 Rob Carr/Getty Images
We are a divided society, but there are moments we find common bonds that define us as people and help us identify with each other. We love sad songs when we're feeling down because we know we're not alone in our pain. We love an underdog story because we all can share in the dream of beating the odds, no matter the circumstance. When tragedy strikes, we are a country united, which is why Americans are sharing their outrage at the disgusting assaults and cover-ups on the campus of Pennsylvania State University.
A quick refresher: Former Penn State defensive coordinator Jerry Sandusky has been charged with sexually abusing eight boys over a 15-year span following a grand jury investigation. Penn State Athletic Director Tim Curley and a university vice president, Gary Schultz, have been charged with felony perjury and failure to report suspected child abuse. Curley is on administrative leave, and Schultz has resigned.
Sandusky was a long-time assistant for Penn State football and is credited with the University being dubbed, "Linebacker U" as a result of the amazing amount of professional football players churned out by the central Pennsylvania public research school. His years of service at Penn State and the loyalties built therein may succeed in tearing down not only one of the cleanest college programs in the country, have proven to be the ouster of head coach Joe Paterno, whose 40+ years as a mentor and molder of young men may be forever tarnished by his actions—or, rather, lack of actions.
The basic facts are available in the perverse grand jury testimony and the details are a little too graphic and disturbing to write here. As I alluded, a noteworthy observation is the unified public outrage at the cover-up and lack of action on behalf of Penn State University and its staff. From football great Franco Harris to Nobel Prize winner Paul Berg to Tampa Mayor Bob Buckhorn, Penn State grads have historically proven to be upstanding members of society.
Penn State's alma mater even contains the verse, "May no act of ours bring shame to one heart that loves thy name." After going through just a snippet of the grand jury testimony, I believe that there are several parties who have not lived up to the standard put forth in the alma matter and sullied the reputation of a fine school. These so-called "men"  each had an opportunity to put an end to years of alleged abuse by Sandusky, but failed to not only act as compassionate men, but as human beings.
In the movie, The Boondock Saints, the opening scene shows a priest recalling the sad story of Kitty Genovese, a New York woman who was stabbed to death amid many bystanders who looked on without aiding or heeding her cries for help. This became known as Genovese Syndrome. The priest remarked, "Now, we must all fear evil men. But, there is another kind of evil which we must all fear most…and that is the indifference of good men." While Sandusky has been charged with over 40 counts of sexual abuse and child endangerment, several men should at the least be ashamed of themselves.
I believe these men are each complicit and are guilty as accomplices after the fact:
Jim Calhoun: Calhoun was a temporary janitor at Penn State who witnessed Sandusky in a sexual act with a young boy in a shower in 2000. He was worried about losing his job if he reported what he saw, so he went to a supervisor. Calhoun's supervisor, Jay Witherite, told Calhoun he could report the incident if he chose to. Several members of the janitorial staff were aware, but along with Witherite, did not report the abuse for fear of dismissal.
Mike McQueary: Current Assistant Coach McQueary was a 28-year-old graduate assistant in 2002 at Penn State. McQueary witnessed Sandusky engaging in a sexual act with what seemed to be a 10-year-old boy, again in a Penn State shower. McQueary did not intervene and instead went to his father to tell him about it. The two went to Coach Paterno's house the next day to report the incident. Neither called the police.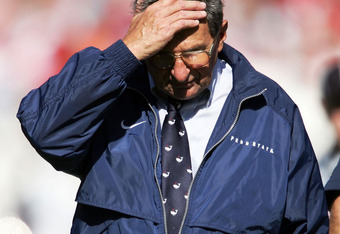 Andy Lyons/Getty Images
Joe Paterno: Penn State's "Joe Pa," after learning of the conduct of one of his most cherished former assistants, went to AD Tim Curley and VP Gary Schultz the next day to report the incident. Paterno also did not report the incident to the police. Curley and Schultz met with McQueary 10 days later. He revealed to the two what he saw involving Sandusky and the boy, yet no calls were made to the authorities. McQueary was informed two weeks later that Sandusky's locker room privileges were now revoked and he was no longer allowed to bring boys onto campus.
There are a few others, but these three, along with Curley, Schultz and Sandusky, stand out as making exceptionally poor choices as men.
It's natural to be sick over the disgusting acts of Sandusky. It's also a legitimate concern that Paterno, a god among men in the state of Pennsylvania, did not do more to stop this lunatic. What's most disturbing to me is that two grown men, Calhoun and McQueary, witnessed two different boys being raped and did not intervene.
It sends shivers up my spine to hear "10-year-old," "60-year-old" and "showering together" in the same sentence. Calhoun and McQueary's instincts as men should have been to get those boys out of harm's way. For fear or cowardice, these men denied their duties as human beings. At what point is it permissible in society to witness a rape and let it continue? How does a man who shirks this responsibility live with himself? Thinking about it makes me want to vomit.
I believe in the equality of men and women, but I also believe that men have a specific duty as protectors. When presented the opportunity to act as men, they chose either cowardice or some sort of archaic protocol. If it's not cowardice, some obscene form of "chain of command" completely failed these two boys and possibly dozens more like them.
Of all the commentary I've heard on the matter, I feel former NFL head coach Herman Edwards came the closest to my sentiments. He said on ESPN, "This guy sees that being done to a child and then they're talking about passing it up the chain of command and all this. I'll tell you what, I see that being done to a child, I'M the chain of command."
Not to be lost in this are the children, who are now adults, as this scandal is brought to public light. Some have come forward, some may never be identified and most are probably scarred for life. Penn State and some of its most revered staff had an opportunity to stop this monster a long time ago, but chose protecting a football program over the safety of children.
Shame on you, Penn State.