Week 11 Fantasy Rankings: 5 RBs Ready to Run Wild and All Your RB2 Options
November 18, 2011
Mike Ehrmann/Getty Images
Figuring out who the best running back plays are from week to week is a little easier than doing so for wide receivers, but by no means is it simple. With some of the league's top players injured and more than a few interdivision rivalries to consider, Week 11 is certainly no walk in the park.
That's why those of us in the fantasy industry put together these lists for you—to give the reader a gauge of what to expect from his or her players on any given Sunday.
With that, here are the weekend's top 25 running backs along with some detailed analysis on the five best plays for the week:
25. Cedric Benson (@ Bal)
24. James Starks (vs. TB)
23. BenJarvus Green-Ellis (vs. KC – Monday Night) 
22. Jonathan Stewart (@ Det)
21. Chris Johnson (@ Atl)
20. Mike Tolbert (vs. Chi)
19. LeGarrette Blount (@ GB)
18. Maurice Morris (vs. Car)
17. Ryan Mathews (vs. Chi) 
16. Willis McGahee (vs. NYJ – Thursday Night)
15. Frank Gore (vs. Ari)
14. Shonn Greene (@ Den – Thursday Night)
13. Reggie Bush (vs. Buf)
12. Brandon Jacobs (vs. Phi – Sunday Night)
11. Steven Jackson (vs. Sea)
10. Michael Bush (@ Min)
9. Marshawn Lynch (@ StL) 
8. Michael Turner (vs. Ten)
7. Ray Rice (vs. Cin) 
6. Fred Jackson (@ Mia)
THE TOP FIVE

5. DeMarco Murray (@ Was)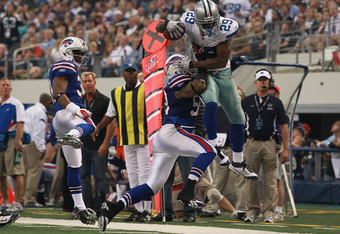 Ronald Martinez/Getty Images
Felix Jones may be coming back this weekend, but that doesn't mean that DeMarco Murray won't still get the lion's share of the work. The most likely scenario is that Murray gets a good 80 percent of the offensive plays, which should be enough to do some serious damage against a reeling Washington Redskins team.
In fact, though their overall numbers somehow look decent, the Redskins defense has allowed an opposing running back to put up double-digit fantasy points against them in every single game this season. Four of them had 100-yard games, while six managed to score a touchdown.
Murray is riding so high right now that there's just no way in the world he will be stopped by this Washington squad.
4. LeSean McCoy (@ NYG – Sunday Night)
Whether Michael Vick and/or Jeremy Maclin play or not this Sunday night, LeSean McCoy is probably going to be depended on more than he has at any point this year.
This is really nothing new to the Eagles, however, because in his three games against teams within the division this season, McCoy averaged just fewer than 30 touches a contest while putting up a staggering 160 total yards per game.
Back in Week 3, McCoy had 128 rushing yards and a TD against these same Giants, so there's no doubt he can turn in a nice fantasy game for his owners this time around as well.
Chris Trotman/Getty Images
Though they've been tougher against the run of late, New York is still tied for allowing the 10th-most fantasy points to opposing RBs, so I expect LeSean to be just fine.
3. Maurice Jones-Drew (@ Cle)
In nine weeks this season, the Cleveland Browns have allowed six different running backs to rush for 100-plus yards and another two RBs to go over 90. Basically, you can run all day on these guys, which is exactly what the Jaguars plan to do.
MJD has carried the load like no other this year by accumulating the league's most rushing attempts (191) while trailing only Matt Forte in total touches (208 to 206).
With the Browns being first in the league against the pass and rookie Blaine Gabbert still working under center, you know Jones-Drew will be ridden into the ground in this game and will be able to produce some nice fantasy numbers.
2. Matt Forte (vs. SD)
Forte was held to his lowest total yards output of 2011 against the Lions last weekend (67 yards), but with the way he's been playing this season, you have to consider the dropoff as more of an exception than the norm.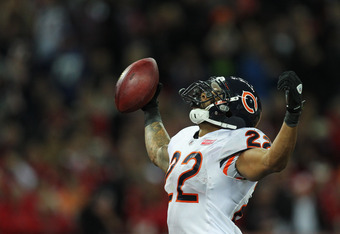 Streeter Lecka/Getty Images
After seeing what Michael Bush did to the Chargers defense last Thursday night, I have to believe Forte will return to his usual dominating ways and see a good 25-30 touches out of the backfield this Sunday.
Every time he gets that sort of usage, he's put up more than 150 total yards, with at least 116 of them coming on the ground.
Sounds like a winning combination to me.
1. Adrian Peterson (vs. Oak)
Let me make this perfectly clear—Adrian Peterson LOVES playing at home in the dome.
Though he's played in just four home games this season versus five games away, he has 144 more rushing yards and four more rushing TDs at home than he does on the road. In addition, all three of his 100-yard games this year have been at Mall of America Field (i.e. the Metrodome).
If Oakland had a better-than-average team at stopping the run, I might slip Purple Jesus down a notch or two, but they don't.
The Raiders have allowed the fourth-most fantasy points to opposing RBs this season and although they haven't been terrible, I just can't see them being able to hold AP28 back with the way he's been running this year.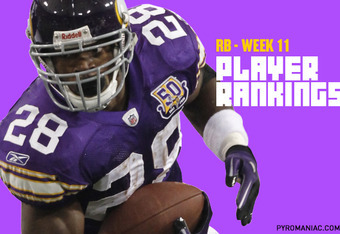 Click here to see the Full List of RBs 1-50 Plus Rankings For All Other Positions

Brought to you by pyromaniac.com
Listen and subscribe to our Pyro® Weekly Podcasts: http://pyromaniac.buzzsprout.com
Follow Pyro® on Twitter:  https://twitter.com/pyroman1ac
Follow Pyro® on Facebook:  http://www.facebook.com/pyromaniac