The Denver Broncos and the NFL's Most Run Heavy Offenses of All-Time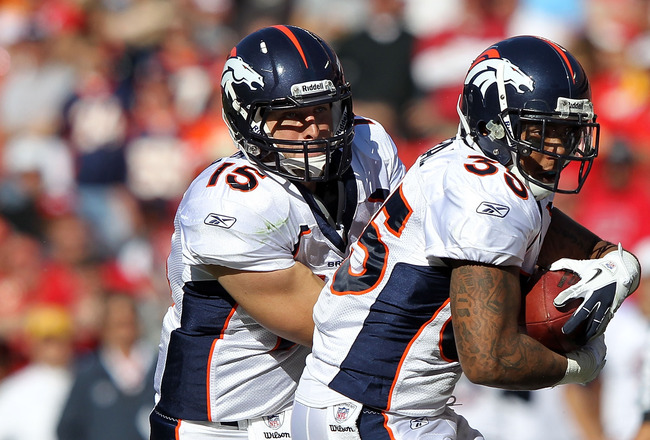 Jamie Squire/Getty Images
The 2011 Denver Broncos are running the ball. Oh I know, the Philadelphia Eagles and Houston Texans are ahead of them statistically.
But take a look at this:
Through the first four weeks of the season, the Broncos had rushed for just 347 yards as a team. That is about 87 yards per game
Enter Tim Tebow and a revamped offense.
In the past five weeks, the Broncos have totaled 1077 rushing yards. That is 215 yards per game. That puts them on track for over 2500 yards for the season.
The Broncos are a running football team.
There have been great running teams in the past but we may not know them as well because running the ball well doesn't always equal wins.
Whether it was one player or a run-by-committee system, let's look at some of the best running football teams of all time.
10. 2009 New York Jets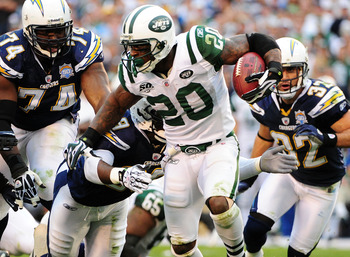 Thomas Jones
Robert Laberge/Getty Images
The 2009 New York Jets were a strong running football team. With running backs like Thomas Jones (pictured) running for 1402 yards, Shonn Greene with 540 yards, and Leon Washington picking up 331 yards the Jets could beat you with a few different runners.
Add to the mix a dual-threat quarterback in Brad Smith who also carried for 207 yards, and the Jets rushed for 2,756 yards on the season.
The Jets finished the season 9-7 and made it to the AFC Championship game, where they were beaten by the Indianapolis Colts.
9. 2006 Atlanta Falcons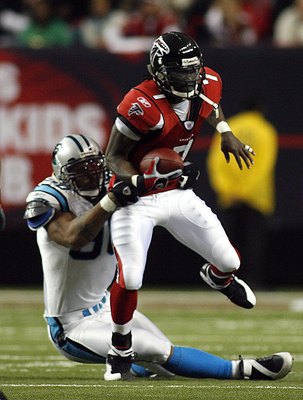 Michael Vick
Marc Serota/Getty Images
The Atlanta Falcons only went 7-9 in 2006, but this team could flat out run the ball.
Running back Warrick Dunn carried for 1140 yards. Quarterback Michael Vick (pictured) ran for 1039 yards.
Wait let me repeat that. Quarterback Michael Vick ran for 1039 yards.
Running back Jerious Norwood also went for 633 yards on the season.
As a team, the Falcons rushed for 2,939 yards.
It wasn't good enough to make the playoffs, but no question they could rush the football.
8. 2001 Pittsburgh Steelers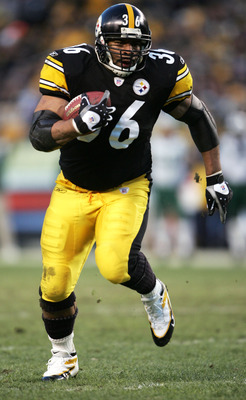 Jerome Bettis
Andy Lyons/Getty Images
It's really no surprise that the 2001 Pittsburgh Steelers rushed for 2,774 yards, or that running back Jerome Bettis led them with 1,072.
What is surprising is how much help Bettis had.
Running back Chris Fuamatu-Ma'afala: 453 yards.
Quarterback Kordell Stewart: 537 yards.
Amos Zereous: 441 yards.
That's a load to try to stop.
The Steelers ran all the way to the AFC Championship game, where they were beaten by the New England Patriots.
7. 1981 Detroit Lions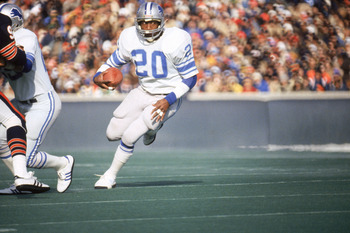 Billy Sims
Jonathan Daniel/Getty Images
Before there was an amazing running back wearing No. 20 in Detroit...there was another amazing running back wearing No. 20 in Detroit.
The Detroit Lions were 8-8 in 1981 and they ran the ball well.
Led by Billy Simms (pictured), who ran for 1437 yards, the Lions finished the year with 2,774 yards.
Simms was helped by running backs Dexter Bussey, Rick Kane, and Vince Thompson as well as quarterback Eric Hipple.
6. 1984 Los Angeles Rams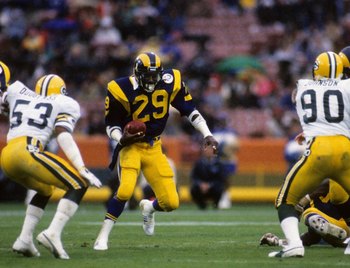 Eric Dickerson
George Rose/Getty Images
5. 1976 Pittsburgh Steelers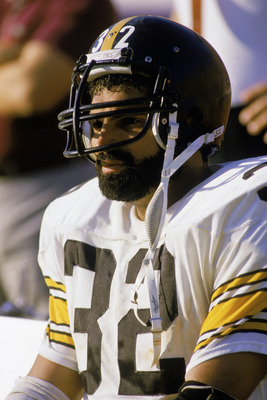 Franco Harris
Rick Stewart/Getty Images
The Pittsburgh Steelers of the '70s loved to run the ball and they never did it better than in 1976, when they rushed for 2,971 yards in just 14 games.
Franco Harris (pictured) deservedly received the majority of the credit (he did run for 1,128 yards). However, he also had help from running back Rocky Blier who totaled 1,036 yards of his own.
The Steelers went 10-4 in 1976 and it was primarily due to the strength of their rushing game.
4. 1997 Detroit Lions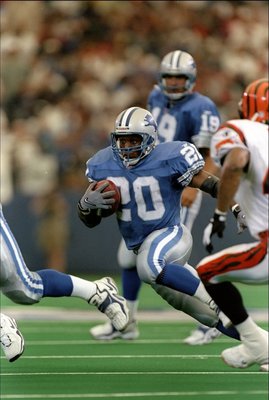 Barry Sanders
Vincent Laforet/Getty Images
The last time the Detroit Lions made the playoffs, they were led by that other No. 20.
Barry Sanders may have been the most electrifying running back to ever play the game.
In 1997, he rushed for 2,053 yards. The Lions rushed for 2,464 on the season.
And yes, I realize that is less than the teams who have been listed so far.
But lets look closer.
The 97' Lions reached that yardage on just 447 carries.
That is an average of 5.5 yards per carry.
This team was without a doubt one of the greatest rushing teams of all time.
3. 1984 Chicago Bears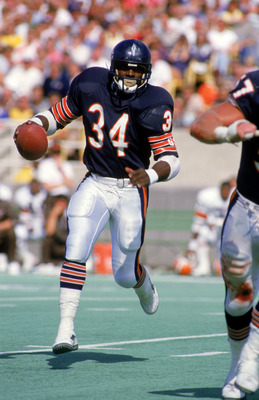 Walter Payton
Jonathan Daniel/Getty Images
The Chicago Bears didn't win the Super Bowl until 1985, but they were never better running the football than they were in 1984.
The late Walter Payton (pictured) ran for 1,684 yards, and the Bears rushed for 2,974 as a team. Fullback Matt Suhey pitched in with 424 yards of his own.
The Bears went 10-6 before losing to the eventual Super Bowl champion San Francisco 49ers.
2. 1973 Buffalo Bills
O.J. Simpson
Getty Images/Getty Images
Another case of one of the best single-season rushing by a player carrying the team.
O.J. Simpson ran for 2,003 yards in just 14 games, averaging a whopping six yards per carry.
Adding to the totals were Jim Braxton and Larry Watkins, who also carried for over 400 yards apiece.
The '73 Bills ran for 3,088 yards in just 14 games.
That's about 220 yards per game.
1. 1978 New England Patriots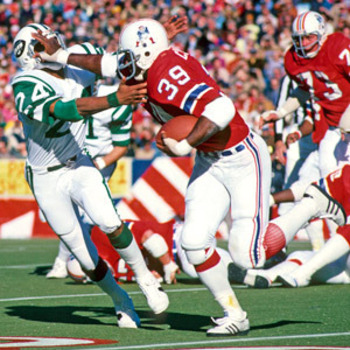 Sam Cunningham
The 1978 New England Patriots rushed for 3,165 yards.
That is the most yards rushing in a season by a team of all time.
But what may be more amazing is the fact that they did it without a single player going over 1,000 yards.
Sam "Bam" Cunningham led the team in rushing with just 768 yards.
Running back Andy Johnson had 675 yards.
Horace Ivory rushed for 693 yards.
Quarterback Steve Grogan actually rushed for 539 yards.
Running back Don Calhoun even picked up 391 yards.
That is running by committee!
The Patriots went 11-5 and made it to the divisional playoff game, but no one has ran the ball like the Patriots did in 1978.
Keep Reading

Denver Broncos: Like this team?