Tim Tebow and Denver Broncos: Dropping the Ball with Wide Receivers?
November 17, 2011
Doug Pensinger/Getty Images
As the Denver Broncos great read-option experiment has moved into the second half of the season, will it have any ongoing impact on current and future wide receivers and tight ends? 
Over the past three games, the Broncos have changed quarterbacks to ex-college spread superstar Tim Tebow and began to focus on a run-oriented offense.
As everyone knows, most wide receivers are statistical divas, making their money in future contracts and their fame on catches, yards gained and touchdowns.  With the current offensive scheme in Denver, that doesn't bode well for the Bronco receivers.
Is there any question as to why a certain ex-Bronco, ex-Pro-Bowl wide receiver by the name of Brandon Lloyd had his bags packed, a rather large smile on his face and fled the Mile High City the second his trade with St. Louis was completed?
With the possible exception of Eric Decker, the second year man out of Minnesota, nobody else has more than 2 touchdowns.  While Decker is having a great sophomore season so far with 7 touchdowns and 467 yards, the rest are in the dust. 
Tight end Daniel Fells is next with 2 touchdowns and 201 yards, wide receiver Matt Willis has one touchdown on 142 yards, and wide receiver Eddie Royal has one touchdown and 131 yards.  And bringing up the rear, Demarius Thomas has one touchdown and exactly 15 yards.
Let's look at this four-game trend:
Dolphins 10/24, 135 Yards, 2 TDs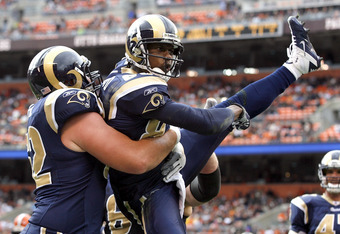 Matt Sullivan/Getty Images
Lions  17/38, 167 Yards, 1 TD
Raiders 8/129, 120 Yards, 2 TDs
Chiefs 2/8, 69 yards, 1 TD
That averages out to 125 yards per game and 1.5 touchdowns per game for the receiving corps.
And if you look at just the past two games where the read-option was more included in the game plan, it averages out to 95 yards per game and 1.5 touchdowns.
I know this is a team sport and the Broncos are all unselfish members of that team, and getting wins is more important than individual stats, right?
Right?
That may be true now with winning being such a new concept to this team, but things will begin to change when some of these players who are paid to be receivers, not decoys, come up for free agency.  Will they stay or flee?
Another factor any wide receiver or tight end will want to consider is longevity.  When passes are wobbling, or thrown behind the receiver, injuries are waiting in the form of nasty hits by safeties and cornerbacks, like the one in that picture of Eddie Royal above.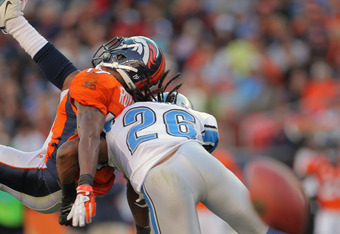 Doug Pensinger/Getty Images
Royal will have to make his mark on this team with his punt returns, not on his receiving statistics.
And what about new free agents?  How will we ever attract anyone with any talent that is not over the hill? 
Maybe it won't matter much as long as the game is played on the ground.  But at some point, that will have to change.  And when it does, will this team have enough good hands on it to mount an effective passing attack?
And let's not forget that all-important part of the NFL, Fantasy Football.  There won't be any wide receiver other than Eric Decker anywhere near the top 10 in fantasy statistics.
And none of them will ever get their picture on a Madden game box.