Pretty in Blaugrana: Ranking the Top 40 Kits in FC Barcelona History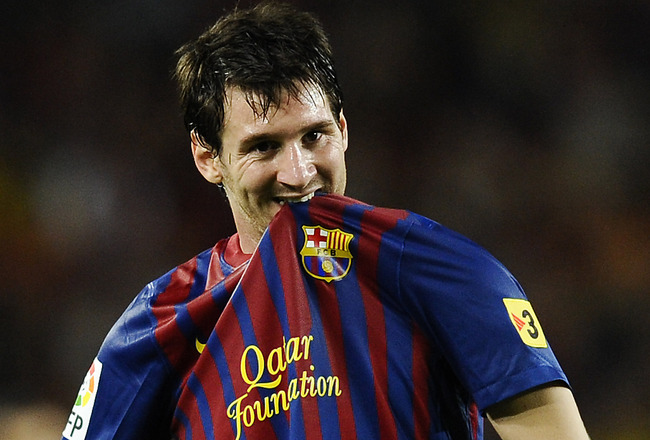 David Ramos/Getty Images
FC Barcelona's kit is one of the prettiest uniforms in the world, and trust me, they've had lots of them throughout the years.
Their Blaugrana colors are a big part of the club's identity and a big reason why people identify them nowadays. The good news is they change the uniform every year now, so in recent years, we've had lots of different kits to choose the best from.
The bad news is that if you're a Barcelona fan, you have to buy a new one every year.
40. 1980-89 Third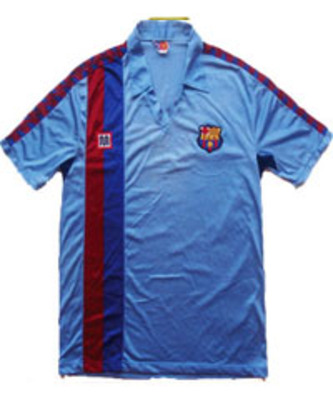 These sky blue uniforms from the 80s and early 90s aren't the prettiest you'll see on this list, but I assure you there were uglier ones that didn't even make the historic top 40.
39. 2006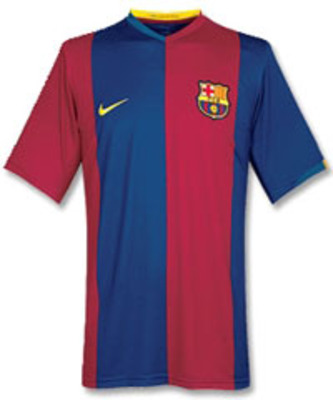 A bit generic as far as the blaugrana uniforms go, the 2006 edition was also the first to feature an ad in it.
38. 1970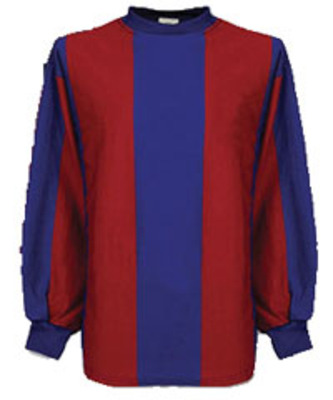 Worn by Johan Cruyff in the 70's, this is what comes to mind when you think of a Barcelona shirt. That's not particularly good when it comes to ranking the best, though.
37. 2001 Away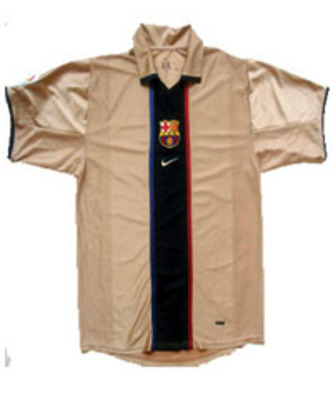 Gold? Really? The navy blue stripe is a nice touch, though.
36. 2007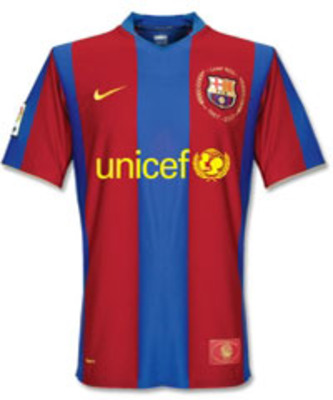 The kit celebrating the Camp Nou's 50th anniversary had a classical touch, but it was a bit generic as well.
35. 1960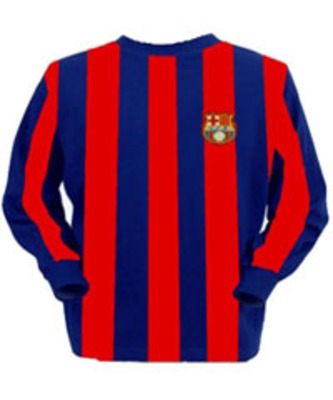 The 1960s version featured a brighter red and a darker blue, which made a very nice combination even if the club wasn't in its best of times historically.
34. 2006 Away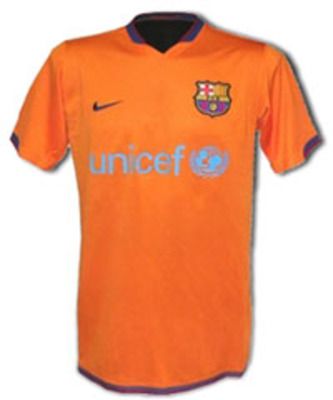 This orange blaugrana kit was simple. It had a few nice touches on the sleeves, but other than that, nothing special here.
33. 2010 Away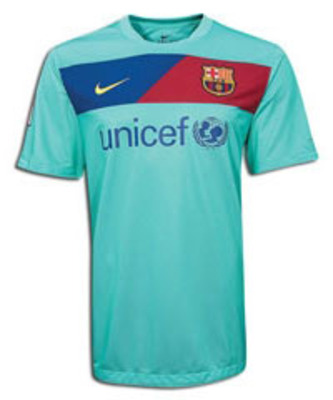 This greenish/blueish shirt was not well received by fans. I do like it and make it 33 on this list.
32. 2003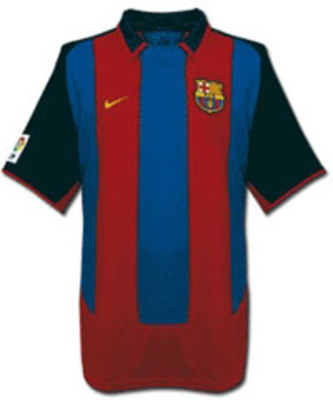 The shirt which re-started Barcelona lore was beautiful indeed. This was the first Blaugrana kit to be worn by Ronaldinho.
31. 1992 Away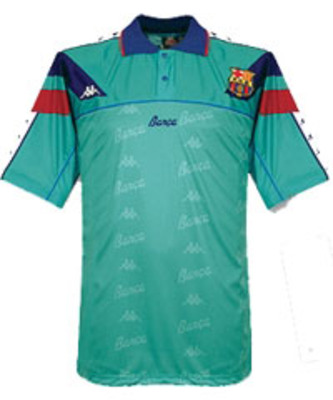 The original turquoise kit, it premiered after Barcelona had won its first European title.
30. 2001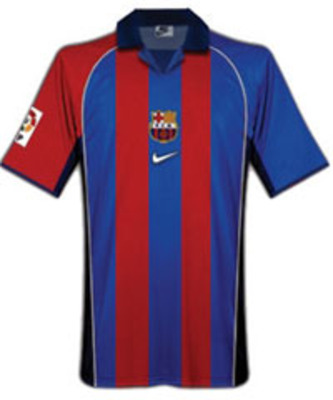 Simple design, but a very nice touch with the different colored sleeves.
29. 1995 Away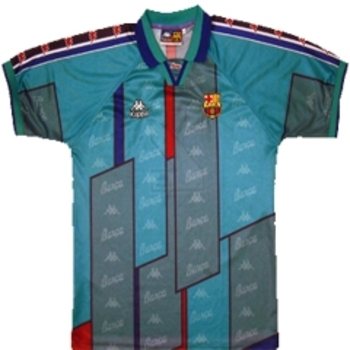 The best turquoise kit to my liking, the 1995 edition was a very nice uni indeed.
28. 2004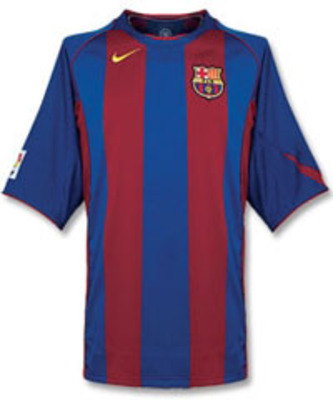 Another kit which brings my mind to Ronaldinho, the 2004 kit's wavy stripes had a nice effect when seen on the pitch.
27. 2010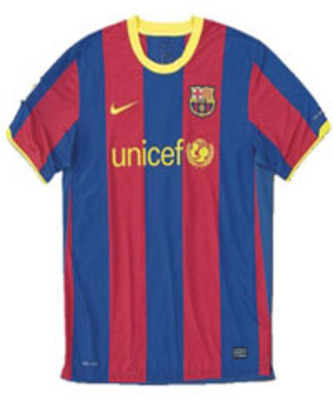 This may very well be known as "the Messi uniform" thanks to his superb season in it. At least if he doesn't play even better this year.
Design-wise, the yellow details are a nice touch.
26. 2009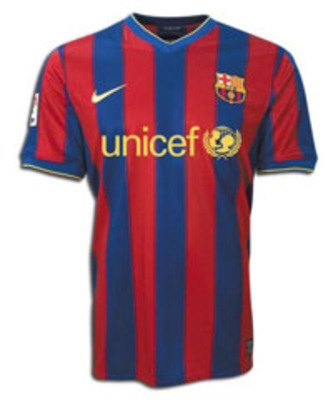 One of my favorite blaugrana shirts is the one which Ibrahimovic wore in his season as a Culé. The thin blue stripes are a very nice touch to this shirt.
25. 1998 Away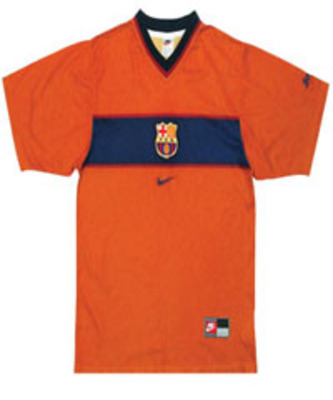 Simple, yet instantly classic, this orange shirt reminds me of my early blaugrana days idolizing Luis Figo and Rivaldo.
24. 1997 Away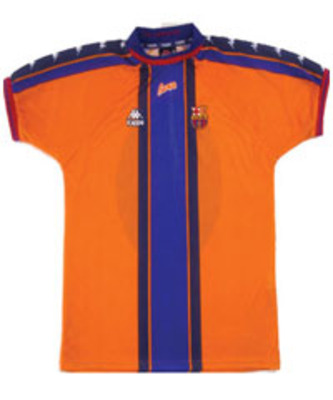 The Ronaldo shirt in its away version. Not much more needs to be said.
23. 2009 Away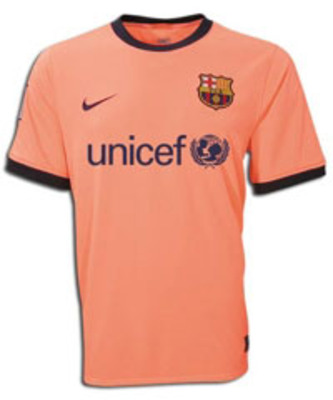 The pinkish orange shirt of 2009 is still one of my favorites to this day even though a lot of men feared it for being "too pink for comfort."
22. 2008
This Champions League winning kit was simple, yet instantly classic.
21. 2000 Away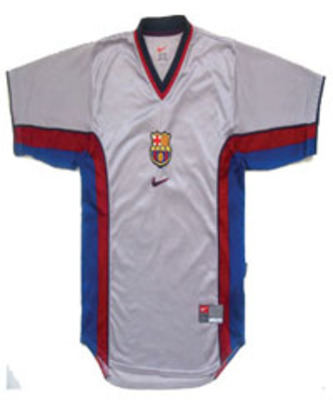 This shirt is Rivaldo's. Had a great 2000/01 in its silver too.
20. 2007 Away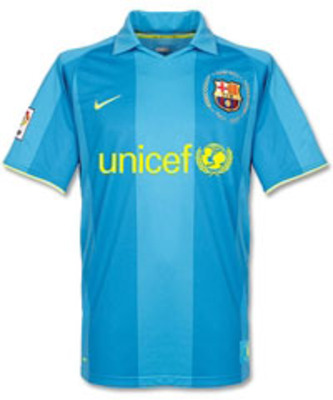 Not quite a "turquoise," this sky blue shirt is one of the prettiest shirts in Blaugrana history.
19. 1980-89 Away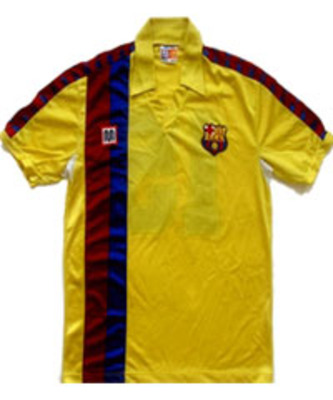 This yellow shirt was Barcelona's second kit for nine years and remains a classic to this day.
18. 2003 Away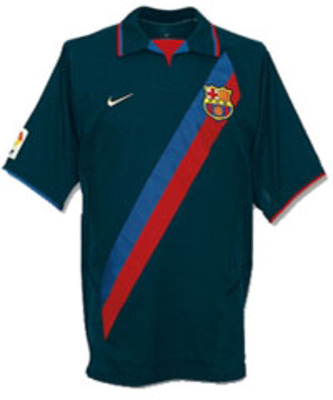 Rarely used because of its similarity in colors with the first kit, the diagonal stripes in this kit are a very nice design touch.
17. 1950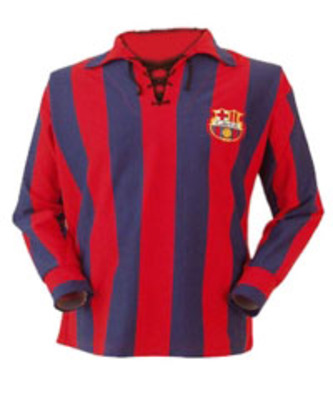 There's something about the strings that makes this an amazing kit. I bet a re-edition would sell lots, too.
16. 2011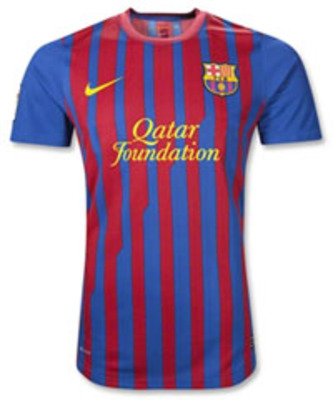 At first, I hated this design. But now I just love it. Brilliant work by the guys at Nike; it has to be said.
15. 1992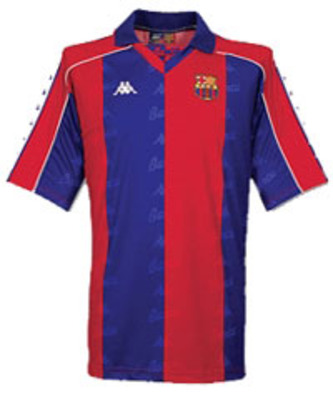 This shirt debuted right after the 1992 European title. If this doesn't say "Barça kit" to you, nothing will.
14. 1970 Away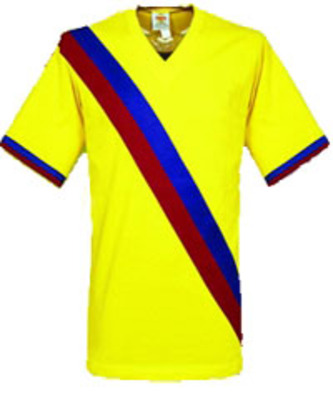 The original yellow away kit. And with diagonal stripes? Instant classic, thank you.
13. 2005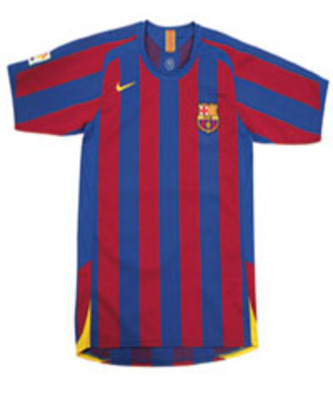 The nicest kit Ronaldinho ever wore. It's no wonder he won a Champions League with it.
12. 2011 Away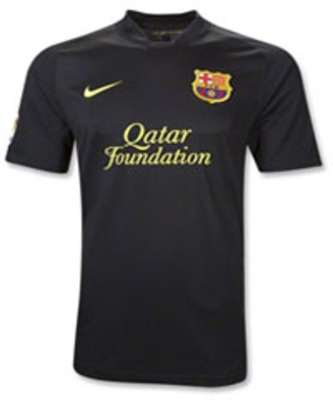 Back in black. This kit is top class.
11. 1998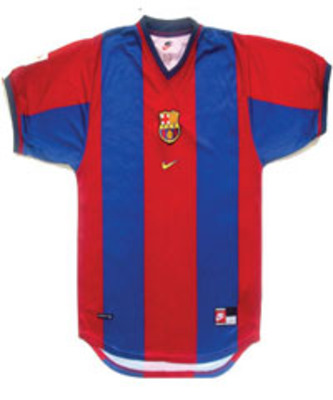 Instant classic form Nike in their first Barcelona uniform in 1998.
10. 2005 Away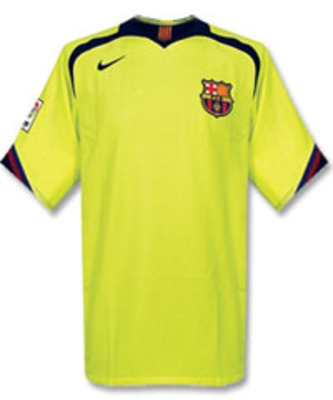 This thing is shiny. It's also my 10th best Barcelona kit of all time.
9. 2004 Away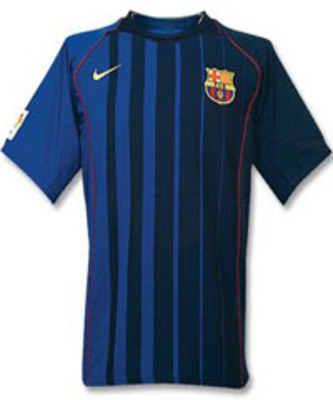 Another kit rarely worn because of its similarity with the home shirt, the 2004 away was brilliant design and takes No. 9 on this list.
8. 1997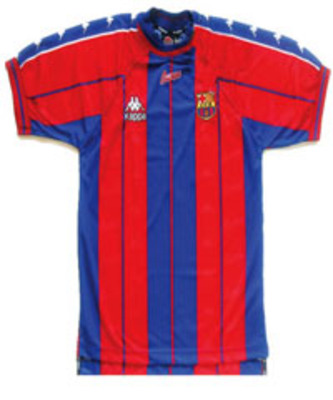 The Ronaldo shirt. Also my first Blaugrana kit. This generation of Culés surely remembers it dearly.
7. 2009 Joan Gamper Edition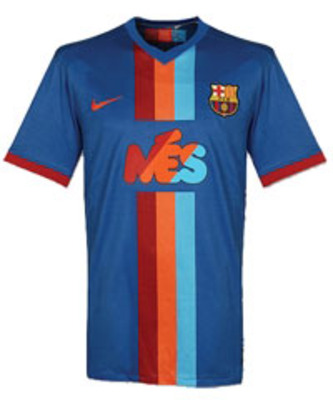 Worn only once, this kit was absolutely fantastic. I wish they would've used it more, though.
6. 1995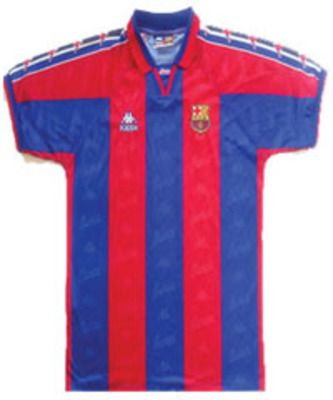 Another kit that just comes to mind when you think about Barcelona uniforms. The white detailing was a nice touch.
5. 2008 Away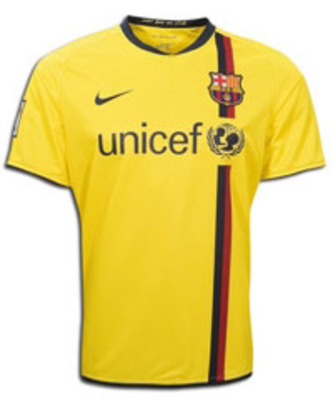 My favorite "modern" kit by far, this yellow uniform was an instant classic for me.
And maybe more importantly, a Champions League winner.
4. 1980-1992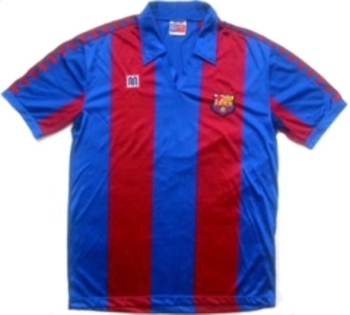 This uniform is Barça's uniform.
Everything else is just copied off this one.
3. 1991 Away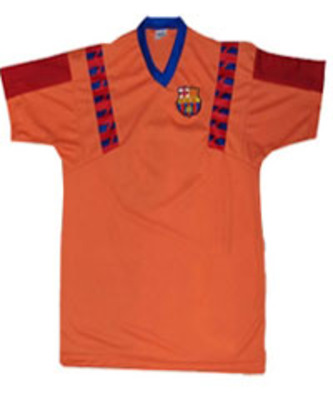 1992 European Cup winner.
The end.
2. 1997 Europe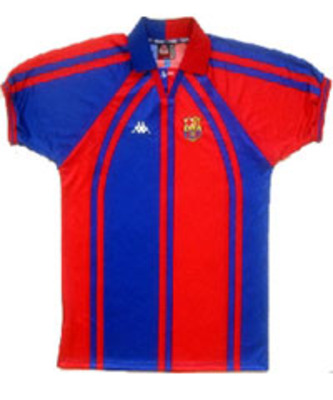 Briliant design for 1997's European tournaments.
Last time Barcelona had a kit for Europe, too.
1. 1999 Centenary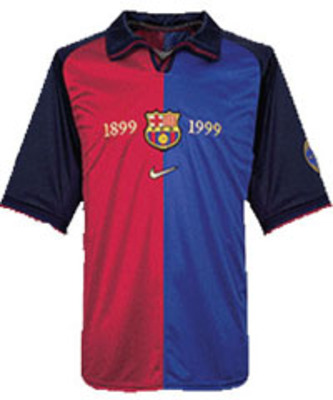 Keep Reading

FC Barcelona: Like this team?