MLB Free Agents 2012: Will L.A. Angels Land Prince Fielder or Albert Pujols?
November 16, 2011
Ed Szczepanski/Getty Images
The Angels are not in a heavenly place.
Let me be blunt: As much as any Halo fan would love to see either Albert Pujols or Prince Fielder in an Angels uniform, it is an unrealistic expectation for many reasons.
The Angels are buried under what could be a $121 million payroll.
With Erick Aybar and Howie Kendrick up for arbitration, the team's payroll could continue its swell, further depleting its options on the open market.
Answering current team questions is imperative.
If the team goes after one of the two best first basemen in baseball, it risks losing players who make them better NOW.
Why does the NOW matter? Because IF the Angels fail to sign Fielder or Pujols to contracts of max enormity, the team risks preventing Aybar, Kendrick, Ervin Santana or Dan Haren from signing extensions.
Considering the overachievement of 86 wins in 2011, Angels upper management cannot expect to continue to overachieve each and every year.
It is foolish—as the Bible says, "a house built on sand," rushing toward a full collapse.
This is the reason 2012 will be unlike any season in Angels recent history. With Torii Hunter and Bobby Abreu up for free agency in 2013, the team can look forward to more money in the market THEN.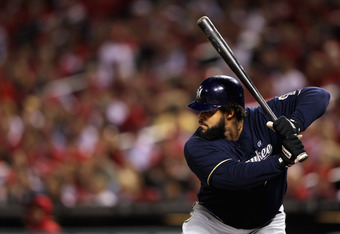 Jamie Squire/Getty Images
But THEN is not NOW—and unfortunately, Fielder and Pujols are available NOW.
Ignoring Jose Reyes' fascination with Anaheim was a right move on Arte Moreno's part.
But Reyes' pending offer with the Florida Marlins for six years, $90 million will be felt by many owners across the landscape of Major League Baseball.
Let's compare Reyes to both Fielder and Pujols over the last three years. Yes, I know he is a small-ball-hitting shortstop and both first basemen are power-hitting corner slots. But they are the top three available players this winter, and this is an exercise to compare longevity per value.
Stats are listed as GP, Avg, HR, RBI, SB.
Jose Reyes                           Prince Fielder                                   Albert Pujols
2009                                      2009                                                    2009
36, .279, 2, 15, 11                 162, .299, 46, 141, 2                           160, .327, 47, 135, 16
2010                                      2010                                                    2010
133, .282, 11, 54, 30             161, .261, 32, 83, 1                             159, .312, 42, 118, 14
2011                                      2011                                                    2011
126, .337, 7, 44, 39               162, .299, 38, 120, 1                           147, .299, 37, 99, 9 
Despite speculation that the economy is rupturing the wallets of MLB owners, that assertion seems fallacious.
Jose Reyes is our signal for such a truth.
His average of 98.3 GP over the last three years is a major kink in the chain of his ability to change a franchise. Not only did he play for continually underachieving teams in New York, but his inability to stay healthy questions his leadership as well.
It would then seem Reyes would be a half-off sale item this winter. But such is not the case.
A smaller, less money-driven Florida Marlins organization found enough value in the 28-year-old to offer him $15 million per over the next six years.
This offer set in stone a pathway for both Fielder and Pujols.
With dominant numbers and résumés of power and consistency, Fielder and Pujols are set to cash in at a much larger rate than Reyes. They both have the ability to change an entire culture with larger than life personas and middle-of-the-order power and poise.
Fielder is a left-handed bat coming into his own. Signing the gritty-bearded kid with a famous name and a smile that sells assures his new ownership money! money! money!
Pujols is the quintessential Hall of Famer with a name that already surpasses many of our heralded greats.
Even at the age of 32, he has proven two things: 1) He can stay healthy; 2) He can put up numbers for a lot longer than expected.
Somewhat plagued by our steroid era, Pujols has maintained a rather "clean" image.
He runs a non-profit charity for struggling families in St. Louis and plays with an even-keel and kind persona. This is of value to any organization.
As teams love to list their former greats, they would love to include Pujols' one-of-a-kind legendary name on that list as well. Not to mention he is a two-time champion.
Rumors insist the two will be looking for upward of $200 million over eight to 10 years. This is money only a small parcel of teams can afford, something the Angels cannot.
Considering the Yankees' bloated payroll with an MVP in his own right in Mark Texiera, they are unlikely candidates to land either of the two.
The Cardinals are a good suspect considering their history with Pujols, recent championship and large enough organization to shell out large amounts of dollars.
Fielder will follow the money. Whomever can offer him what he believes he's worth will be the suitor for his many MVP-like talents.
The Red Sox's usual pursuits of big-name players will be at a stall after last winter's spending spree with the additions of Adrian Gonzalez and Carl Crawford.
This means the Braves, White Sox, Mariners, Nationals, Mets and Cubs could be in contention for both of the stars—teams the Angels cannot match.
Needing to lock up both Haren and Santana will be a huge expense, as will figuring out what to do with Howie Kendrick's and Erick Aybar's arbitration. Tack on the need for a third baseman and the looming extensions for Mark Trumbo and Kendrys Morales, and the Angels are more overextended than one might have realized.
I expect Arte and Mike Scioscia to continue their original way of winning: a mix of occasional big names with an ever-larger cast of farm system youngsters. It's what created the franchise's first World Series title in 2002 and something to be continued years down the line.
So no to the idea of signing players like Pujols or Fielder! We've got bigger concerns. Now the Angels need to find a way to void this ridiculous contract of Vernon Wells!