Joe Paterno: Removal of Statue Would Be Foolish Decision
November 16, 2011
Rob Carr/Getty Images
The Joe Paterno era at Penn State officially ended last week, but part of him still remained on the campus thanks to a life-like bronze statue of the iconic coach. Nittany Lions' officials are making a terrible choice by even thinking of taking it down. 
Joe Paterno had been the Nittany Lions head coach since 1966, and despite many great accomplishments during his time, people will never forget the scandal led to his firing. 
However, removing the statue outside Beaver Stadium is destroying all ties the school ever had with Paterno, and it basically says that the last 40 plus years didn't exist.  
CBS Sports writer Gregg Doyel broke the news via Twitter, and this move will not sit well with fans.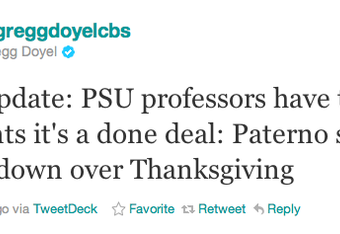 Everyone saw how students reacted, or rather, rioted, to the news about Paterno being fired, so naturally it's easy for one to assume the students won't take lightly to this decision. 
It wouldn't surprise me at all if a large group of students didn't go home for Thanksgiving, but instead stayed to protest around the statue. 
Joe McIntyre, a reporter for the Daily Collegian, the student newspaper at Penn State, tweeted that the statue won't be coming down.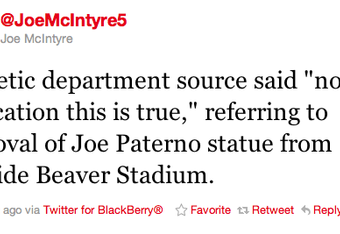 Whether McIntyre is right or Doyel is right, it doesn't matter too much right now because the fact of the matter is that there is talk about taking it down, and that should not be happening at all.  
A legend in college football, Paterno has more wins than any Division 1-A/FBS coach at 409, as well as the most bowl victories by any coach at 24. 
The 900 pound statue has been a figure outside the stadium for a decade now, and taking it down would be the wrong move. 
The statue is a staple at Penn State now, and it gives people a chance to remember the good days. Whether the board of trustees wants to believe it or not, Paterno will always be apart of State College. 
Erasing Paterno from the program doesn't help the situation, as it will only anger people. Yes, Paterno had to be out as head coach because of what took place in the scandal.
As the head coach, he is held to a higher responsibility, and he should have done more with the information that was given to him.
However, Paterno is not the man at fault here. Jerry Sandusky is the real one who has tarnished Penn State's image after being arrested because he was allegedly molesting young boys, some of which he met through his charity, Second Mile. 
Paterno shouldn't be further punished because of Sandusky's alleged crimes. The 84-year-old coach has done his deed by getting fired, and getting rid of his statue would be taking things too far. 
I understand wanting to start fresh and repair the image at Penn State, but despite the scandal, Paterno will be the face of the football program for a while because of his long tenured success as a coach.
His legacy may be tainted thanks to the fallout, but his statue should remain, as it is a reminder of the Nittany Lions great history.