Matt Schaub Injury Is Just Another Unlucky Break for the Houston Texans
November 15, 2011
Chris McGrath/Getty Images
Just when Texans fans thought it was finally their time to shine and win an AFC South title, disaster struck.
With the city riding a wave of positive emotion for a little over 24 hours, rumors began to float around Twitter about a possible serious foot injury to Texans starting quarterback Matt Schaub.
Now, stuff like this happens all the time and none of them should be taken seriously until a legitimate source gets involved. Well, it doesn't get more legitimate than when said player's head football coach takes the podium and confirms that he has "a significant foot injury" and he "is going to miss some time."
Just like that, all the positivism was sucked out of a city that is hurting for a winner so bad right now that it would sell its mother for a nickel. But by now, Texans fans have come to just expect bad news.
Think back a couple of years ago when the Rockets had begun what would eventually become a 22-game winning streak, and it appeared they had put it all together and were ready to put Houston back on top.
Then, out of nowhere, BAM! Yao Ming, out for the season. Sorry to switch sports on you there, but it was my initial reaction when I heard the words coming from coach Kubiak's lips today.
But sticking with the Texans, should we really be surprised? The team was playing so well in every facet of the game that there were even major media outlets and analysts calling them the class of the AFC and a favorite for homefield through out the playoffs. But they're no stranger to bad breaks. In fact, many think they just might be cursed.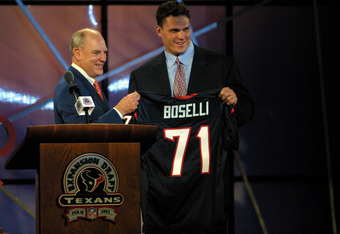 Ronald Martinez/Getty Images
It all started back with the very first pick of the 2002 expansion draft with the Texans very first pick. They took NFL veteran Tony Boselli with that first pick, and long story short, he never played a down for the Texans after a plethora of injuries kept him sidelined until he decided to retire.
But the list goes on and on, really. Boselli was just the first in a string of events that have led some to start to believe in the possibility of a curse over this franchise. 
Gary Walker, the team's fourth selection in that same draft makes the Pro Bowl in his first season with the Texans. Then suffers a seemingly normal injury, yet comes back and is never the same.
Jermaine Lewis was a Pro Bowl kick returner for Baltimore, yet played so bad in his one season in Houston that he was cut at year's end. And Matt Stevens is now in a wheelchair. Need I go on? Okay.
This brings us to one of the biggest busts of all time with the selection of David Carr in the 2002 NFL draft. Taking Carr No. 1 overall was a debate amongst fans for awhile leading up to the actual day of the draft. The camps were divided between Carr and defensive end Julius Peppers from North Carolina.
The same Peppers, as we know, who has gone one to have a hell of a career, while Carr is now a punchline in Houston. It's tough to say this one was part of the curse since many were of the opinion that the team needed to build around a quarterback.
But with hindsight being 20/20, it's a tough pill to swallow. Especially when Houston stuck with Carr for five seasons of mediocrity and failure. I could keep going all day on this, but let's simplify some of the unusual events to happen to this team in the years since.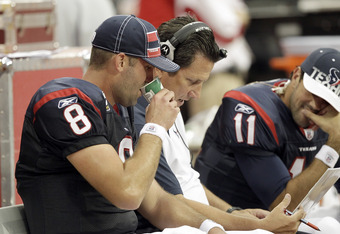 Bob Levey/Getty Images
How about the Vince-Mario-Reggie debate that seems to never die? Most fans with any actual NFL intellect have accepted that the Texans got this one right. But it is a blight upon the franchise that they'll never hear the end of. So that one is more of a curse on the fans than the team.
I won't even bring up the "Rosencopter" because it still hurts too much to talk about. How about Bennie Joppru? Remember that name? Many don't because he, like Boselli, never played a snap for the team in a regular season game. He suffered a sports hernia in training camp in '03, re-injured it in minicamp in '04, then tore his right ACL during the first coaching session of the offseason in May 2005. What other team does this kind of stuff happen to?
Now we get into the downright embarrassing losses that have happened under the Kubiak regime. With Capers, the Texans usually got their asses kicked. No debating that. But under Kubiak it has hurt more because the team has lost numerous games that it could have very easily won.
They've had to go to extremes to find ways to lose them. Be it Kris Brown missing numerous kicks that would have won or tied a game. Or Chris Brown fumbling balls into the end zone or getting stuffed at the one to end the game. Then last season, your best player kicking a ball off his leg to a defender six yards away to kill what looked to be the game-winning drive.
And the Hail Mary, or as I call it, the Fail Mary. How about the Raiders game this year where Oakland only had 10 defenders on the field on the final play, yet Houston still lost? It's just gotten so far past the point of ridiculous.
I didn't even mention finally answering the fans prayers and firing Richard Smith as the teams defensive coordinator only to hire a worse one in Frank Bush. To put it bluntly, there is too much heartache to be able to bring up all the events that happen to this franchise that don't seem to happen to any other.
You don't even have to go that far back, just look at this season. Mario Williams, done for the year. Andre Johnson, out for most of the year up to this point. Danieal Manning, broken leg. And now, Matt Schaub is done for the year.
This team was always going to be okay if Matt Schaub didn't get hurt. Don't get me wrong, I still think this team makes the playoffs with Matt Leinart running the show. The AFC South is just that bad.
But they've gone from a team that had the potential to go all the way to Indy in February to a team that is likely to be one and done in early January. But with the way things have gone for this franchise, even if Leinart comes in and the team doesn't miss a beat, then we got a good old-fashioned quarterback controversy on our hands. The fun never stops!
That seems to be the way things go for us Texans fans. We really should be used to it by now.
Mike Kerns is a featured columnist for the Houston Texans at Bleacher Report. Feel free to follow him on Twitter at @Zepp1978 and catch his latest Texans podcast at State of The Texans.