Rex Grossman vs. John Beck: Which QB Gives the 'Skins Best Chance to Win
November 16, 2011
Ronald Martinez/Getty Images
To say that the Washington Redskins are stuck between a rock and a hard place with their quarterback situation would be understating the issue. It is more accurate to say they're stuck between a pile of broken glass and a wall of needles.
Though neither John Beck nor Rex Grossman are particularly favorable, the Redskins have to pick one and stick with their decision moving forward.
From an experiential standpoint, Grossman has the edge over Beck by virtue of this being his third season in the Kyle Shanahan offense. Beck is in just his second season in the system, hasn't shown the command or comfort in the offense that Grossman has in six starts this season.
Grossman's downfall is his poor decision making, which is evident in the majority of his 11 interceptions on the season.
If you look at Grossman's interceptions, particularly in the red zone, he often tentatively pump fakes and then throws off balance or off his back foot. When he was going with his gut in the first two games, Grossman had Steve Young rating him as a top 10 quarterback.
Since then, Grossman and the Redskins have been nothing short of abysmal on offense.
The Redskins opened the season with a 28-point outing, due in no small part to a two touchdown, 305-yard outing where he didn't throw a single interception. They followed it up with a 22-point performance against the Cardinals in which Grossman overcame two first quarter interceptions to throw two touchdowns, including the game-winner.
Since the 2-0 start, the Redskins have managed just one 20-point game and lost six out of their last seven games.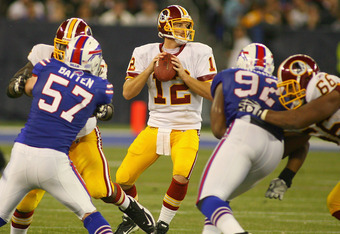 Rick Stewart/Getty Images
After his three interception game against the Eagles, no one could blame Mike Shanahan for pulling Grossman in favor of Beck. Beck entered the game and ultimately rushed for the Redskins only touchdown of the game. His receivers didn't do him any favors, dropping very catchable passes early in Beck's entrance into the game.
In his four appearances, Beck has completed 60.5 percent of his passes compared to Grossman's 57.4 percent.
Beck offers more mobility at the quarterback position, evident in his team-leading pair of rushing touchdowns. However, he seems tentative in his approach to pushing the ball down the field.
Rookie Roy Helu's team record-setting 14 receptions against San Francisco is a perfect example of Beck settling for dump offs and check downs. In terms of turnovers, Beck has thrown four interceptions and lost one fumble compared to Grossman's aforementioned 11 interceptions and two lost fumbles.
Beck isn't quite the turnover liability that Grossman is, but the lesser of two evils is still evil.
Both quarterbacks average 33 passing attempts per game, with Grossman throwing for 224.5 yards per game to Beck's 214.5 yards per game. The recent failure of both is due in no small part to the abandonment of the ground game.
The Redskins have failed to produce more than 65 yards on the ground in four of their last five games.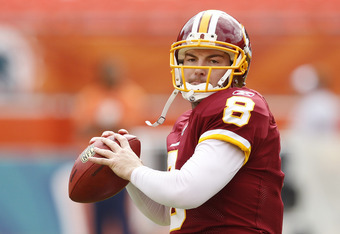 Joel Auerbach/Getty Images
With each week that goes by, it becomes more and more apparent that neither Beck nor Grossman is the quarterback of the future. Still, one of them has to lead the team for the rest of the season to at least build some familiarity on offense.
Grossman has more experience, and has proven himself as much of an asset as a liability on offense. He has led the Redskins to touchdowns, while Beck doesn't have that gunslinger mentality to force it, or take a chance every once in a while.
It is tough to find another win on the Redskins schedule, and the rash of injuries and mediocrity only add to the problem. Though he has not endeared himself to fans, the highs and lows that come with Grossman's play give Washington a better chance than Beck's overly safe approach.
There is nothing pretty about the current state of the Redskins quarterback situation, but Grossman is the best option currently on the roster. Hopefully this season's inadequacy will lead the team to draft for the future instead of resting on throwaways from other teams.