Fantasy Baseball 2012 Smackdown: Justin Upton vs. Carlos Gonzalez
November 14, 2011
Jared Wickerham/Getty Images
There are always some difficult decisions on draft dray, aren't there? One of the tough ones will likely come in the first round or two as fantasy owners must determine which young outfielder they would like to select between Carlos Gonzalez and Justin Upton. They both have tremendous upside and have proven just how good they can be, but which one offers the best potential for 2012? Let's take a look:
Average
Carlos Gonzalez – We all knew that his .336 average in 2010 was inflated (a .384 BABIP was never going to be repeatable), but he came back strong in 2011 by hitting .295 thanks to a .326 BABIP and 19.4% strikeout rate. With his speed and ability to hit the ball with more authority (his line drive rate in '11 was 18.0% vs. a 19.9% career mark), there is a good chance that he exceeds .300 in 2012.
Justin Upton – As he continues to gain experience the 24-year old is looking better and better. He hit .289 last season thanks to posting a career best 18.7% strikeout rate. However before we consider it a lock that he improves upon his .319 BABIP (he had marks of .360 and .354 the previous two years), keep in mind that he saw his fly ball rate go from 39.4% to 44.8% in '11. It would appear that he's trying to hit for more power, and that trend would put risk in his ability to hit for a strong average, especially if the fly balls become even more prevelant.
Advantage – Carlos Gonzalez
Homes Runs
Carlos Gonzalez – For the second straight season he posted a HR/FB above 20% (he was at 20.8% in '11), certainly backing up his strong 2010 campaign. If he had stayed healthy he was a near lock to surpass 30 HR once again (he had 26 in 481 AB). The wrist injury is going to cause a little bit of concern, as injuries like that have a habit of hindering someone's power potential. However, his performance over the past two years, despite being plagued by injuries, would appear to trump those concerns. If he stays healthy it would appear like 30 HR is a given. 
Justin Upton – As I mentioned regarding his batting average it appeared like Upton was trying to hit for a little bit more power in 2011. The increased fly balls helped, as he set a career high with 31 HR. However, he has not yet proven that he can hit the ball at the same type of prolific rate as Gonzalez (Upton posted a 14.8% HR/FB in '11 and has a 14.4% mark for his career). If he puts a few less balls in the air in 2012, there's a good chance that he falls short of the 30 HR plateau.
Advantage – Carlos Gonzalez

RBI
Carlos Gonzalez – He spent 133 AB hitting leadoff in 2011, yet he still finished with 92 RBI (a year after driving in 117). Assuming the Rockies fix their issues at the top of the lineup and allow Gonzalez to spend the entire season hitting third he should drive in well over 100 for the second time in his career. 
Justin Upton – He spent nearly the entire season hitting third in the lineup yet managed just 88 RBI. Why? He struggled with runners in scoring position, hitting just .239. It seems like something that is hard to imagine continuing (in 2010 he hit .310). Assuming he performs better in clutch situations he should easily surpass the 100 RBI mark.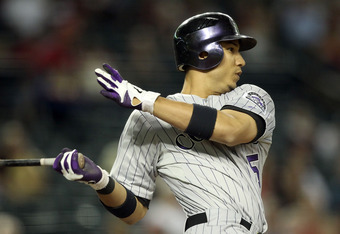 Christian Petersen/Getty Images
Advantage – Push

Runs
Carlos Gonzalez – The time spent in the leadoff spot did help him in scoring runs, but hitting in front of Troy Tulowitzki is going to allow for many runs scored regardless. He scored 111 in 2010 and easily could be right around 100 once again in 2012 thanks to his ability to get on base consistently (career .350 OBP) 
Justin Upton – Upton doesn't have the same type of offense behind him, yet he scored 105 runs last season. He gets on base plenty (.357 career OBP), however, and could be right in the 95-100 run range once again. However, there probably isn't much upside from there.
Advantage – Push

Stolen Bases
Carlos Gonzalez – He stole 26 bases in 2010 and reached 20 last season despite missing a chunk of time. Gonzalez has 30/30 potential written all over him. 
Justin Upton – Upton has been in the same 18-21 SB range each of the past three seasons. At this point is there any upside above that?

Advantage – Carlos Gonzalez
 Conclusion
We can talk about the intangibles, like Gonzalez' propensity to get injured, which does help Upton's cause a little bit. However, from a skill set standpoint, while Upton has tremendous upside there are also reasons to be concerned with the numbers he is going to put up on the field. If Gonzalez can stay healthy he has proven over the past two seasons that we are talking about a .300/30/25/100/100 player with the potential for even more than that. If I have the opportunity to choose between the two players I am going Gonzalez every time.
What about you? Which of these two All-Stars would you prefer? Why?
Make sure to check out all of our preliminary 2012 rankings: