Cardinals vs. Eagles: 11 Things We Learned About Arizona in Its 21-17 Win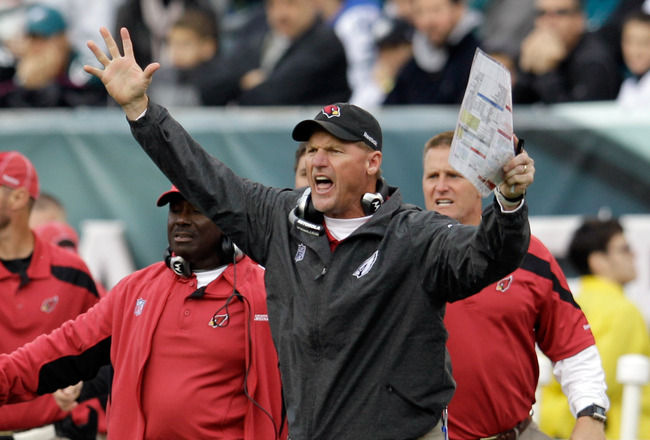 Rob Carr/Getty Images
If I didn't know any better, I'd say that the Arizona Cardinals have started a winning streak.
I mean, for the second week in a row, they managed to come back from a deficit in the fourth quarter and come out of the game victorious.
Unlike last week, where the opponent was the anemic St. Louis Rams, this week the Cardinals were able to go head-to-head with the Philadelphia Eagles and come out ahead. They even managed to do it without starting quarterback Kevin Kolb.
Over the next 11 slides, we'll take a look at some of the things we learned during the Cardinals' 21-17 win over the Eagles.
The Cardinals Don't Need Kevin Kolb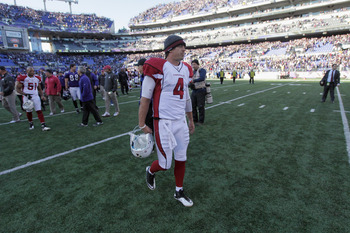 Rob Carr/Getty Images
John Skelton may not be the best quarterback in the world, but for a guy who is little more than a rookie, he's doing a pretty good job with his limited NFL starts.
With the win today, Skelton's NFL record as a starter becomes 4-2. He can now say that he's won a game on the road and that for the most part he looked pretty good doing it.
Sure, he threw an interception that was run back for a touchdown, but he didn't fall apart afterwards. Instead, he went on to lead his team to a touchdown on the next drive.
He was sacked four times by the Eagles and pressured many more, yet he managed to complete just over 50 percent of his passes for 315 yards and three touchdowns. He also made some key rushes when there was coverage downfield.
Keeping his cool under pressure like that is something that Kevin Kolb has demonstrated he cannot do. Instead of making big plays when it matters the most, Kolb makes big mistakes.
There is no reason that Kolb should be the starter when he heals from his turf toe injury.
Let Skelton have the chance to keep the job until his play dictates that he should lose it.
Offensive Line Needs To Be Completely Redone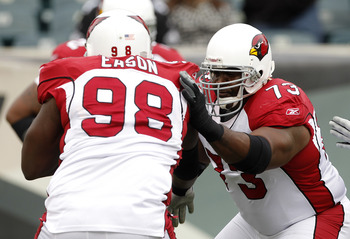 Rich Schultz/Getty Images
John Skelton or Kevin Kolb—it doesn't matter who is playing under center if the offensive line can't protect the quarterback.
This week was a little bit better than last week, as Skelton was only sacked four times. He was hurried, hit and rushed many, many times more than that, though.
It's not just Levi Brown, as easy as it is to blame the left tackle who doesn't seem to be able to stop anyone. The Eagles were able to find penetration and force penalties all over the line.
This week, Jeremy Bridges in particular stood out after he managed to negate a successful third-down conversion with a holding penalty.
Fourth-Down Stand Shifted Momentum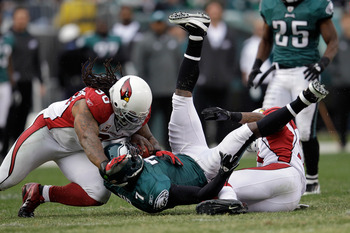 Rob Carr/Getty Images
One of the game's biggest momentum shifts came early on, when the Cardinals were able to stop the Eagles on their attempted fourth-down conversion, thanks in large part to the effort by Calais Campbell.
Although the Cardinals ultimately weren't able to capitalize on that stop, it was clear at that time that the defense had what it took to stop Michael Vick both through the air and on the ground.
Larry Fitzgerald Stepped It Up Yet Again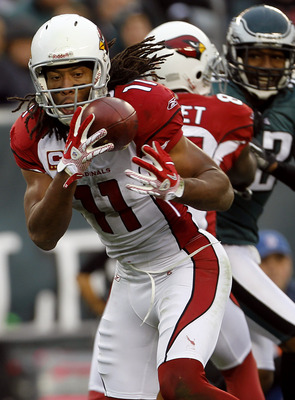 Rich Schultz/Getty Images
Larry Fitzgerald continued his outstanding 2011 year by reeling in seven catches for 146 yards and two touchdowns.
Two of those catches came off tipped passes that could have easily fallen as incompletions or turned into interceptions. Instead, Fitzgerald turned those potential negatives into huge positives for his team.
Of course, that's the kind of play that we've come to expect from Fitzgerald. His name is tossed around with the likes of Calvin Johnson and Wes Welker as one of the best receivers in the league. By playing the way he did today, he's merely making his case.
Jeff King and Andre Roberts Were Key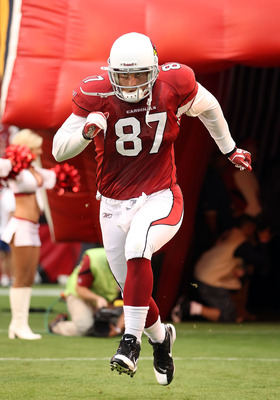 Christian Petersen/Getty Images
Although Larry Fitzgerald was clearly the most valuable receiver of the game, major kudos need to go to both Jeff King and Andre Roberts. Between the two of them, they caught eight passes for 81 yards, helping the Cardinals move the ball down the field on many of their scoring drives.
The offense has been in desperate need of someone, anyone to step up beside Fitzgerald. It looks as though King and Roberts may have finally answered the call.
Beanie Wells Was Inconsistent (Again)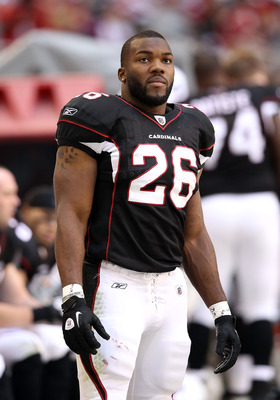 Christian Petersen/Getty Images
Beanie Wells had a disappointing game against an Eagles defense that came into the game 22nd in the NFL against the run. He carried the ball 23 times and managed to accrue just 63 yards.
It seems as though the Cardinals cannot figure out how to have both a successful passing game and a successful run game. This week, it was the passing game's turn.
If the Cards can figure out how to have both in the same game, their offense will be much more difficult to slow down.
Couldn't Contain LeSean McCoy or Michael Vick on the Ground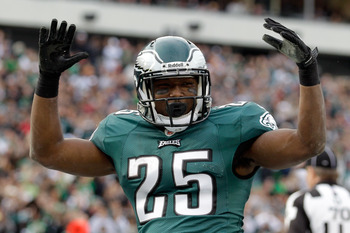 Rob Carr/Getty Images
While Beanie Wells struggled to gain yards on the ground, opposing running back LeSean McCoy was piling them up to the tune of 81 yards and a touchdown off 14 carries.
Michael Vick was able to add another 79 yards on eight scrambles.
Although the Cardinals were able to stand strong against the pass, they did so at the expense of defense on the ground. They face the same problem as the offense: They need to figure out how to address both the pass and the run in the same game.
LaRod Stephens-Howling Made a Big Offensive Contribution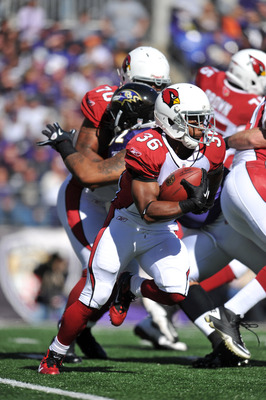 Larry French/Getty Images
Although LaRod Stephens-Howling's kickoff returns didn't do much to help the Cardinals in the field position game, he was able to make a major contribution to the offense in the game against the Eagles.
Late in the fourth quarter, he caught a key fourth-down pass to get the Cardinals into Eagles territory. A few plays later, the Cardinals made it into the end zone for the score that gave them their first lead of the game.
Jay Feely Needs To Get His Act Together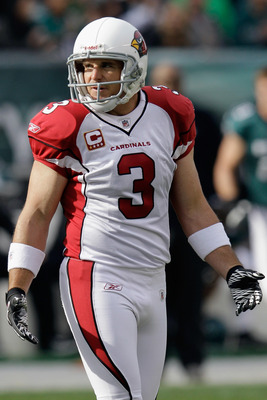 Rob Carr/Getty Images
What is going on with Jay Feely this year?
After a terrible performance against the Seattle Seahawks where he missed three field goals that could have won his team the game, it seemed as though he had regained his consistency.
Against the Eagles, however, he took the field twice. Both times, the attempted field goals were easy chip shots in low-pressure situations, and both times he missed.
Calais Campbell Is Turning into the Team's Defensive MVP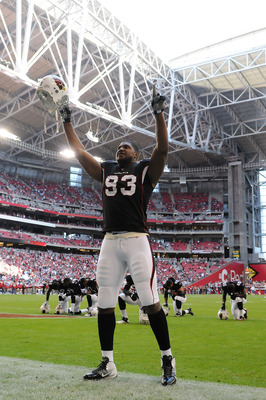 Norm Hall/Getty Images
Calais Campbell is quickly becoming a household name in Arizona with his huge defensive plays.
This week, he was a maniac on the field. He may not have as many tackles or assists as some of his teammates, but he's been breaking up passes and disrupting the play when it counts.
He stopped Michael Vick on fourth down in what turned out to be one of the more important plays of the game. He did a great job overall of keeping Vick contained, and he earned his first career interception in the third quarter with yet another huge play.
Adrian Wilson and Daryl Washington Are Also Stepping Up
Norm Hall/Getty Images
With his hard-hitting ways, Adrian Wilson managed to take Jeremy Maclin out of the game with a shoulder injury in the second quarter. He went on to intercept Vick in the end zone on a play that was eventually called back for defensive holding.
Daryl Washington led the team in tackles and recorded a sack, proving that he is a force to be reckoned with up front. The costly late-hit penalty that was called on him in the fourth quarter was questionable at best, and the team did well to just let it go and take care of business on a subsequent play.
Although the Cardinals' offensive woes continue, the defensive woes are starting to have a light at the end of the tunnel.
Keep Reading

Arizona Cardinals: Like this team?