La Liga: Have Real Madrid and FC Barcelona Doomed Spanish Football?
November 14, 2011
Denis Doyle/Getty Images
As Spain's duopoly of Real Madrid and FC Barcelona continue to push for individual TV rights deals to improve their brand equity further, the haunting question is, have they doomed Spanish football?
Many in Spain's top-flight have bemoaned the lack of competition in the league, with the top two clearly in La Liga of their own.
Not only do they dominate the league standings season after season, but they also control the money at the top of Spanish football.
As has been well-documented, TV rights in Spain are negotiated on a club-by-club basis, with Real Madrid and FC Barcelona each raking in over €125million a season.
Their next best competitor is Valencia CF, who earn €42million a year from TV rights. 
To put it in perspective, Middlesbrough earned more TV money than that in 2008-09, the season they got relegated from the Premier League.
The teams at the bottom in La Liga receive only €15million a season from TV deals, a whopping €110million less than the top two, who earn triple the amount from TV than Premier League champions Manchester United do.
With that sort of money coming in, Real and Barca can continue to develop their squads in ways the others can't, hence when the prize and sponsorship money comes around, the top two will receive figures the rest can only dream of.
It all means a crumbling league in terms of excitement and competitiveness is just going to get worse.
As Chelsea and Spain winger Juan Mata said: "I think unfortunately in Spain... there is a lack of real competition between the teams."
"From January or February onwards, it's quite clear that there is a big difference in the table between the two big teams, Real Madrid and Barcelona, and the rest of the teams that are competing."
When Mata's old club Valencia finished third in La Liga last season, they were 21 points behind champions Barca, which was an improvement on their points total the campaign before.
The startling realisation is however, at the end of 2010-11, third-placed Los Che were closer to the relegation zone in terms of their points total than they were to winning the league.
It shows just how uncompetitive the league is now becoming, and according to Sevilla president Jose Maria del Nido, the Spanish top-flight is now "rubbish—the greatest pile of junk in Europe".
But how does that affect Spanish football as a whole?
For a start, as the top two have more money than anyone else to invest in their talent, it makes the national team become more reliant on Real Madrid and Barcelona.
In the most recent team, 13 of the 22-man Spain squad to play England and Costa Rica are from either Real or Barca.
And in the starting lineup for the 2010 FIFA World Cup Final, 10 of the 11 players were from Real or Barca, Joan Capdevilla (then of Villarreal CF) being the exception.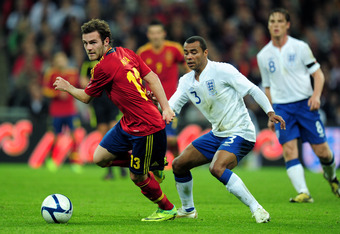 Shaun Botterill/Getty Images
Any country is playing a dangerous game when they rely on so few to provide so many.
The dominance of the top two also reduces the global, and even nationwide, appeal of La Liga and its brand equity, meaning a more financially stable league which breeds healthy competition is becoming increasingly unlikely.
After all, government statistics say Real Madrid have 13.2 million fans in Spain, while FC Barcelona have 10.4 million. Valencia are the third most popular team with 2.1 million supporters.
That, in turn, could create a culture of complacency among the top two, which could even manifest itself in the national team, due to the amount of players they provide.
And perhaps there's an air of complacency already growing within La Furia Roja, especially after their 1-0 defeat to England at Wembley, in which they virtually insisted they were the better team.
Spain will go into Euro 2012 as favourites, but are mostly likely to face stiff competition from the likes of Germany, who are producing even more phenomenal young talents within their uber-competitive and financially stable Bundesliga.
Which is another problem for Spanish football created by the top two. As they become more dominant and take in a bigger share of the money, the elite-level talent pool in Spain becomes smaller.
Smaller clubs have less money to invest in their academies, and produce a lower amount of talented stars.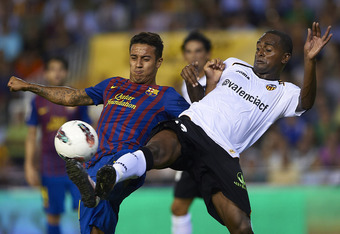 Manuel Queimadelos Alonso/Getty Images
Out of all the upcoming Spanish talent tipped to become world-beaters, only four (Iñigo Martínez, Iker Muniain, David De Gea and Pablo Sarabia) come from clubs another than Real or Barca.
Compare that to Germany, where the best German talent tipped for the top—Mario Goetze, Lewis Holtby, Toni Kroos, Mats Hummels, Holger Badstuber, Ron-Robert Zieler, Thomas Muller, Marco Reus, Andre Schurrle—play for a variety of different clubs, ranging from lower level teams like Hannover 96 and Borussia Monchengladbach to top teams like Borussia Dortmund and Bayern Munich.
But perhaps the biggest problem of all is Spain's UEFA Coefficient ranking in terms of its top-flight.
At the moment, La Liga is second behind the Premier League, and has four UEFA Champions League places up for grabs, with a further three in the UEFA Europa League.
However, with revenue shares becoming increasingly uneven in favour of Real and Barca, the lower teams in continental competition will just get weaker in Europe.
In this season's Champions League, while Real Madrid and Barcelona top their groups, after four games Villarreal are at the bottom of theirs with four straight defeats, while Valencia are third, with just one win in four matches, having struggled to a 0-0 draw with KRC Genk, whose league is 12th in the UEFA Coefficient.
Meanwhile, in the Europa League, only two of the three teams representing Spain made it to the group stages, after Sevilla were knocked out in the playoff round by Hannover 96, who are novices in European competition.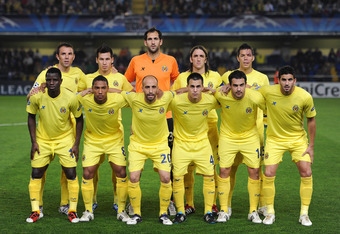 Jasper Juinen/Getty Images
To put the lack of strength in Spain's top-flight into perspective, the league above them in the Coefficient, England's Premier League, has four representatives in the Champions League, three of which are topping their group. The other is second.
In the Europa League, the Premier League has three representatives in the group stage, as well as a team from England's second division, Birmingham City, who have made it further than Sevilla, back-to-back UEFA Cup winners just four years ago.
If the top two in Spain continue dominate the revenue shares, it could have profound adverse effects on Spain's representation in Europe, and quite possibly their standing with UEFA.
As Real Madrid and FC Barcelona continue to rule La Liga, the pinnacle of Spanish football is in dire straits.
Five top-flight Spanish teams failed to outscore Cristiano Ronaldo last season, while one televised La Liga game not involving the big two was watched by just 47 people, highlighting the lack of profitability currently available to the rest.
Something needs to be done soon, otherwise La Liga will become a new Scottish Premier League, and Real and Barca the new Celtic and Rangers.