Washington vs. USC: 5 Things We Learned About the Trojans Win over the Huskies
November 13, 2011
Stephen Dunn/Getty Images
No. 18* USC Trojans (8-2) sacked the Washington Huskies (6-4) 40-17 by playing excellent defense, special teams and better coaching.
Few predicted such an easy USC win in front of 64,756 fans in the Coliseum, and certainly not Huskies defensive coach Nick Holt.
The game was out of reach by the end of the third quarter with USC leading 37-10. At that point the Trojans had 401 yards to the Huskies' 148 and a 19-to-7 first down advantage.
WR Robert Woods had his least productive day (2 receptions, 5 yards; 1 carry, 4 yards; 1 kickoff return, 19 yards; 4 punt returns, 32 yards).
QB Matt Barkley (18-for-28, 174 yards, 1 TD, 0 INTs) did not make any mistakes, but had a subpar game after his record breaking performance against Colorado.
However, many Trojans on offense, defense and special teams stepped up to dominate the Huskies and make sure the game did not come down to a last second field goal like the last two Washington victories.
Highlights included punter Kyle Negrete with a fake punt and run for 35 yards on a fourth-and-nine at the USC 45 in the second quarter, Marqise Lee (9 receptions, 74 yards, 2 TD) returned the second half kickoff 88 yards for a TD and RB Curtis McNeal (18 carries, 148 yards, 1 TD) scored a 79-yard TD on the next Trojan series.
Safety T.J. McDonald had a migraine and didn't play in the second half. DT Christian Tupou left in the second half and had an ice pack on his surgically repaired left knee. LT Matt Kalil was treated on the sidelines and had a neck cushion and extra pads added.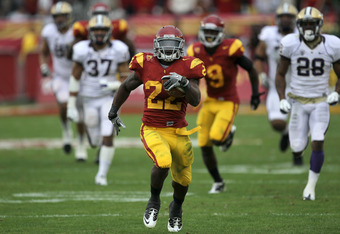 Stephen Dunn/Getty Images
What are the five things the Trojans learned?
1. Dominating Trojans Defense
The Trojans defense keeps getting better and better each game. Remember after the two Arizona games most Trojans fans and the media wanted Monte Kiffin replaced.
There were seven sacks today against Washington QBs Keith Price (12-of-16, 125 yards, 0 TD, 0 INT) and Nick Montana (9-of-15, 73 yards, 1 TD). DE Nick Perry had three sacks and five tackles but the entire DL played well. Pass coverage was also much improved as was the tackling.
The key was stopping Washington RB Chris Polk who had 36 yards rushing and zero yards receiving.
2. Lane Kiffin Out-Coached Sark
It was pretty clear that USC coach Lane Kiffin and Washington coach Steve Sarkisian know each other very well after spending five years together at USC and being good friends.
After a sluggish start by both offenses, Kiffin and his staff called a much better game that throttled the Huskies offense and used all the USC weapons to create scores.
3. Trojans Offense Ran Over the Huskies Defense
USC had more yards rushing (252) than passing (174). McNeal continues to run very well and senior Marc Tyler (7 carries, 50 yards, 1 TD) made a difference after returning from his shoulder injury.
This helped the Trojans dominate time of possession 34:15 to 25:45, and convert 7-of-15 third downs on the way to 21 first downs.
The USC OL has come a long way this season surprising many of us who thought they would be the weak link preventing the Trojans offense from realizing its potential.
4. Eliminate Sloppy Penalties against Oregon
After fewer than five penalties per game during the past five games, the Trojans were a little sloppy with 11 penalties for 78 yards. Fortunately, the Huskies were worse with 12 penalties for 91 yards.
Head referee Michael Batlan's USC-Stanford game crew didn't make any costly mistakes.
5. Special Teams Step Up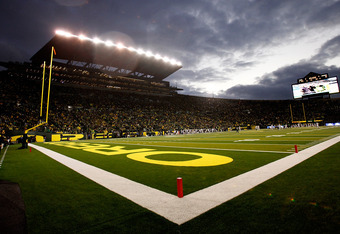 Jonathan Ferrey/Getty Images
Special teams played great, including the Nygrete fake punt for a game turning first down, Lee's kickoff return for a TD, Andrei Heidari's 30-yard FG and preventing Washington from any long returns.
Here are grades from ESPNLA's Pedro Moura.
The Trojans travel to inhospitable Autzen Stadium to play the No. 6* Oregon Ducks on Saturday, November 19. The game starts at 5:00 p.m. PT on ABC TV.
This game may determine whether USC ends up 10-2 or 9-3 with a possible best Pac-12 standing before the "Pac-11" conference championship game. However, Oregon has won 21 straight games at home so few will give the Trojans a chance. The way USC is improving, anything is possible.
*Week 11 AP ranking