Washington Huskies vs. USC Trojans Game Preview and Prediction
November 8, 2011
Stephen Dunn/Getty Images
The No. 18* USC Trojans (7-2) host the Washington Huskies (6-3) on Saturday, November 12. This homecoming game will draw a lot of Trojan fans and be broadcast on FX.
Here is the weekly USC Media Release for the game.
With three games left, USC's best possible record is 10-2. However, 9-3 is more realistic due to the "unbeatable" No. 6* Oregon Ducks (8-1) at Autzen in two weeks. The Ducks have won 21 home games in a row dating back to September 20, 2008, when Boise State won 37-32.
Most fans hoped to see this kind of progress by the Trojans at the beginning of the season after 9-4 and 8-5 finishes the past two years, and there are high hopes for the 2012 season. Kiffin is now 15-7 at USC and four of those losses came in the last second including one made possible only by the Stanford clock operator.
USC cannot afford anything but its best efforts and minimal mistakes against a dangerous Washington squad this week.
The Huskies may not be very good defensively, but they have an excellent, balanced offense and beat the Trojans the past two years with last second field goals under coach Steve Sarkisian.
Sark was Pete Carroll's assistant head coach and offensive coordinator from 2005-2008 and five other UW football staffers also worked at USC. This brings a unique perspective to this game.
In 2009 the USC loss was due to the inept offense led by backup QB Aaron Corp. Last year it was a defense that could not stop air. Both losses were frustrating.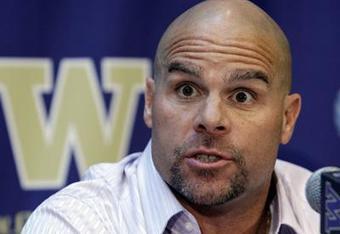 This year it's different.
However, anything other than a smart, single-minded performance could lead to a disappointing finish and put a damper on what has been an inspirational season to date.
It is crunch time.
Washington defensive coordinator Nick Holt (and former USC coach) said about the USC game, "We'll be OK against these guys. I'd rather play SC than Oregon, quite honestly." Coach Steve Sarkisian added: "If that quote makes SC play better, than it makes them play better...We don't motivate that way here."
Sure coach, we believe you.
Okay, maybe it is "Fight On" time even though the Trojans need no additional motivation to beat the Huskies.
Key Stats Comparison
| | | | | |
| --- | --- | --- | --- | --- |
| Category | USC | Ranking | Washington | Ranking |
| Rushing Offense (Yards) | 156.8 |  61 | 163.9 |  52 |
| Passing Offense (Yards) | 290 |  20 | 248.9 |  43 |
| Total Offense (Yards | 446.8 |  26 | 412.8 |  51 |
| Scoring Offense (Points) |  33.4 |  32 |  33.6 |  31 |
| Passing Efficiency (Percent) | 154.5 |  18 | 156.4 |  13 |
| Third Down Conversions (Percent) |  46.5 |  31 |  50.0 |  T-8 |
| Red Zone Conversions (TDs) |  55.3 | T-94 |  80.6 |  12 |
| Sacks allowed (Number) |   0.56 |  T-5 |   2.44 |  87 |
| Rushing Defense (Yards) | 106.4 |  18 | 141.8 |  52 |
| Pass Defense (Yards) | 270.7 | 104 | 283.1 | 113 |
| Total Defense (Yards) | 377.1 |  56 | 424.9 |  93 |
| Scoring Defense (Points) |  25.7 |  55 |  33.4 | 101 |
| Sacks (Number) |   1.78 |  69 |   1.56 |  81 |
| Tackles for Loss (Number) |   4.56 | T-100 |   4.33 | 111 |
| Net Punting (Yards/Punt) |  35.1 |  93 |  38.2 |  31 |
| Punt Returns (Yards) |   9.1 |  47 |   8.3 |  55 |
| Kickoff Returns (Yards) |  18.3 | 114 |  24.6 |  21 |
| FG Success (Percent) |  86.7 | T-11 |  81.8 |  22 |
| Turnover Margin | -0.11 |  70 |   0.0 | T-60 |
| Penalties |  49.4 | T-60 |  61.8 |  94 |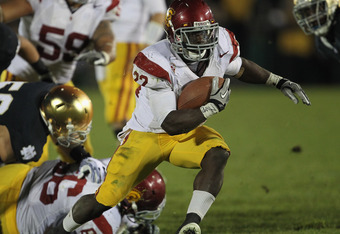 Jonathan Daniel/Getty Images
Keys to USC victory
USC has to do better than 55 percent on red-zone touchdowns and keep Washington from scoring TDs 81 percent of the time.
The Huskies defense can be exploited, but the Trojan offense has to take advantage of all opportunities. Third down conversions must be made most of the time, or either avoid the need to convert or create short yardage high probability situations.
The USC offense can run on Washington and that should help the passing game.
RB Curtis McNeal's (95 carries, 639 yards, 4 TDs) deep thigh contusion suffered in the Colorado game is showing no signs of injury in today's practice.
Senior RB Marc Tyler (97 carries, 438 yards, 2 TDs) did not play in the Colorado game (shoulder) but was cleared to play today and is being held out of contact so he can play Saturday. True freshman George Farmer (high ankle sprain) did limited work today and is a game time decision.
True freshman Amir Carlisle (12 carries, 104 yards) did very well against Colorado even though he is only playing at 80 percent (ankle) and so did RS freshman D. J. Morgan (40 carries, 159 yards).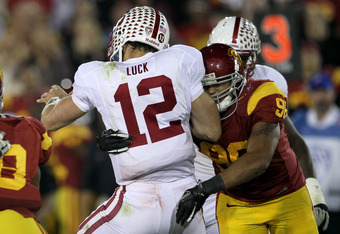 Stephen Dunn/Getty Images
SCPlaybook.com commented on the "pro" motto of the USC RBs today and that is needed against the Huskies no matter who plays.
Most of the yardage and scoring will continue to come from passing and QB Matt Barkley (229-of-342, 67 percent, 2608 yards, 28 TDs, 6 INTs, 155 rating) is fresh off another record setting game.
Sophomore WR Robert Woods (one of the nation's leading receivers with 90 receptions, 1121 yards, 11 TDs) and freshman Marqise Lee (43 receptions, 658 yards, 7 TDs) continue to be a tough duo to stop, and the Trojans have plenty other receivers and two very good TEs.
No. 6* Oregon's No. 62 defense held Washington to 278 yards with only 82 rushing, six sacks and three turnovers. USC needs to play aggressive defense and if it gets similar results then the Huskies have no chance. A positive turnover margin is very important.
RS freshman LB Dion Bailey (concussion) has not cleared the concussion test and he has been the best defensive player this season; he says he will play against the Huskies.
RS freshman LB Hayes Pullard did not practice on Monday because of a neck injury sustained in the Colorado game, but returned today. Defensive tackle DaJohn Harris missed Monday and Tuesday practice because of an ankle injury, but don't expect him to miss the game.
The DL must pressure Washington's QB and he is vulnerable to sacks. A great rush could cause some turnovers and passing mistakes, and the Trojan DL is ready to do better.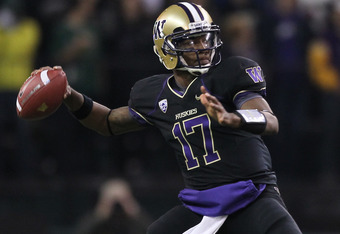 Otto Greule Jr/Getty Images
Safety T.J. McDonald needs to have a good game and not be so tentative due to the suspension from the penalty in the Stanford game.
Safety Jawanza Starling (rib) is questionable and identified as limited for practice, but he will probably play also.
The DBs must be more effective against an excellent Washington passing attack. They are going to give up some yards and can bend, but they need to keep the Huskies from scoring so many TDs when they get near the red zone.
Special teams must continue to do well and it wouldn't hurt to get some longer kickoff or punt returns.
This is homecoming so the crowd will be there to support the team. USC must take advantage of that and start fast.
Here are the USC offense and defense depth charts for the Washington game courtesy of The Orange County Register.
Keys to Washington Victory
The Huskies' biggest weapon has been their sophomore QB, Keith Price (181-of-271, 67 percent, 2133 yards, 25 TDs, 10 INTs, 156 rating).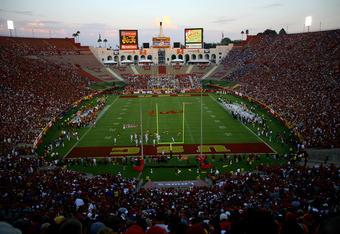 Stephen Dunn/Getty Images
His leading targets are senior WR Devin Aquilar (30 receptions, 461 yards, 3 TDs), senior WR Jermaine Kearse (34 receptions, 419 yards, 6 TDs), junior WR James Johnson (26 receptions, 330 yards, 3 TDs), freshman 6'6" TE Austin Seferian-Jenkins (22 receptions, 329 yards, 4 TDs) and junior RB Chris Polk (24 receptions, 280 yards, 3 TDs).
The Trojans do not have a strong pass defense, although it is getting better, and the Huskies must exploit this opportunity.
Washington has given up more than two sacks each game and the Trojans are due for a higher sack game.
While the Huskies passing attack spreads the ball well, the rushing game is almost all 222-pound Chris Polk with 207 carries for 1096 yards and nine TDs, second in the Pac-12. He has to run well against a mostly tough Trojan rush defense to help the passing offense continue to do well.
Like Oregon, the Trojans need to swarm to the ball, tackle Polk really well and not let him fall forward.
The Huskies' weakness is their defense which is ranked No. 93 nationally. They played Oregon tough for three quarters but need a complete game against the Trojans.
One of their problems is the DL, which has been blown off the ball during many games.The exception is defensive tackle Alameda Ta'amu who is both quick off the ball and a space clogger. The USC defense has a good plan for him.
Undersized LBs who miss tackles don't help either; however, LB Cort Dennison is the Pac-12′s top tackler.
We will see if Holt says anything after the game about playing the Trojans instead of the Ducks, and it is up to the USC offense to make him eat those words.
Washington's defense needs to force Trojan turnovers and keep third down conversions under 40 percent to stall the USC offense.
The Huskies have done well on kickoff and punt returns, and they could get good field position or even return a long one if the Trojans give them any opening.
Prediction
USC will get an extra practice day this week going Monday, Tuesday, Wednesday and Thursday after taking off Saturday and Sunday due to playing early with a Friday game last week. Mondays are normally off.
Rain is forecast on Friday and Saturday and Washington has more experience with those conditions although they play on artificial turf. If it becomes a mud bowl then the Huskies may have the advantage, but the drainage has been significantly improved to avoid that problem.
Referee Michael Batlan and his crew from the USC-Stanford game will be doing this game.
Larry Scott has a strange sense of humor or maybe it is that he doesn't want USC to win out and mess up the "Pac-11" Conference Championship game.
Nah, he wouldn't be worried about that.
Yeah, this is the same guy who never supported USC during the NCAA investigation, hearing or appeal process until after it was completed and too late unlike his counterparts in the SEC and Big Ten.
In any case, best for the Trojans to start fast and never give the refs a chance to impact the outcome.
USC opened as a 13.5 point favorite.
USC 37, Washington 24 
Catch the nationally televised game on FX this Saturday at 12:45 p.m. PT if you can't make it in person.
*Week 11 AP ranking