Penn State: How Far and Deep Did Alleged Coverup of Child Rape on Campus Go?
November 12, 2011
Mario Tama/Getty Images
As Barry Switzer put it this week: "Everyone on the coaching staff had to know!"
Switzer won national championships at Oklahoma. He's an authority on who knows what in a big-time college sports program.
Former Florida State football coach Bobby Bowden says now-fired Penn State coach Joe Paterno was "negligent" for not acting swiftly and decisively to stop child abuse by his assistant coaches.
Bowden also told The Albany Herald that all of Penn State's officials could have acted many years earlier to prevent ongoing sexual abuse that lasted for decades in their own campus facilities. Bowden is the second-winningest major college football coach in history behind Paterno.
Did Joe Paterno, who is worshiped as a deity in Pennsylvania, cover up the biggest sex scandal in sports history? How much did he know and how far and deep did the lies go on the Penn State campus?
Paterno allegedly harbored a known predatory pedophile who was his top lieutenant. His moral failures let down everyone who trusted him to protect them from such a person, who needed to be stopped by Paterno, who was arguably the most powerful man in the whole state.
Raping children is a heinous crime. The victims are the most vulnerable members of our society. The scars of the crimes committed are indelible and permanent. Each of the many victims of on-campus child rape was robbed of a chance for a happy, emotional life.
Paterno allegedly opted not to turn over to the authorities his longtime assistant, friend, confidante, and colleague, the architect of his defenses that won him national championships and put his players in the NFL. Turning him in was what was required to stop Jerry Sandusky from hurting more young, vulnerable boys.
Turning Sandusky in would've tarnished Paterno's legacy, because Sandusky was so intertwined with Paterno's success as a coach. By deliberately choosing not to turn him in, however, ironically, all of that success is even more and forever scarred.
Paterno, in developing his status as a father figure to so many, failed to see that that role was far more important than what anyone thought of him as a football coach.
He tried to protect his image as a surreal god-like figure and in the process lost his own moral compass with all of the adulation he received.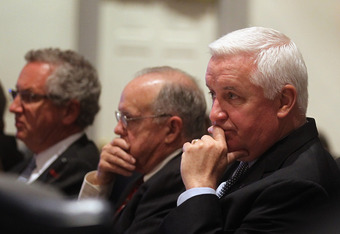 Mario Tama/Getty Images
Thus, the myth is shattered and Paterno's halo has come crashing down to earth. He will eternally be remembered as the one human being who could've stopped the biggest child sex molester in the history of sports and who utterly failed miserably to do so.
In a profession in which Paterno supposedly possessed an aura of morality, of doing things right, he simply did the absolute wrong thing when faced with the biggest test and the biggest game of his life.
The question now is, how far and how deep did the alleged cover-up go, and who all did Paterno involve and enlist with him in the conspiracy of lies and secrets that were finally revealed this week?
Most importantly, who all knew about this awful cesspool of deceit and how many more besides Paterno failed to do the right thing, whether out of fear of reprisals from Paterno or of losing their jobs or positions as a result of being a whistle-blower?
Piecing together what we know from the Grand Jury's report and the sworn testimony of everyone involved in this sordid mess, here's what we know for sure:
1. The Second Mile Foundation, which was headed and founded by Paterno's right hand man, Sandusky, has been in existence since 1977, nearly 35 years, and was created to be a safe haven for young children who, according to their own website, "need additional support and who would benefit from positive human contact."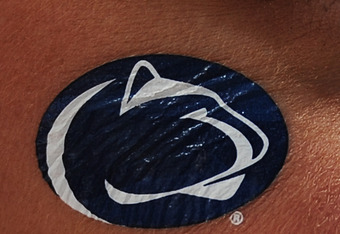 Patrick Smith/Getty Images
2. Sandusky regularly brought young boys on trips to football games out of town and made them a part of his official party.
3. Sandusky was seen openly bringing young boys to campus both while he was coach and after his negotiated "retirement."
4. Sandusky was investigated for child sex abuse in 1998.
5. Sandusky mysteriously "retired" at the apex of his career at age 55 in 1999, but was still allowed to keep an office on campus and have full access to all Penn State athletic facilities, as well as other perks.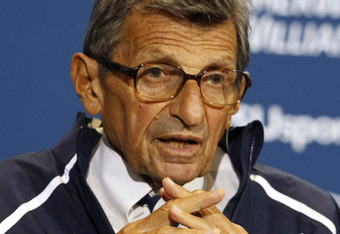 Justin K. Aller/Getty Images
6. A Penn State graduate assistant coach witnessed Sandusky sodomizing a young boy who appeared to be 10 years old in the Penn State locker room showers in 2002.
7. The child rape, while it was reported to Paterno, the Athletics Director (who was handpicked by Paterno and was a former player and coach under Paterno), and the school Vice President, who was in charge of the campus police, was never reported to campus police or any other investigating agency. Sandusky at that time was told he could no longer bring young boys to campus.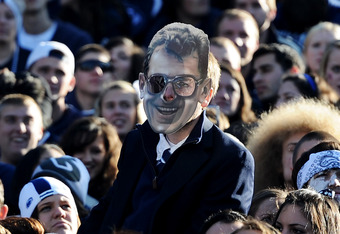 Patrick Smith/Getty Images
8. Sandusky continued to have an office and full access to Penn State campus facilities right up until his arrest on 40 counts of sexual child abuse last week. He continues to receive such University benefits as part of his retirement package, which includes a hefty pension at taxpayer expense that he should be stripped of if convicted in court, as he surely will be with the overwhelming evidence involved.
9. Sandusky, by all accounts, met many, if not all, of his victims, through the Second Mile Foundation. He was separated from children's programs at the foundation in 2008 when he was again the subject of a criminal investigation involving a young boy. However, he continued to be associated with the foundation in other ways until his arrest.
10. The school's Athletics Director and Vice President have both been charged with perjury, but their legal fees are being paid by Penn State, which is defending their actions while in their jobs. The Athletics Director is still employed but on leave.
11. Paterno was fired for utterly failing in his moral obligation to report what he was told by another of his coaches to police. It remains to be seen how much of a cover-up he orchestrated as well.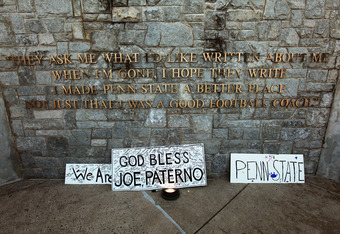 Mario Tama/Getty Images
12. The school president, who claimed under oath to have never been made aware of any of this, was fired by the Board of Trustees this week, but he has been replaced on an interim basis by another longtime member of the Penn State administrative staff, who himself should have known what was going on, too.
13. Paterno was replaced on an interim basis by someone who also should have known all about Sandusky's activities, too. In fact, he replaced Sandusky as Penn State's Defensive Coordinator in 1999.
14. As the week's events unfolded, the interim Athletics Director, also promoted from within, refused to see the wisdom removing the coach who also failed to report what he saw to police a decade ago. Finally, it appears the Board of Trustees, after the firestorm of criticism that ensued nationally, put that coach on administrative leave.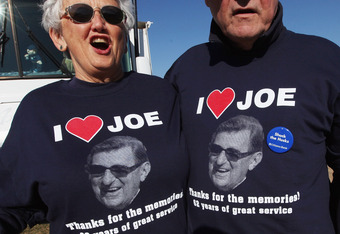 Mario Tama/Getty Images
15. A committee has been named by the Board of Trustees to investigate all this. However, that is basically akin to the fox investigating the hen house.
What conclusions can we draw from all of these facts? For one, it should be obvious that Penn State should not be investigating itself. Of course, the US Department of Education and the NCAA have both announced that they will also be doing their own investigations into this sordid mess.
If any situation ever deserved the NCAA's Death Penalty, this is it. No worse evidence has ever been uncovered against am American college sports team on any level in all of history.
The only way to rid the school of this cancer and to restore honor, decency, and integrity to the University is to completely sever all ties with anyone who was associated with Paterno, who handpicked everyone in a position of power at the school from the President on down. Until that is done, a black cloud of deep suspicion will continue to hover over Happy Valley.
Child abuse of any kind cannot be condoned by a major athletics program. Covering up alleged child rapes at a University is inexcusable and abominable. The example Joe Paterno and the other school administrators set for the young men they were coaching and educating was extremely poor.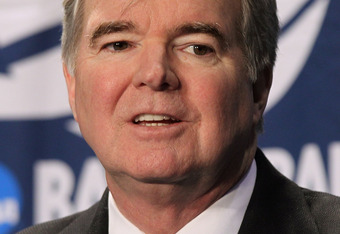 Nick Laham/Getty Images
No matter what good Paterno may have done in his long career as a football coach, looking the other way when his chief associate was allegedly having anal sex with pre-adolescent boys in his own facilities in plain view of his staff and anyone else that might have been around to see, is deplorable. It must be repudiated completely by everyone.
Nearly two dozen victims have now come forward. Who knows how many others are out there who are still afraid to tell their stories for fear of reprisals from those who may still be in power?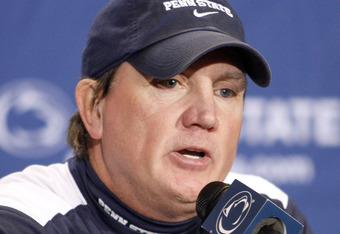 Justin K. Aller/Getty Images
An as-yet unsubstantiated rumor is circulating that innocent boys were pimped out by Sandusky to wealthy Penn State donors. If true, how much hush money will be paid to keep that quiet? As it is, the victims and their families have actionable civil cases for damages well into the millions against the school, to say nothing of the criminal charges that may still be brought against others in positions of authority there.
Joe Paterno and Penn State have been synonymous for three generations now. There are grandchildren of his former players who are now attending the school. It's time that the University distance itself totally from the most iconic figure in their history and from anyone associated with or hired by him. His legacy, despite all the good he may have done, will forever be one of shame and disgrace.
If Penn State's Board of Trustees wants to do the right thing and restore the school's reputation, which may take decades to do at best, they need to appoint another commission that is totally made up of outside people, with no Penn Staters, many of whom were part of this insidious culture, being involved in it at all. All of those in the entire University administration, on both the academic and athletic side, including all the coaching staff and all the way down to the janitors, one of whom also allegedly witnessed the abuse and did nothing about it, need to be terminated forthwith.
There are plenty of well-qualified coaches, administrators, and support staff throughout Pennsylvania and the nation that are fully capable of filling all the positions at Penn State. Until the school cleans house completely, the vestiges of abuse and participants in the cover-up of it will potentially remain in charge of various offices on the campus.
All must be fired in order for the students, parents, donors, fans, alumni, and taxpayers to have any confidence that this scandal has been removed entirely from one of America's greatest institutions of higher education. To leave anyone who was there on Paterno's watch in any position of authority at State College is to fail miserably in the school's moral responsibility to all its constituents.