Michael Jordan Getting Dissed by Stephon Marbury Is Laughable
November 12, 2011
Patrick McDermott/Getty Images
The icon is getting dissed by those who grew up worshiping him and probably had his poster on their bedroom wall, but Stephon Marbury calling out Michael Jordan is beyond belief.
What's behind the rage is Jordan's hard-line stance as the owner of the Charlotte Bobcats, wanting the league to go beyond the 50-50 split offered to 53-47 or more in the owner's favor.
Golden State Warriors rookie Klay Thompson called Jordan out, inferring that the "1996 Jordan would never have done this."
But that pales in comparison to Marbury and the swipe he took at "His Airness."
Quoting a column from Lacy J. Banks in the Chicago Sun-Times, Marbury said, "Michael 'Fake' Jordan is a sellout. He forgot the hole he came out of. He never was my idol; I just loved his game. When he earned his $30 million a season, nobody complained."
It is amusing that Marbury used the word "earned" because Michael Jordan actually earned every penny he ever made on the basketball court! Realistically, he was underpaid most of his career until he made over $30 million his last two years with the Chicago Bulls, and that still didn't compensate him fairly considering how much money he generated for his team and the league.
The United Center, home of the Chicago Bulls, should be called the Jordan Center, because he's the one who built it.
The Chicago Bulls were rock stars, and Jordan was the biggest star on the planet, yet he made far less money than Marbury did in his playing career, according to Basketball Reference.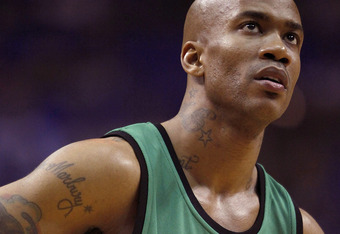 Marc Serota/Getty Images
Jordan earned $90,235,000 while Marbury stole $151,115,945 during his playing days. In fact, many of those days were spent away from his New York Knicks team late in his career, who paid him to stay away.
Marbury was a cancer in the locker room from the start. He was jealous of his teammate, Kevin Garnett, on the Minnesota Timberwolves, and forced a trade because he was envious of the money Garnett was making.
It was appropriate that he used the word "earned" while talking about Jordan. How many players today really earn their money?
They're calling Jordan out because now he is a rich, fat-cat owner, but he's risking his own coin with a small-market franchise that is hemorrhaging money.
NBA commissioner David Stern said NBA teams lost $370 million last year. 
Players only care about getting paid as much as they can, and they're saying Jordan has turned on them.
As Cuba Gooding Jr. said in the movie Jerry McGuire, "Show me the money."
Jordan was on the other side, but since he's crossed over to the dark side as the players like to think, they say he's changed, but that's not the case.
He's paying his hard-earned money to players that clearly don't deserve the salaries they're making and he knows that. Would the players of today be throwing out contracts like they're playing with Monopoly money if that money was coming out of their pocket?
If they had to pay the bills and some fringe journeyman asked for $40 million for five years, they would say, "Are you crazy? I'm not going to pay you that. You stink."
That's what they would say if it came out of their pocket, but since it doesn't, they don't care.
Jordan had integrity when he played. He practiced harder than any player in the game, and he honored his commitments.
When he was stuck in an under-market, long-term contract with the Bulls, he didn't gripe about it. Other teams like the Lakers and Celtics ripped up Magic Johnson and Larry Bird's contracts and gave them lucrative deals.
When he was asked about being underpaid, he would say that if Jerry Reinsdorf offered him more money, he would have taken it, but that he agreed to the contract and felt obligated to honor it.
Does that sound like something today's players would say?
Do you think Marbury would do that, or would he cry and demand a trade because Garnett signed a $126 million contract and he was only going to get $71 million?
We all know the answer to that. 
Jordan isn't a "sellout" like Marbury said he is, but Marbury is still a cancer, and there's no cure for that.