Veteran's Day: A Tribute to the 26 NFL Players Who Died Defending Our Country
November 11, 2011
Ezra Shaw/Getty Images
There's a circle of people huddled on a field, all dressed in the same uniform with a captain giving orders before they execute their assignments. Their faces coated in sweat, dirt and blood. Pain shooting out of organs, running wild through their limbs.
As they break from the huddle, each person is carefully peering across the field trying to spot the opponent—looking for anything out of the ordinary. 
Make adjustments. Yelling back to their team if they see something that could help win this battle.
They're ready, waiting for the signal.
Hearts are pounding—bodies running on pure adrenaline.
It's time.
Depending on the field, one team will snap a ball and go for a touchdown—the other team will snap off rounds from an M-16 rifle and fight for their life.
From September to January, every year, every Sunday, hundreds of huddles are formed on football fields across America. The players are strategizing to beat the other team.
During that same time period, hundreds of other huddles are formed across battlefields in the Middle East. The soldiers in these huddles are strategizing to defend our country. 
Sometimes, the athlete and the soldier have been one and the same.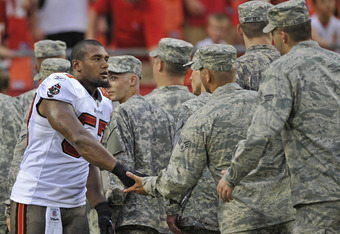 Peter Aiken/Getty Images
NFL Athletes Who Became Soldiers
Over 1,000 NFL players have served in the Armed Forces. One thousand—the equivalent to every NFL player on each team who will take the field this Sunday.
During World War II, 995 NFL athletes joined the ranks of our military and served our country. Of those, 23 died.
Over 200 NFL soldiers defended America in Korea. 
Twenty-eight of our NFL soldiers fought in Vietnam, and a handful have shipped out to the Middle East. Three of these brave men have lost their lives.
While the number of NFL soldiers has lessened, the level of commitment for those who serve our country has not.
Just ask the Tillman family.
Pat Tillman, former Arizona Cardinals defensive back, operated at a high level of play on the football field; he dominated offenses.
In 2000, Tillman secured 155 tackles (120 solo), 1.5 sacks, two forced fumbles, two fumble recoveries, nine pass deflections and one interception. 
Then some cowards decided to attack our country—Tillman wasn't having it.
The attack occurred on September 11, 2001, at the beginning of the football season. At the end of the season, Tillman was offered a contract worth $3.6 million to continue playing for the Cardinals.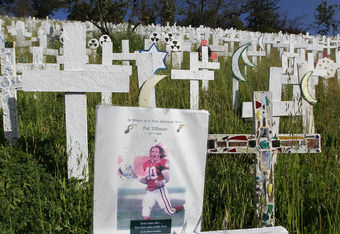 Justin Sullivan/Getty Images
No thanks. Tillman traded in his football uniform and enlisted in the United States Army.
Enlisted.
Tillman dominated the battlefield just as he did the football field. He earned his way into the U.S. Army Rangers and received several honors for his exemplary conduct as a Ranger on the battlefield.
There were others.
Robert Patrick "Rocky" Bleier was a running back who was drafted twice. First, the Pittsburgh Steelers drafted Rocky in 1968 to play running back.  A year later, the U.S. Army drafted him to fight in Vietnam. 
In Vietnam, both of Rocky's legs were brutally injured by a bullet and grenade. While recovering, he could barely walk.
With the urging of Steelers owner Art Rooney, Rocky earned a spot back on the team and enjoyed four Steelers Super Bowl victories.
Chuck Bendarik, the last NFL player to play both sides of the ball (center and linebacker), was a soldier before an All-Pro football player. Bendarik served as an aerial gunner and flew 30 missions over Germany on his way to becoming a highly decorated veteran. Bendarik vowed never to fly again.
Bendarik soared with the Philadelphia Eagles, however.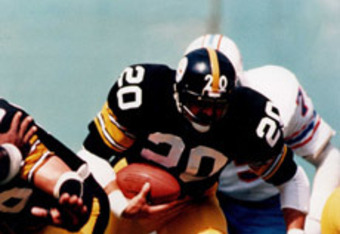 During his professional football career with the Eagles, Bendarik became the most feared tackler. With one tackle, he knocked Frank Gifford of the New York Giants out of football for 18 months and shortened Gifford's career. One tackle—Gifford retired.
And then there were those, like Tillman, who made the ultimate sacrifice for our country.
In 1968, the Buffalo Bills drafted James Robert "Bob" Kalsu, an All-American tackle coming out of the University of Oklahoma.  He played one NFL season.
After his rookie season with the Bills, Kalsu entered the United States Army.  He was a Second Lieutenant.
Kalsu first stepped down onto Vietnam soil in November, 1969. Some eight months later, on July 21, 1970, Kalsu was killed in action.
On July 23, 1970, two days after Kalsu took his last breath of the foreign Vietnam air, his son, James Robert Kalsu, Jr., was born and took his first breath of United States air.  Only 48 hours separated son from dad.
Jan Kalsu, Bob's wife, was informed of her husband's death within hours after giving birth to his son—her body still suffering from the intense pain of delivering her husband's son, to suffering the crippling emotional blow of her husband's death. 
For the love of his country, Kalsu surrendered any opportunity to hold his only son, and watch over him as he grew.  Instead, the son laid the father to rest.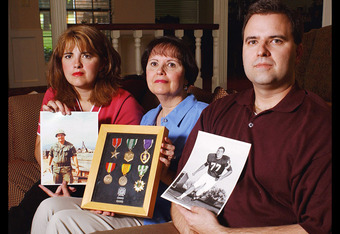 Perhaps Kalsu is less known by the masses, but he is spun from the same spool as Tillman—equally woven in our country's fabric.
Redefining Ironman
The NFL defines a player as an Ironman if he plays both sides of the ball—offense and defense. It's time to supplement that definition.
It's overdue, actually.
Including Pat Tillman and Bob Kalsu, there are 26 men who have donned an NFL uniform and our country's uniform, and were killed in action. These are the true Ironmen.
The following 26 Ironmen put down the football and fought on the battlefield and, in doing so, lost their lives for our country:
World War II
Cpl. Mike Basca (HB, Philadelphia, 1941)—Killed in France in 1944 
Lt. Charlie Behan (E, Detroit, 1942)—Killed in Okinawa in 1945
Maj. Keith Birlem (E, Cardinals-Washington, 1939)—Killed in England in 1943
Lt. Al Blozis (T, Giants, 1942-1944)—Killed in France in 1945
Lt. Chuck Braidwood (E, Portsmouth-Cleveland-Cardinals-Cincinnati, 1930-1933)—Killed in South Pacific in 1944
Lt. Young Bussey (QB, Bears, 1940-1941)—Killed in Philippines in 1944
Lt. Jack Chevigny (Coach, Cardinals, 1932)—Killed on Iwo Jima in 1945
Capt. Ed Doyle (E, Frankford-Pottsville, 1924-1925)—Killed in North Africa in 1942
Lt. Col. Grassy Hinton (B, Staten Island, 1932)—Killed in East Indies in 1944
Capt. Smiley Johnson (G, Green Bay, 1940-1941)—Killed on Iwo Jima in 1945
Lt. Eddie Kahn (G, Boston/Washington, 1935-1937)—Died in Leyte in 1945
Sgt. Alex Ketzko (T, Detroit, 1943)—Killed in France in 1944
Capt. Lee Kizzire (FB, Detroit, 1937)—Killed in New Guinea in 1943
Lt. Jack Lummus (E, Giants, 1941)—Killed on Iwo Jima in 1945
Bob Mackert (rank unknown) (T, Rochester Jeffersons, 1925)—location of death unknown
Frank Maher (rank unknown) (B, Pittsburgh-Cleveland Rams, 1941)—location of death unknown
Pvt. Jim Mooney (E-G-FB, Newark-Brooklyn-Cincinnati-St. Louis-Cardinals, 1930-1937)—Killed in France in 1944
Lt. John O'Keefe (Front office, Philadelphia)—Killed in Panama (date unknown)
Chief Spec. Gus Sonnenberg (B, Buffalo-Columbus-Detroit-Providence, 1923-1928, 1930)—Died of illness at Bethesda Naval Hospital in 1944
Lt. Len Supulski (E, Philadelphia, 1942)—Killed in plane crash in Nebraska in 1944
Lt. Don Wemple (E, Brooklyn, 1941)—Killed in India in 1944
Lt. Chet Wetterlund (HB, Cardinals-Detroit, 1942)—Killed in plane crash off New Jersey coast in 1944
Capt. Waddy Young (E, Brooklyn, 1939-1940)—Killed in Tokyo in 1945
Vietnam  
Lt. Bob Kalsu (G, Buffalo, 1968)—Killed  while defending Base Ripcord in 1970
Maj. Don Steinbrunner (T, Cleveland Browns, 1953)—Killed in South Vietnam in 1967
War in the Middle East
Cpl. Pat Tillman (DB, Arizona, 1998-2001)—Killed in Afghanistan on April 22, 2004
Here's to the true Ironmen of our country.