Terry Francona Could Have Been Next Hall of Fame Manager for Cardinals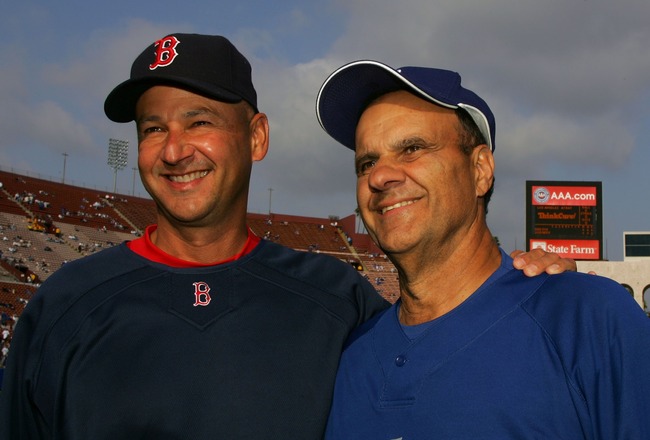 Tito and Torre-future Cooperstown mates?
Jeff Gross/Getty Images
Terry Francona did not get the open managerial post with the Cardinals, which went to former St. Louis catcher Mike Matheny. Given the team's history, this was a big surprise.
Thirteen St. Louis managers have eventually made it to the Hall of Fame, and at least two others are almost certain to join them.
After leading the Red Sox to two World Series titles, Tito is already on the doorstep of Cooperstown, and the Cards have a habit of hiring men with plaques in their future. Of course Matheny could go on to a Hall of Fame career as well, but he's starting from ground zero with no previous managerial experience.
Here's a look at all the men who went from the Redbirds dugout to immortality—and a couple other likely suspects.
Charles Comiskey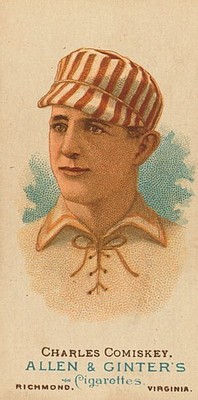 Charles Comiskey was player-manager of the Cardinals (then called the Brown Stockings) for their first 10 seasons in the American Association from 1882-91.
He compiled a 563-273 (.673) record and four pennants, and won the 1883 world's championship after defeating the National League's Chicago White Stockings.
He later helped form the upstart American League, and was among the Hall of Fame's first honorees in 1939.
Roger Connor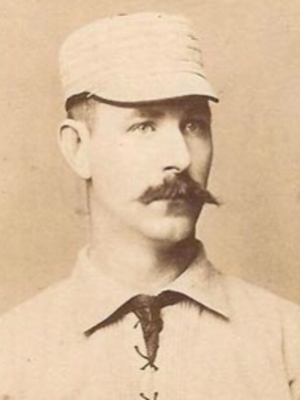 Roger Connor spent the last three seasons of his long career in St. Louis, hitting .304 as a first baseman.
For part of the 1896 season, he also managed the club. He was far less effective in this pursuit, going 8-37 as one of five skippers for the 11th-place Browns.
Kid Nichols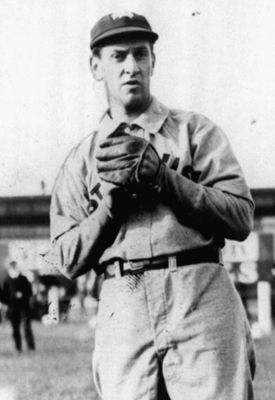 Kid Nichols made the Hall of Fame in 1949 for his pitching exploits as a 329-game winner for the Boston Nationals in the 1890s.
He later spent parts of two seasons (1903-04) hurling for and piloting the Cardinals. His managerial mark for St. Louis was a lackluster 80-88, although he was a respectable 22-18 with a 2.49 ERA on the mound.
Roger Bresnahan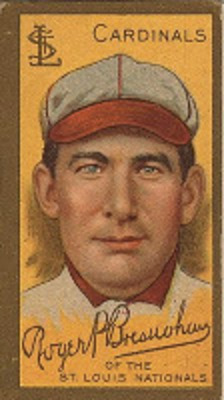 Roger Bresnahan's Hall of Fame career was earned as a catching great on the New York Giants, but he also spent four years (1909-12) with the Cardinals as a player-manager. He was just 255-352 at the helm and never finished above fifth place.
Miller Huggins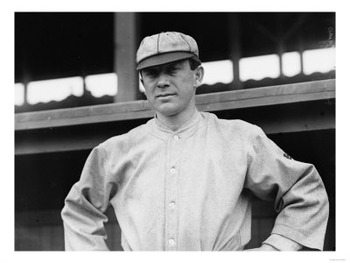 After Bresnahan was sold to the Cubs, St. Louis second baseman Miller Huggins took over as the club's manager.
He finished over .500 just twice in five years, but would later make his mark—earning his spot in the Hall of Fame—with six pennants and three World Series titles leading the New York Yankees.
Branch Rickey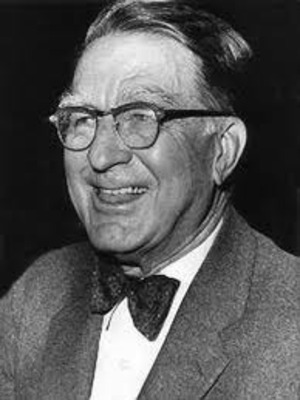 Hall of Famer Branch Rickey is remembered as one of the seminal figures in baseball history for breaking the big league color line and bringing Jackie Robinson to Brooklyn.
Before taking over the Dodgers, however, he was an executive with the Cardinals from 1920-42—a period during which he is credited for developing the farm system and one of the National League's greatest dynasties.
He also managed the Cards from 1919-25, but the best finish he could muster in that role was third place.
Rogers Hornsby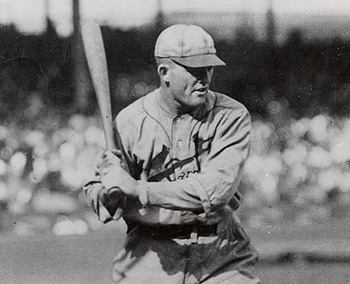 Any manager would like to have a .400 hitter in his lineup, and second baseman Rogers Hornsby had this luxury when he took the helm of the Cardinals from Rickey in 1926—he had himself batting third.
His average dipped from .403 the year before to "just" .317, but Hornsby still took the Cards to their first National League pennant and a World Series triumph over the Yankees (and former St. Louis skipper Huggins).
A contract dispute led to Hornsby's departure that December, but his trade to the Giants brought in another future Hall of Famer (and future Cardinals manager): Frankie Frisch.
Bill McKechnie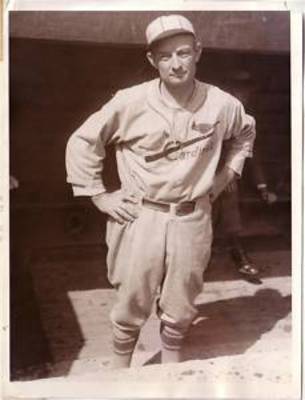 After a one-year hiatus in 1927, when catcher Bob O'Farrell managed the team, the Cards had another future Hall of Famer at the helm when Bill McKechnie took over in 1928.
McKechnie had already won a World Series as manager of the Pirates, and he was an instant success in St. Louis with a 95-win season and an NL pennant.
The Cardinals were swept in the World Series by the Yankees, however, and McKechnie was replaced that November with minor league manager (and former Cardinals World Series hero) Billy Southworth for the 1929 season.
McKechnie's consolation prize? Southworth's old job as skipper of the organization's Rochester Red Wings farm club.
Billy Southworth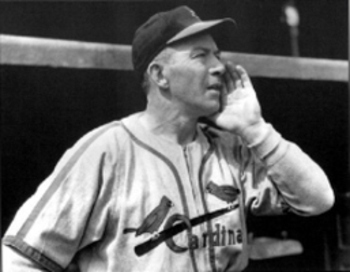 Southworth's first tenure as Cardinals manager did not last long. After putting the team through a grueling spring training that earned him the nickname "Billy the Heel" and then having the club fall into fourth place during a July swoon, he was replaced by none other than his predecessor, McKechnie.
Southworth's destination? You guessed it -- Rochester. But St. Louis fans had not heard the last of him.
Bill McKechnie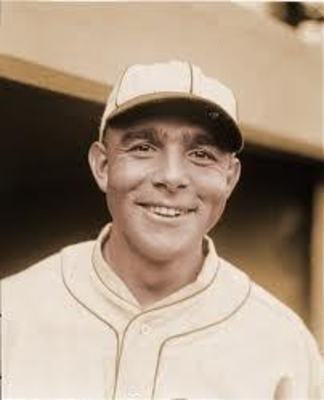 Look familiar? Yup, in the last Bill-for-Bill swap made by Cardinals owner Sam Beardon and team executive Rickey, McKechnie was back at the helm halfway through 1929.
He could only do slightly better than Southworth, however. When the Cards finished fourth, he was gone for good.
Gone from the Cards, but far from gone from the game.
McKechnie later managed the Boston Bees/Braves and Cincinnati Reds, and at the latter stop won two pennants and a World Series title in 1939-40—making him the first man to win pennants with three different teams and clinching his spot in Cooperstown.
Frankie Frisch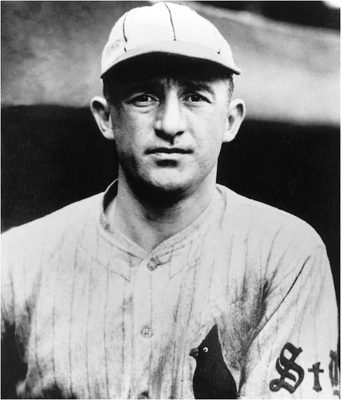 Remember Frankie Frisch, who the Cards picked up back in 1926 in exchange for manager-second baseman Rogers Hornsby?
Well, after seven stellar years succeeding Hornsby at second, Frisch eventually assumed the team's managerial post as well, taking over halfway through 1933 from Gabby Street.
Frisch led the Cardinals in parts for six years, five of them as a player-manager, and took the "Gashouse Gang" of 1934 to a World Series title. And while he earned his Hall of Fame plaque with a .316 average, the "Fordham Flash's" winning percentage of .564 with St. Louis was nothing to sneer at.
Billy Southworth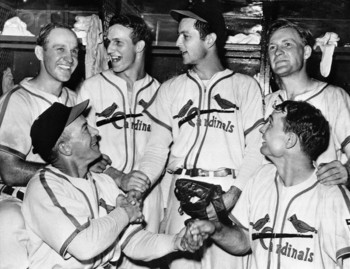 Brought back in 1940 by Breardon and Rickey, Southworth (bottom left) showed that the second time was a charm by winning three straight pennants and two World Championships from 1942-44.
Billy the Kid almost made it four straight NL titles, losing out to the Cubs (their last pennant!) on the next-to-last day of the 1945 season.
Lured away to the Boston Braves that winter with a tremendous salary offer owner Breadon couldn't match'—nearly $100,000 over three seasons—Southworth won yet another NL title in 1948 and a spot in Cooperstown 60 years later.
Red Schoendienst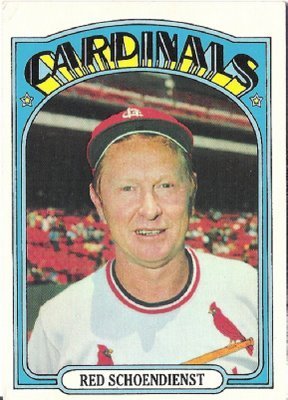 From 1909-45, the Cardinals had been managed by a future Hall of Famer for 41 of 47 seasons. After Southworth's departure to Boston, it would be 20 years until another immortal took the helm—and this one came as a complete surprise to fans.
In 1964, the Cardinals won the NL pennant and a seven-game World Series over the Yankees. But St. Louis manager Johnny Keane was at odds with owner August "Gussie" Busch, and Keane resigned after the season.
This paved the way for former Cards second baseman (and current coach) Red Schoendienst to take over as skipper, and he would hold the position for 12 years, winning NL pennants of his own in 1967-68 and a World Series title in 1967.
Schoendienst's Cooperstown credentials were sealed as a player, but in St. Louis—where he is still a special assistant with the Cards at age 88—he is a Hall of Famer on many levels.
Whitey Herzog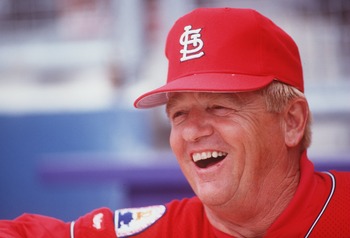 Getty Images/Getty Images
The unbroken string of Hall of Fame-caliber managers in St. Louis that stretches to today began in 1980, when Whitey Herzog was chosen to take over a struggling Cardinals team.
Herzog had already earned his stripes with three straight AL West titles with the Royals, but it was at a different point along I-70 that he had his greatest success.
Focusing on speed, defense and pitching, "The White Rat" won NL pennants in 1982, 1985 and 1987, and a World Series title in 1982.
All told, he managed 11 years with the Cards, and was named to Cooperstown 10 years after stepping down in 1990.
Joe Torre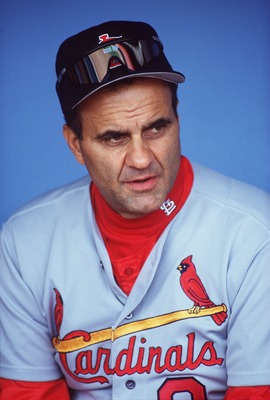 Stephen Dunn/Getty Images
While Joe Torre will be wearing a Yankees cap when he is called to Cooperstown for six pennants and four World Series titles won in the Bronx, St. Louis fans can always lay claim to being an early stop on his path to managerial glory.
Torre enjoyed a near-Hall of Fame playing career that included several great years with the Cardinals as a catcher and third baseman, topped by a 1971 MVP season.
Twenty years later, after managing the Mets and Braves, Joe came back to St. Louis to succeed Whitey Herzog in 1990 (after a 24-game cameo by Schoendienst). He had a team lacking in star power, other than Ozzie Smith, and was a near-perfect .500 (351-354) without any postseason appearances in four-plus forgettable seasons.
Give him the talent a Yankees payroll could supply, Cards fans would claim later, and it would have been a different story.
Tony LaRussa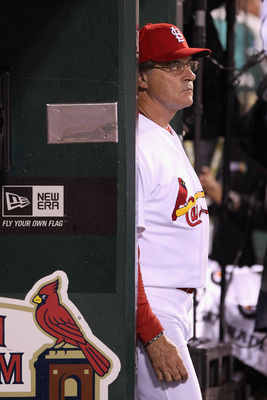 Christian Petersen/Getty Images
After Torre's firing, and an uninspiring four months from interim replacement Mike Jorgensen, the Cardinals selected Tony LaRussa to be their next manager on Oct. 23, 1995. As Torre's star rose in the Bronx, LaRussa returned the Cardinals to their spot among the National League's elite franchises.
His 16 seasons in St. Louis included three pennants and two World Series titles, but even when they didn't win big, the Cards were almost always in the hunt during the past decade. They earned 90 or more victories seven times between 2000-11, and when LaRussa went out on top after this year's World Series, his eventual Hall of Fame selection was almost a certainty.
Now another former Cardinals catcher is at the helm. Will Matheny continue the nearly 32-year run of Cooperstown-caliber skippers in St. Louis? Only time will tell.
SAUL WISNIA is a former sports and news correspondent for The Washington Post and feature writer for The Boston Herald who is now senior publications editor at Dana-Farber Cancer Institute. He has authored, co-authored or contributed to numerous books on Boston baseball history, including his latest—Fenway Park: The Centennial. His essays and articles have appeared in Sports Illustrated,Red Sox Magazine and The Boston Globe, and he shares Fenway reflections in cyberspace at saulwisnia.blogspot.com. Wisnia lives 6.78 miles from MLB's oldest ballpark, in Newton, Mass., and can be reached at saulwizz@gmail.com or @saulwizz.
Keep Reading

St Louis Cardinals: Like this team?