Phil Mickelson: Head of 2012 Class for Golf Hall of Fame
November 10, 2011
Andrew Redington/Getty Images
The World Golf Hall of Fame announced Thursday morning that Phil Mickelson will be an inductee for the class of 2012. The four-time major champion garnered the most votes since Greg Norman was voted into the Hall of Fame in 2001.
Mickelson told the Golf Channel he was honored to be an inductee and mentioned, "I am excited to be part of an elite organization. The Hall of Fame has the names of the greats of the game that I grew up idolizing."
Mickelson said that the announcement made him feel sentimental, thinking about his wife Amy, his parents, coaches and everyone who supported him through the years.
If  "Lefty" only needed support from the fans to be voted into the World Golf Hall of Fame, he would have been inducted well before his 40th birthday.
Phil is always a gallery favorite, which is evident by the throngs of fans who follow him at any tournament he plays.
Mickelson's popularity can be based on his playing record, which totals 47 professional wins, including four major championships. It can be based on his likeability as well.
He has an easy going personality and is friendly with his playing peers and fans alike. His easy going manner has also been criticized by some broadcasters and sports writers, because they do not believe he is as competitive as he could be at times.
Mickelson is also known for connecting with fans at tournaments and signing autographs after his rounds. He will take more time than most players will with autographs, making sure everyone is accounted for.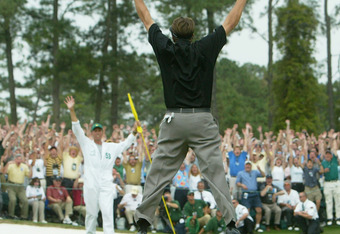 Andrew Redington/Getty Images
In recent years, he has become even more popular since Tiger Woods became embroiled in scandal. Many golf fans see him as a true representation of the game, and as always appearing professional both on and off the course.
Becoming a Hall of Famer in golf does not necessarily mean your career is over. Unlike other sports Hall of Fames, golf's inductees are often still playing professionally and have not yet retired from their sport.
Mickelson believes he still has a lot of golf to play. He would like to be able to win 11 more tournaments, which would total 50 wins for him.
Golfers are elected to the Hall of Fame by earning at least 65 percent of votes cast. The World Golf Hall of Fame and Museum will hold the induction ceremony on May 7, 2012 in St. Augustine, Florida.