Joe Paterno Fired: Jerry Sandusky Owes Joe Pa and Penn State Public Apology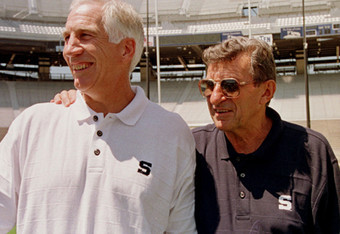 The Penn State scandal has intensified beyond anyone's imagination, appearing to get worse every day, which is exactly why Jerry Sandusky needs to speak up and apologize to all those he hurt.
The former Nittany Lions' defensive coordinator was allegedly using his charity, Second Mile, to molest young boys, and while he could have been arrested years ago, it doesn't change the fact that everything that has happened in the last few days is his fault.
Sandusky coached with Joe Paterno for 30 years, and his disturbing actions have ruined Penn State.
Should Sandusky Publicly Apologize?
In 2002, former Penn State quarterback Mike McQueary, a graduate assistant at the time, witnessed Sandusky sexually assaulting a young boy in the Penn State locker rooms.
He told Paterno about it, who then spoke to his superiors. The police were never called, and the incident was never reported.
Were those two in the wrong for letting Sandusky walk free? Absolutely they were, and it was the reason Paterno was fired by Penn State.
However, too many people are forgetting that this story needs to be all about Sandusky.
Yes, Paterno should have acted better, as well as McQueary, but Sandusky was the one arrested for heinous crimes, and the focus needs to be on him now.
Penn State firing Paterno is completely justified, and it shows you that the Board of Trustees is now taking control, as opposed to letting Paterno do what he wants.
Having coached there since 1966, he's been calling the shots, but not anymore.
The Paterno era is over, and the talk of him needs to be silenced. It won't be, as so many people have an opinion about the situation, especially after Penn State students hit the streets Wednesday night to riot.
Their reaction to the news was very immature, and it definitely made matters worse for Penn State.
Now that Paterno is out, the talk needs to be about Sandusky, and how everything comes back to him.
He is the ultimate disgrace to Penn State here, and this scandal will forever taint the Nittany Lions.
Stewart Mandel of Sports Illustrated tweeted a great thought about the riots and the firing of Paterno on Wednesday night, and how many forget what the scandal is all about.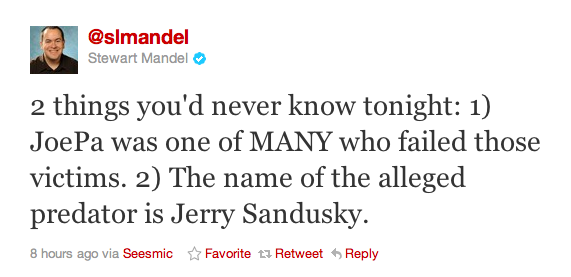 Amidst all the craziness, nobody should lose sight of what the story is.
All of this could have been avoided if Sandusky weren't a sick man, and people cannot forget that he is the reason the Nittany Lions are forced to clean house, start fresh and battle through extremely difficult time.
Bleacher Report's own Tom Kinslow, a Penn State alum, was spot on with one of his tweets last night.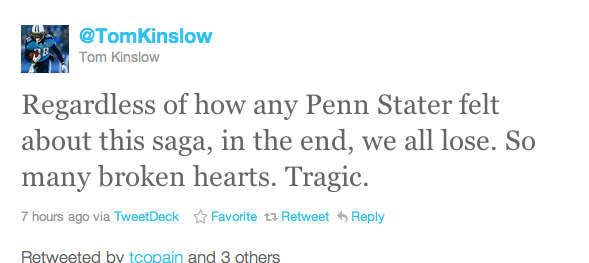 The Nittany Lions are on a steep downfall, and it all comes back to Sandusky. While others are in the wrong for not reporting what they saw or heard, it is Sandusky who has shed so much negative light on Penn State.
Sandusky owes it to his longtime colleague, and one can only hope he has at least given him a personal phone call.
Still, this scandal has escalated to new heights, and it's only right that Sandusky publicly apologize to a man he worked with for so long and a school that cherished him for many years without knowing all the horrible things he was doing.
This article is
What is the duplicate article?
Why is this article offensive?
Where is this article plagiarized from?
Why is this article poorly edited?

Penn State Football: Like this team?