Is Penn State Part of a Growing American Epidemic?
November 10, 2011
Rob Carr/Getty Images
By now, we have all heard the stories.  We have read the press releases and the court documents.  We have seen Joe Paterno, the head coach of the Penn State football team since 1966, get fired for the unspeakable actions that took place under his watch.
The aforementioned unspeakable acts were those of former Penn State defensive coordinator, Jerry Sandusky, who was indicted on 40 counts of sex crimes against young boys. 
In 1998, then graduate assistant, Mike McQueary, walked in on Sandusky engaging in a sexual act with a young boy in one of the locker room showers. 
According to court documents, McQueary then contacted his father, who told him to contact Joe Paterno, who then contacted the athletic director. 
In the years that followed, Sandusky continued to engage in elicit acts with boys, all while still working as a member of the Penn State football team.
Obviously the major story here is that of the actions of Sandusky, as well as what happened to these children.  But why didn't Mike McQueary do more?
According to the indictment brought forth by Pennsylvania Attorney General Linda Kelly, McQueary entered the Penn State locker room on March 1st, 2002 and witnessed Sandusky sodomizing a young boy. 
Instead of stopping the encounter or even calling police, McQueary left the locker room, called his father and went home.
What sort of society do we live in that someone could witness an event like this and not intervene?  McQueary, who at the time was a graduate assistant, sat by idly, letting an act such as this continue. 
Was McQueary more worried about what repercussions he would have to endure if he turned in a fellow coach?  Was McQueary so concerned about his own future with the program that he decided involving the police was not necessary?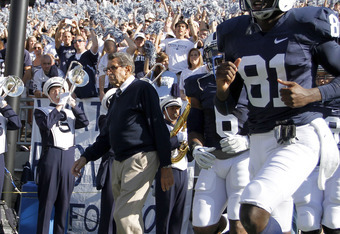 Justin K. Aller/Getty Images
All over our country and in our society, people turn a blind eye to bad situations.  More and more people think about themselves and the repercussions that actions might have against their futures or careers. 
In this circumstance, many young boys could have been saved from the trauma they had to endure from Jerry Sandusky. 
Regardless of the number of wins, the championships, the undefeated seasons, the All-Americans and hall of famers, Joe Paterno will now be remembered for the guy who let this happen on his watch. 
Paterno himself had the same opportunities to alert the police as the rest of those involved, but chose not to.  But in the end, that is not the story.
The children are the story.  Innocence was lost for these boys. It all could of been stopped had someone just done the right thing.