Which Uniforms Could We See Hillis, Forte and Jackson Wear Next Season?
November 9, 2011
Chris Graythen/Getty Images
Every year more and more players ask for more and more money, most of whom don't even deserve half the money they ask for.
Peyton Hillis, who broke out last season with the Cleveland Browns, seems to have gotten the "Madden Curse" along with all the former cover boys of the top selling NFL video game. Hillis was expected to get a big contract extension, but instead has found himself unlikely to even return next season with the Browns.
Bears' running back Matt Forte has become the centerpiece of Chicago's offense, and has made it known that he wants a new contract. Out of all the potential 2012 free agents, Forte may be the most deserving.
DeSean Jackson, wide receiver for the Philadelphia Eagles, held out during training camp because of his desire for a new contract. The Eagles never gave him one, and there is reason to believe they may not give him one at all. 
So, where could each of these three players land next season? Let's begin with Peyton Hillis.
Hillis exploded onto the scene last season after being traded from the Denver Broncos for quarterback Brady Quinn, landing himself on the cover of Madden 12. He was becoming one of the new faces of the NFL, and the most loved player of the Cleveland Browns face-base.
However, just like every player that's been on the cover of Madden, Hillis' got "cursed." 
Hillis has been bothered by a hamstring injury all season, along with missing a game due to strep throat. It was also reported that during the bye week, instead of getting therapy for his hamstring, he went home to Arkansas to get married.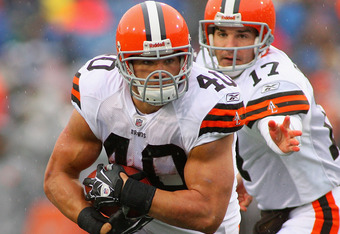 Rick Stewart/Getty Images
Take what you want from it, but Hillis' continues to be a distraction on and off the field. His teammates had an intervention type meeting with him to help him focus back on football. He only has 60 carries for 211 yards and two touchdowns in four games this season.
Last week it was reported that Cleveland isn't expected to retain Hillis this offseason, thus ending his two-year career with the Browns.
Where may Hillis end up? His days as a starter, for now, are over.
I believe Hillis will sign somewhere as a short-yardage, pounding type back. I see Hillis landing with the Pittsburgh Steelers, New York Jets or Atlanta Falcons.
Matt Forte has solidified himself as a top-five running back in the league, and is the most deserving of all 2012 free agents for a new contract. Forte has become the face of Chicago's offense. 
Whether it's on the ground or through the air, Forte is always picking up yards. Chicago is planning on franchising the running back if a deal is not done, so he will at least be in Chicago another year. After that, where might he land?
Right back in Chicago; there is no way this team lets him get away. 
DeSean Jackson is potentially the most debatable 2012 free agent. Jackson is arguably the most overrated player in the league, as he has yet to have more than 62 catches in a season during his four-year career.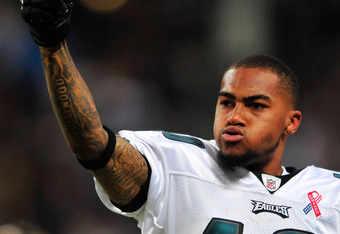 Jeff Curry/Getty Images
Jackson is a type of player who will only get three or four catches a game. One week he will get an 80-yard touchdown and everyone will talk about him like he's Michael Irvin. The next week, he will end the game with three catches for 20 yards, and people forget all about him.
Jeremy Maclin is the top receiver in Philadelphia, and he should be getting the extension.
With Maclin and McCoy is need of new contracts, and the Eagles' using $100 million dollars to lockup Michael Vick, they may not have enough salary cap to keep Jackson.
Where will DeSean Jackson land this offseason? My projection is Chicago.
Chicago loves fast, agile receivers like Jackson, and would give them the downfield threat they've been searching for.
With so many key players potentially becoming free agents this offseason, there is no doubt this will be an exciting Summer to watch for.