Penn State Scandal: Why NCAA Should Consider the Death Penalty for PSU
November 9, 2011
Rob Carr/Getty Images
What is going on at Penn State right now is probably the worst thing that I have ever seen go on in all of sports. That goes for any level.
When you're talking about NCAA scandals, the first thing that normally comes to mind is players accepting improper benefits. What's going on at Penn State makes all of those situations look minor.
Remember the investigation that popped up a few months ago that involved the Miami Hurricanes and many said that was the worst scandal in college sports? Yeah, this is much worse. 
Nevin Shapiro, who was a Miami booster, paid millions of dollars to several players and even covered an abortion for one of the players. He broke several major NCAA rules and the Miami Hurricanes football program will pay dearly for it at some point.
Articles like this infested the Internet saying that the Miami program must receive the death penalty because what they did was so bad.
It involved jewelry, multimillion dollar mansions, prostitutes and free trips on yachts. Oh, so horrible.
There have only been five cases where a team has received the death penalty.
First it was the Kentucky basketball team that was involved in a point-shaving scandal. The second time was Southwestern Louisiana basketball where the University was found guilty for academic fraud and recruiting violations.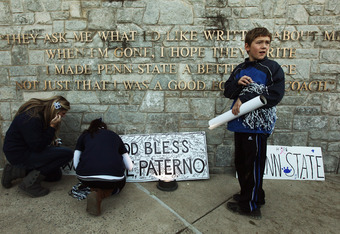 Mario Tama/Getty Images
The Southern Methodist football program had broken numerous recruiting violations and, even on probation, they were still paying players.
Big whoop.
The Morehouse College soccer team signed two professional players to play on their team after they already became professionals. The athletic director knew about it and didn't open his mouth.
Then you have the MacMurray College tennis team get the death penalty as well. Their coach was able to obtain scholarships from foreign countries.
None of those incidents are as bad as what's happening at Penn State right now.
What's happening at Penn State is worse than any recruiting violation you could think of. It's much worse than point shaving and making a few extra bucks on the side. It's worse than Ohio State and the free tattoos their players received.
This scandal involves a grown man named Jerry Sandusky who allegedly molested young boys for 15 years.
What makes the scandal even worse is that everybody at Penn State knew about it and did nothing, according to the indictment.
"Head coach Joe Paterno was told about it the day after it happened by Mike McQueary, a graduate assistant coach who testified that he went into the locker room one Friday night and heard rhythmic slapping noises. He looked into the showers and saw a naked boy about 10 years old 'with his hands up against the wall, being subjected to anal intercourse by a naked Sandusky,'" according to the grand jury report.
Paterno then informed the athletic director Tim Curley about what he had heard, and Curley, along with Gary Schultz, advised Sandusky not to bring children around the football building.
That's it.
Nobody called the police or spoke to any higher authority.
This scandal involves grown men molesting young boys and/or knowing about it and not saying a single word to the criminal justice system.
This is no longer a football problem and isn't something you get over after two years of not participating in bowl games. Boys were being abused and not one adult stepped in to do anything to try and help them.
Everybody involved in this case should be prosecuted to the fullest extent of the law and Penn State should receive the death penalty.
Why the death penalty?
As you read earlier in this article, teams have received the NCAA's harshest penalty for much less. What you have at Penn State is young children being abused for two decades.
I'm sure many would use the money that Penn State brings NCAA as an excuse to not drop the hammer on them. After all, you can't remove one of the biggest and most popular schools from college football, can you?
If you don't, it would just be what everybody has been doing all along. Turning a blind eye and looking the other way.
That has been done enough.
It's about time some justice is served.

Randy Chambers is a B/R Featured Columnist that covers College Football and the NFL. You can contact him @Randy_Chambers or Randy.Chambers7@yahoo.com
Bleacher Report is your home for college football for the 2011 season. From scores, news, analysis, live blogs and updates on your favorite teams and the big national games every week, keep it on Bleacher Report for the very latest in college football news.