Penn State Scandal: Jerry Sandisgusting, Joe Payouknew and Ray Getinacar
November 9, 2011
Rob Carr/Getty Images
Joe Paterno may be the most revered coach in college football history.  He is—or was—a legend, depending on how you want to look at it.  Paterno recently passed Eddie Robinson as the all-time winningest coach in Division I history with 409 wins. 
ESPN's front page currently features the article, "Paterno To Walk Away: Joe Paterno plans to exit Penn State at season's end".
I started to write this article at 2:05 EST this afternoon.  My guess is that Joe Paterno's stint as the Penn State head football coach will be over before this article is published around five o'clock. 
The Penn State scandal is now a few days old, but the details are still emerging from the shadows.  The magnitude of the situation will only grow. 
I think Paterno has coached his last game.
Gerald (Jerry) Sandusky, as you all well know, has been indicted on 40 counts of sexual abuse—21 felonies.
I believe the latest victim count stands at eight or nine.  That number, much like the amount of time left in Paterno's tenure at Penn State, is in question. 
Child molesters are like serial killers.  They are addicts.  They get pleasure from what they do.  Jerry might still be preying on young children if he were a free man.  My only satisfaction comes from the fact that Jerry Sandusky is probably going to spend the rest of his life in jail.
The original investigation into Sandusky was dropped many years ago when district attorney Ray Gricar decided that there was not enough evidence to prosecute. 
For the few that don't know, Ray Gricar mysteriously disappeared on April 15, 2005.  Gone into thin air.
There may be a connection between this scandal and the disappearance of Ray Gricar.
In the CBS documentary Without a Trace, police said that Gricar had searched Mapquest for directions from Bellefonte, Pa. (his hometown) to Lewisburg, Pa. (where his car was found) on the day before his disappearance. 
Let me pose this question: Why would someone MapQuest directions for a relatively short trip that they had taken numerous times?
I've done it.  You anticipate a trip, and sometimes you just want to bring up the directions.  Sometimes you want to see how long MapQuest thinks it will take you to arrive at a destination.  Either way, you bring up those directions because you have an "appointment."  Maybe that appointment is to bungy jump or buy a beer from a craft brewery that doesn't distribute in your area. 
My point is simply that Ray Gricar's trip to Lewisburg was no random joy ride.
What was Ray running from—or running to? 
There are some weird coincidences here—and they may be only coincidences.  Ray was a Penn State fan—a football fan.  He also disappeared at the end of the time frame of the incidences associated with these indictments.
We may never find out what happened to Ray Gricar.  Some people think his disappearance may be related to this case, while his laptop and hard drive were found in the Susquehanna River in 2005, and his car abandoned. It seems very fishy that someone would disappear only days after searching the Internet, "how to fry a hard-drive" without any evidence of foul play. 
It doesn't sound like a random homicide, or even a planned homicide, by someone imprisoned or someone with a vendetta against Gricar. 
Suicide?  No way.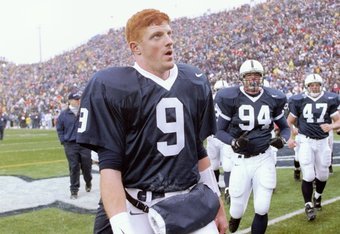 Rick Stewart/Getty Images
Let's get back to what we know.
In 2002, Mike McQueary witnessed Jerry Sandusky sexually abusing a young boy.  This is straight from the grand jury report:
As the graduate assistant entered the locker room doors, he was surprised to find the lights and showers on.  He then heard rhythmic, slapping sounds.  He believed the sounds to be those of sexual activity.  As the graduate assistant put the sneakers in his locker, he looked into the shower.  He saw a naked boy, Victim 2, whose age he estimated to be ten years old, with his hands up against the wall, being subjected to anal intercourse by a naked Sandusky.  The graduate assistant was shocked but noticed that both Victim 2 and Sandusky saw him.  The graduate assistant left immediately, distraught.
Folks, the other 22 pages of the grand jury report are just as disgusting.
This is where Joe Paterno should get fired.
What did McQueary say to Paterno?  Well, my guess is he told JoePa exactly what he saw.
Joe Paterno should have been fired the day that he didn't fire Jerry Sandusky.  His legend should be buried in that conversation with McQueary.  He knew of the 1998 allegations, and after being made aware of even more serious allegations from a man he trusted in McQuery, did little to remove Sandusky from the program.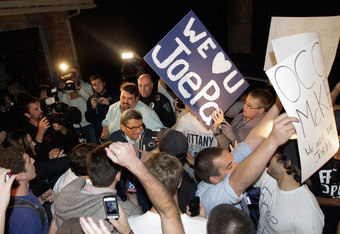 Rob Carr/Getty Images
What happened to McQueary?  Did he turn into a hermit and hide under a rock of guilt?
No.  He got raise and a promotion.
I'm appalled. 
Joe isn't guilty of sex crimes.  Joe is guilty of turning a blind eye.  I would hold him accountable if I were the parent of any of the alleged victims. I equate this to releasing a murderer—only to have that murderer go on to murder someone else. 
Joe is the man that set Jerry Sandusky free.
Most of Sandusky's alleged victims came from Sandusky's own "Second Mile Program"—a non-profit, charitable organization created to help children.
Fire Joe Paterno.  The students rallying in support of Paterno are guilty as well.  Sit back and swallow this pill, Penn State. 
I know it is going to be tough for the program and their fans, but any support of a staff member who was on board between 1995 and 2010 is simply wrong.
How important is college football now?