Joe Paterno's Firing Is Just Beginning of What Penn State Must Do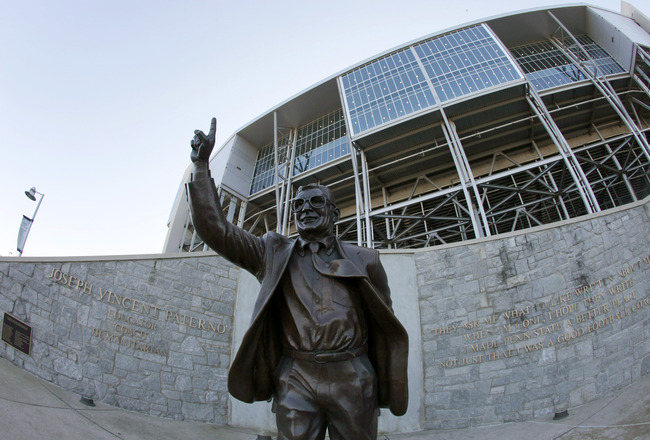 Rob Carr/Getty Images
Penn State officials are pondering the next in a long line of steps. That is easy. You start by ousting Joe Paterno from the position we were fooled to think he could handle.
Joe Paterno is a failure. I think that is something that has gone missing in all this. The head coach enjoyed the prestige of a chancellor on the Penn State campus. He walked with power and carried with him a great deal of leverage.
Yet, he failed to stop the most heinous actions I can ever contemplate. How powerful could this guy really have been?
Before I continue, let me say that of course Jerry Sandusky is the monster in this horror story. He and his 40 counts of sexual abuse will make sure that he is accounted for in the punishment department. While his crimes were the pinnacle of depravity, there are others that are culpable.
When hearing about the gravity of each count and reading through the grand jury findings, I want to vomit. After that, I want to run to anyone with an ear and tell them what happened. It's cathartic to get the awfulness off your souls for a moment.
Will You Be Fine with Joe Paterno Remaining Head Coach?
I then have to consider that I wasn't even there. So you will agree with me that it is ridiculous that person after person received news of depraved villainy taking place on their grounds and never once picked up the phone and dialed three easy numbers.
I find it sick that students would cheer Joe Paterno's name after we find that Sandusky was listed online as the assistant professor emeritus of physical education in the Lasch building before this last weekend.
A man that knew all and controlled all was the leader of jack and, well, something else. Paterno and others either knew exactly what was going on or were too terrified to go digging to see if the accusations held weight. Both scenarios are inexcusable.
Paterno lost his privilege of leading men when the story broke that he never followed up to make sure more boys were never abused.
Start with Paterno and keep on chopping. Penn State can be proud once again, but it needs to start from square one. From president Graham Spanier who is rather quiet all of a sudden to assistant coaches that were in the know, the university needs a face lift.
I seriously doubt the truly mindful will have any argument as an honorable institution can hardly continue with dishonorable leaders.
I hate to see Joe Paterno go out like this. The man is a legend, but he could have been a true hero by making the safety of little boys his number one priority.
This article is
What is the duplicate article?
Why is this article offensive?
Where is this article plagiarized from?
Why is this article poorly edited?

Penn State Football: Like this team?