Max Starks, Antonio Brown Big Reasons for Steelers Offensive Resurgence
November 9, 2011
Gregory Shamus/Getty Images
The Pittsburgh Steelers were on a downward spiral following a 17-10 loss to the Houston Texans.
Their record fell to 2-2 and their offense was completely out of sync with Ben Roethlisberger completing barely 50 percent of his passes and had no touchdowns. He was also sacked five times.
Pittsburgh's offensive line was in a state of flux and they looked to be on a path to no where.
But then the front office made a move they should have made prior to the start of the season. They re-signed Max Starks.
Since then, the Steelers have been getting better and better.
After being sacked 14 times in the first four games of the year, Roethlisberger has only been sacked 10 times in the previous five, with a couple of those being his fault for holding the ball too long.
Besides reducing the number of sacks, Roethlisberger has simply had more time to throw the ball, particularly against a tough Ravens defense last weekend.
The results have been outstanding, as Roethlisberger has thrown for 12 touchdowns and only three interceptions since Starks has returned, compared to three touchdowns and five interceptions over the opening four games.
Starks has solidified the protection on Roethlisberger's blind side and the rest of the line seems to be following, particularly that they are now getting a chance to play together.
Though the line could still improve their run blocking, there has been a vast improvement in pass protection and that is a great start for the much-maligned offensive line.
The results have been clear in the production in the passing game as well as glimpses of a ground attack last week.
The final step will be for the line to establish itself in the red zone where the Steelers really need to improve their production.
Meanwhile, the Steelers have gotten a huge boost in their passing game from the emergence of Antonio Brown.
Brown was outstanding in training camp and the preseason and just had to eliminate some of the mental mistakes from his game.
While he still has the occasional bad route, Brown is quickly becoming another go-to receiver for Roethlisberger.
Over the past three weeks, Brown has gone from a secondary target for Roethlisberger to one of his primary options.
Brown has caught 21 passes over the past three weeks for 278 yards and a touchdown. He has two 100-yard games over that time frame and at times has been uncoverable.
For the season, Brown has 39 receptions for 540 yards and a score and is the Steelers' second-leading receiver behind Mike Wallace.
A reduced amount of play time for Hines Ward and an injury to Emmanuel Sanders means that Brown will continue to be an important component to Pittsburgh's aerial attack and one of Roethlisberger's top options.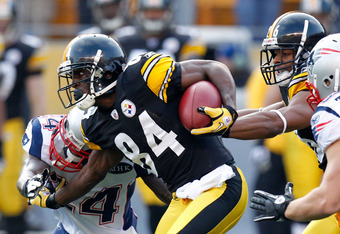 Gregory Shamus/Getty Images
Let's just say that Brown is not a drop off anymore. In fact, he is an upgrade over Ward. A pretty big upgrade at this point of their respective careers. And this is no knock on Ward, Brown has become that good.
Brown is a quick, shifty receiver who has a knack of finding open spaces in the defense and has been very dangerous after the catch.
It is scary to consider that he is still developing as a receiver. Brown has a very high upside and forms a dynamic duo with Wallace.
Now Brown needs to develop some of the savvy that Ward has in the red zone so he can improve upon his touchdown numbers as the second half of the season gets in full swing.
Both Starks and Brown will be key players heading into an important AFC North matchup on Sunday against the 6-2 Cincinnati Bengals.
A win will put the Steelers into second place in the division and provide them with momentum heading into the bye week.
Follow me on Twitter @ChrisG_FC