MLB Trade News: 6 Teams Willing To Deal a Star for Yankees' Jesus Montero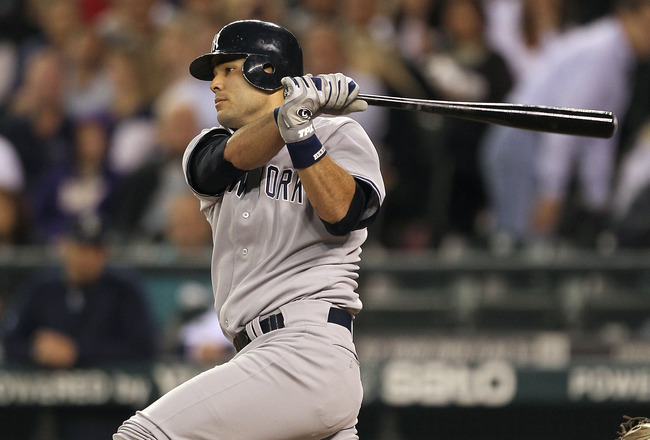 Otto Greule Jr/Getty Images
Being a top prospect in the New York Yankees farm system offers about as much security as handing over your life savings for a Madoff investment opportunity.
Because of the Yankees willingness to deal, their No. 1 prospect, Jesus Montero, could become a valuable trading chip for the Bronx Bombers.
Always looking to improve their big league club, the Yankees have had a history of dealing away top prospects, most recently Austin Jackson and Ian Kennedy in a three way deal that obtained them one of the AL's MVP favorites in Curtis Granderson.
And suddenly, the New York Yankees have a glut of catchers in their system.
Russell Martin had a fine season with the Yankees He's a good defensive catcher who has enough pop in his bat to make him one of the AL's top catchers. Only 28, he could be with the Yankees for awhile if they pursue him for a new deal, as expected.
Additionally, Gary Sanchez and Austin Romine are both catchers and top prospects in New York's farm system. Sanchez is a better prospect, but Romine is farther along.
While the plan may be to play the excellent hitting Montero at DH, he does offer an interesting piece to a puzzle that could net the Yankees a dependable starter, or additional outfielder, that they desperately lack.
1. Minnesota Twins
Hannah Foslien/Getty Images
Thanks to a nightmarish 2011 season, the Minnesota Twins are cutting payroll and entering full rebuild mode.
Joe Mauer isn't going anywhere, but you have to believe that the Twins would love to get him out of the catcher position and Montero might be a decent fit. They could continue to cut payroll by dealing the likes of highly-paid Francisco Lairiano and Justin Morneau.
Catcher Drew Butera was awful offensively for the Twins last season and it's hard to imagine they could suffer through another season of .169.
The Twins top prospects look like an honor roll student's report card—no "C's" anywhere.
2. Los Angeles Angels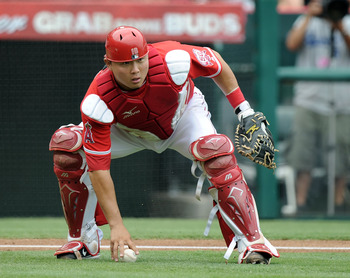 Harry How/Getty Images
Batman and Robin don't have to worry about their nickname being stolen when it comes to the Angels catching situation. The "dynamic duo" in LA, Hank Conger and Jeff Mathis, gave the team nothing offensively at the catcher position.
Conger is a decently rated prospect, but is average defensively and did little to instill faith that he will be the long term answer in his extended action in 2011. He hit only .209 in 177 ABs with just 6 HRs.
Jesus Montero, meanwhile, hit .328 in 61 ABs.
The offensively challenged, pitching heavy Angels, need to acquire as many bats as possible if they're serious about being a contender. If Conger isn't the answer, a player like Montero might be.
3. Los Angeles Dodgers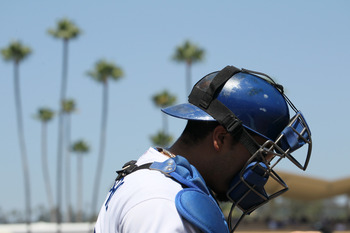 Stephen Dunn/Getty Images
The Dodgers answer to their catching issues in 2011 were the oft-injured Dioner Navarro and the ageless Rod Barajas. Oh yeah, both are free agents, too.
Griff Erickson stands to be the Dodgers top catching prospect, but he's probably still a few years away.
If the Dodgers don't make a move for someone like Montero, they could be looking at promoting middling prospect Tim Federowicz or handing the job to journeyman AJ Ellis. There's literally no one else on the roster.
A Montero deal could catch the Yankees eyes if the Dodgers were willing to move the talented, but slightly disgruntled outfielder, Andre Ethier.
4. Cleveland Indians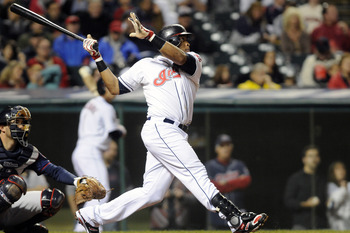 Jason Miller/Getty Images
The Cleveland Indians have no doubt made their intentions to challenge the Detroit Tigers for the AL Central crown.
After acquiring Ubaldo Jimenez at the 2011 trade deadline, the Indians have acquired Derek Lowe from the Braves and been one of the teams most mentioned with free agents.
Montero to the Yankees makes sense as they have a trading history with Cleveland, the Indians clearly have a desire to get Carlos Santana to first base, Lou Marson is probably only a backup catcher and the organization's other catching prospects are mediocre at best.
The issue would be, however, whether or not the Indians have anything worth giving up for Montero. It's unlikely they'd give up one of their top starters like Justin Masterson or Josh Tomlin, so they'd look to move more prospects from an already battered farm system.
5. San Francisco Giants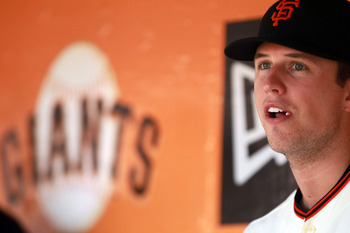 Ezra Shaw/Getty Images
Maybe a bit of a stretch, but again this could be a situation where Buster Posey is just too valuable to the Giants franchise to keep him at catcher.
Jesus Montero would allow Posey to move to first base and Brandon Belt to move to the outfield, giving the Giants a strong, young nucleus to build around.
You'd have to guess it would cost the Giants quite a bit, namely a guy like Madison Bumgarner just to start, but with the acquisition of Melky Cabrera, the Giants have shown they're willing to make moves in order to compete with the Diamondbacks in the NL West next year.
6. Milwaukee Brewers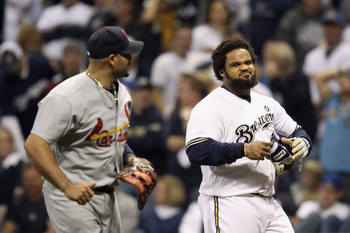 Christian Petersen/Getty Images
It's becoming evident that the Brewers are going to lose a huge bat in Prince Fielder this off-season.
The slugging first baseman has driven in runs in droves and the Brewers will need to make up that production.
Seeing that the Brewers are probably set at catcher with Jonathan Lucroy, Jesus Montero could potentially be moved to first and be used as the backup catcher.
The Brewers would need to give up someone like Zack Greinke, at a minimum, to even get the Yankees to listen.
Keep Reading