Joe Paterno: Reflecting on His Legacy at Penn State
November 9, 2011
Rob Carr/Getty Images
This is not an obituary.
Obituaries are for people who die.  Joe Paterno is not one of those.
On Saturday—upon hearing the sickening news of the scandal on the Penn State campus—something inside all college football fans died.  Clouds of somberness smothered the glee of Happy Valley where Paterno greatness was born.
Over the weekend, Jerry Sandusky, a former defensive coordinator for Penn State was charged with 40 counts of sexually abusing eight boys over a 15-year period.  Penn State's athletic director Tim Curley was charged with perjury and failing to report suspected child abuse, while Gary Shultz, Penn State vice president for finance and business, received similar charges.
Those clouds are thicker and more prevalent across the country today. With the cancellation of yesterday's scheduled Penn State press conference, sportscasters on television, online and on radio ring with calls for Paterno's resignation.  This morning, the school announced that Paterno will resign at the end of the season.
Tonight, the University's Board of Trustees made it official.  They fired Joe Paterno and university president Graham Spanier. (http://espn.go.com/college-football/story/_/id/7214380/joe-paterno-president-graham-spanier-penn-state) 
There is great sadness in recounting the legacy of a man whom many know as "Joe Pa."  For most of our lives, Joe Paterno's character has resonated a gruff sort of splendor.  Born Joseph Vincent Paterno on December 21, 1926, this hulking character has molded the simple brand of the blue and white into iconic vastness in the sports world. 
Rob Carr/Getty Images
Indeed, taking the Paterno out of Penn State will be difficult to comprehend. 
Imagine Notre Dame without "Touchdown Jesus," Auburn without Toomer's Corner, The Rose Bowl without the rose, or Bama without Bryant.  Since 1966, Paterno's wit and grit has stalked the campus in the form of a record-number of wins for the Nittany Lions.  He has coached five teams that went undefeated and is only one of three active and live coaches inducted into the College Football Hall of Fame.
Four of his unbeaten teams (1968, 1969, 1973 and 1994) won major bowl games and were not awarded a national championship. Ironically, Paterno is the only coach who has won each of the current four major bowls—Rose, Orange, Fiesta and Sugar—as well as the Cotton Bowl Classic, at least once. Under Paterno, Penn State has won at least three bowl games each decade since 1970.
Paterno has led Penn State to two national championships (1982 and 1986) and five undefeated, untied seasons (1968, 1969, 1973, 1986 and 1994).  His proud legacy is fresh with storylines.
Just a couple of weeks ago, in full Paterno-form, the Nittany Lions emerged victorious over Illinois, beating them 10-7 in electric surroundings.  Behind by four, they drove 86 yards on the last play of the game for the touchdown and win.  A missed 42-yard field goal sealed the victory that gave Paterno his 409th win and a moment in time that fans will long savor.  Little did anyone realize this would be Paterno's last hurrah.  The style and profile of that game was typical of the teams he coached throughout his tenure.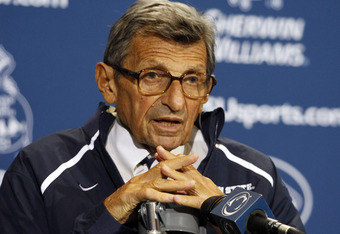 Justin K. Aller/Getty Images
One of Paterno's most well-known quotes speaks of the character behind those 80s-style glasses. "Believe deep down in your heart that you're destined to do great things," he told his players.
One thing cannot be denied.  Joe Paterno did great things. 
But sadly, his decision was not to report the alleged incidents involving Sandusky and his alleged abuse of young boys to law enforcement.  Instead, he reportedly shared his knowledge of the alleged actions by Sandusky to the athletic director.  To some—including the university's board of trustees— that choice was irresponsible and possibly, unforgivable. 
And that, my friends, spells the end of an era and tarnishes the spirit that defined Joe Paterno.