Week 10 Fantasy Football: Laurent Robinson and More Waiver Wire Pickups You Need
November 8, 2011
Rich Schultz/Getty Images
We're at the halfway mark of the NFL season, which means the fantasy football playoffs are quickly approaching. You will need some key pickups if you want to complete your run to the championship, or maybe just for some security, if injuries are piling up.
Players like Laurent Robinson have been doing well on their own, but could make a huge jump with the right opportunity. As always, TheSportsCannon.com offers Week 10 fantasy rankings as well, so you can always stay on top of your league.
Quarterbacks
Mark Sanchez, New York Jets (80-percent ESPN, 63-percent Yahoo)
Don't be fooled by Sanchez 'subpar fantasy numbers against the Bills this past week, as he has actually made some big strides as the season has progressed. Once again the Bills proved they can't stop the run, so Sanchez wasn't asked to do too much. Take away one costly interception in the end zone and we could be talking about Sanchez being a starter in most fantasy football leagues.
Matt Cassel, Kansas City Chiefs (71-percent ESPN, 45-percent Yahoo)
Yes, we know Cassel lost this past week and has been more than a letdown so far this year, but the Chiefs passing attack is improving. Steve Breaston and Jon Baldwin have both shown flashes of brilliance and the Chiefs have two very enticing matchups coming up against the Broncos and Patriots secondaries. Cassel isn't going to win you too many games, but if you are in a pinch and need someone with a good matchup you could do much worse than starting Cassel.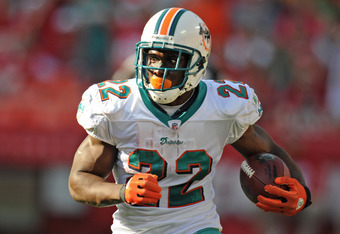 Peter Aiken/Getty Images
Running Backs
Reggie Bush, Miami Dolphins (88-percent ESPN, 69-percent Yahoo)
Bush chose the Dolphins for a reason: to be a feature back. Although he has seen his ups and downs this season, it appears the Dolphins have finally figured out how to employ Bush. For two straight weeks the Phins have had success running the ball, and for two straight weeks Bush has at least 120 all-purpose yards. While Daniel Thomas is ailing with hamstring issues, bush is making his case for a guaranteed 15 carries every week.
Roy Helu, Washington Redskins (16-percent ESPN, 34-percent Yahoo)
Helu is now the starting running back for the Redskins, which really doesn't mean all that much in terms of rushing yards. The Skins throw the ball more than most teams, however, and Helu is a very good pass catcher out of the backfield. Helu proved as much this past week when he was quarterback John Beck's favorite target, catching 14 passes for 105 yards. Head coach Mike Shanahan has already said Ryan Torain will only step on the field when Helu is tired.
Chris Ogbonnaya, Cleveland Browns (16-percent ESPN, 27-percent Yahoo)
Both Peyton Hillis and Montario Hardesty have already been ruled out for Week 10, meaning Ogbonnaya will again get the start for the Browns. Last week, Ogbonnaya did nothing but burn those who started him, fumbling on his first carry and accumulating only 28 yards rushing. So why should you trust him this week? The Browns will face the Rams, one of the easiest matchups a fantasy RB could get, and there is no one to challenge Ogbonnaya for carries.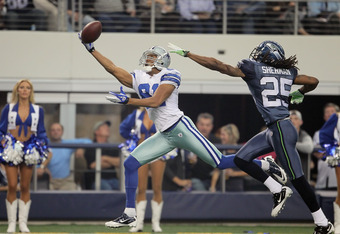 Jeff Gross/Getty Images
Wide Receivers
Laurent Robinson, Dallas Cowboys (2-percent ESPN, 17-percent Yahoo)
Robinson has done very well for himself as a Cowboy since stepping on to the field in Week 4 and now will be thrust in to a starting role thanks to another Miles Austin hamstring injury. Robinson has always had the skills to make it in the NFL; he just hasn't been able to stay healthy enough to sustain a job. The Cowboys love to pass the ball, and opposing defenses may decide to key on stopping Dez Bryant now that Austin is out. Robinson could be the beneficiary of potent passing game and less coverage.
Jacoby Ford, Oakland Raiders (36-percent ESPN, 22-percent Yahoo)
The Raiders seemingly shuffled their depth chart over the bye, making Jacoby Ford their top receiver. Ford had five catches for 105 yards and a touchdown against the Broncos and already seems to be Carson Palmer's most trusted target. Ford has had an up and down season, but should be a FLEX or WR3 option for any team this week.
Earl Bennett, Chicago Bears (1-percent ESPN, 11-percent Yahoo)
Bennett has been out since Week 2 after suffering a significant chest injury, but when he was finally cleared for play, he made a big impact for the Bears. On Monday night it was clear that Bennett was quarterback Jay Cutler's most trusted receiver, coming up big on numerous third downs. The Bears aren't going to change their game plan away from a Forte-focused offense, but Bennett automatically has the best value of any Bears WR.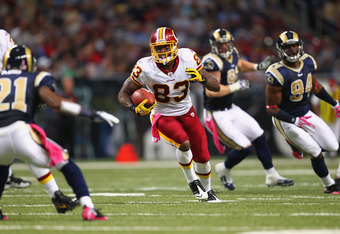 Dilip Vishwanat/Getty Images
Tight Ends
Fred Davis, Washington Redskins (86-percent ESPN, 79-percent Yahoo)
Were shocked Davis isn't a more sought after option in fantasy, if he was dropped in your league because of injury concerns…PICK HIM UP! Davis is one of quarterback John becks' favorite target, if not the favorite. He should be back to putting up steady points for the rest of the season.
Brent Celek, Philadelphia Eagles (15-percent ESPN, 29-percent Yahoo)
Celek has put together a good string of games as of late and is becoming a more trusted option for quarterback Michael Vick. Maybe there is something to DeSean Jackson's comments about opposing defenses taking away the deep pa...pick up Celek if you are in trouble at the position. He has been a good check down option for Vick, and a good option in the red zone.
Kicker
Robbie Gould, Chicago Bears (36-percent ESPN, 51-percent Yahoo)
Gould has had some very good fantasy numbers as of late and it is no coincidence that the Bears' offense is clicking. This week he has a good matchup against the Lions, who are the 29th ranked defense against fantasy kickers.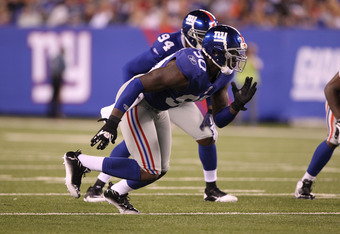 Al Bello/Getty Images
Defense
New York Giants (55-percent ESPN, 72-percent Yahoo)
This is another Fred Davis-esque picking, trying to plead fantasy owners to wake up and pick up this undervalued commodity. The Giants are owned less than the Chargers in most leagues, despite having more fantasy points than the Steelers' defense. Pick up the Giants and keep them in the lineup for the rest of the season, Big Blue is for real.
The Sports Cannon is a fantasy football news website that offers free advice, rankings, waiver wire pickups and matchup rankings. You can follow TSC on Facebook or Twitter and can even email your questions to: advice@thesportscannon.com.