Week 10 Fantasy Rankings: Quarterback Risers and Fallers
November 8, 2011
Ezra Shaw/Getty Images
Week 10 Fantasy Football Rankings are here! The quarterback position can often make you pull your hair out if you don't get one of the top-5 players out there, so you need to know who is trending upward and who is on the downturn.
Our latest updates to the fantasy football quarterback rankings will help you see just that, and you can be confident that these rankings don't just assume point totals but who can compete against some of the tougher defenses.
How it works: Each week we analyze a player's production on the football field and rank him accordingly—then we go one step further and analyze their competition. Just because someone torched the Broncos doesn't mean he was that week's best performer. You want a quarterback who continually puts up big numbers, even when he takes on one of the NFL's toughest defenses.
Rising
11(15)             Matt Hasselbeck, Tennessee Titans
Hasselbeck was asked to throw the ball a lot in the Titans Week 9 loss to the Bengals and had one of his best days in fantasy this year. Hasselbeck went up against one of the toughest defenses in fantasy but managed 272 yards passing with two touchdowns and no interceptions.
We will be the first to admit that Jake Locker is on our "watch list" because eventually the Titans will be out of contention and will want to see what their first-round draft pick can do. Until then, Hasselbeck is a pretty decent QB2.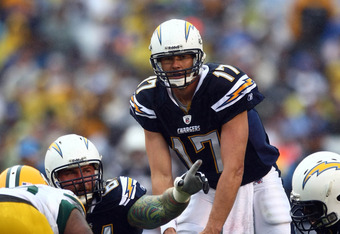 Donald Miralle/Getty Images
17(21)             Philip Rivers, San Diego Chargers
It is shocking that Rivers has become a QB2 in most leagues, but he already has 14 interceptions on the year with only 11 touchdowns. Rivers had a big day in the Chargers Week 9 loss to the Packers, but still looked very inaccurate on the day.
The Chargers will go back to relying on the run when they face less potent offenses, so he could be back to his subpar numbers. At this point in the season, it is hard to believe he will do otherwise.
24(35)             Carson Palmer, Oakland Raiders
Palmer had some good zip on his passes in the Raiders' recent loss to the Broncos, but he still made some curious decisions, throwing three interceptions on the day. Palmer said he was "completely comfortable" with the playbook and his teammates before the game, but seemed to back down from that claim after the loss.
It isn't fair to expect Palmer to be a stud right away, but if the Raiders stay pass-happy, his numbers should make him a worthwhile start in deep leagues.
Falling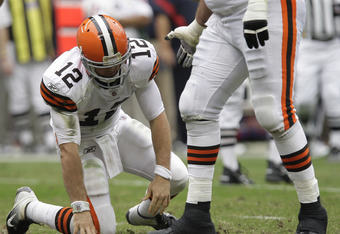 Thomas B. Shea/Getty Images
15(11)             Colt McCoy, Cleveland Browns
McCoy went up against a tough Houston defense, so his subpar play wasn't all that unexpected. The real concern is the McCoy could barely find a check down all game and was seen icing both knees.
McCoy saves his fantasy owners with the added rushing yards he picks up each week so if team's have figured out how to take away the check downs and he can't run… he will be on waivers sooner than later.
28(24)             Curtis Painter, Indianapolis Colts
Well Painter owners, it was a good run. It appears now that Painter's first few surprisingly efficient games were just a flash in the pan.
Opposing defenses know that all you have to do is make Painter move his feet and he will come up short, and that's all they will do until the Colts are on the clock.
Every week TheSportsCannon.com updates their Fantasy Football Positional Rankings to keep up with the changing landscape of the football season.
The Sports Cannon is a fantasy football news website that offers free advice, rankings, waiver wire pickups and matchup rankings. You can follow TSC on Facebook or Twitter and can even email your questions to: advice@thesportscannon.com.