Tim Tebow Experiment: What Do the Denver Broncos Do with Their Quarterback?
November 8, 2011
Ezra Shaw/Getty Images
Kim Kardashian is famous for being a celebrity. Tim Tebow is the same. Sure, his athletic accomplishments are much more extensive than hers. Well, maybe not...she did sleep with Reggie Bush, Miles Austin and Kris Humphries.
Anyway, at least Tebow has a reason for being famous. He was a great college football player, one of the best ever. But college stardom does not usually lead to a national cult following once the college career is over. Tommie Frazier anyone?
Tebow is so good and so bad and everyone has an opinion on him. Religious people see him as a leader of the faith, proof that you can love Jesus and still be a bad-ass. NFL analysts see him as the antichrist, if Christ were a QB that is. To them, Tebow is a man without ability who was given an unfair advantage and thrown into a position that he clearly did not deserve.
Both camps are right. Tebow is a bad-ass that loves Jesus and who lacks the ability to be a starting QB in the NFL. 
So, with that, where does that leave him?
Well, for starters, Josh McDaniels is a young, inventive mind in the NFL, and one who was clearly thinking out of the box when he drafted Tebow in the first round. As a young coach with an offensive mind, he could imagine Tebow growing into a new breed of quarterback and one that could ultimately help define McDaniels as an offensive genius. 
The problem is that McDaniels made tons of dumb moves (drafting Tebow in the first round) and lost enough games that the Denver faithful quickly lost interest and dumped him before Tebow could really be anything other than a goofy dude that tries really hard.
McDaniels is proving this year with the inept Rams that he is not an offensive genius as much as a very lucky guy to be a coach on the Belichick-and-Brady-led Patriots.
Enter John Fox and John Elway, classic football men.
John Fox is an X-and-O guy who plays football the way it was meant to be played, whatever that cliche means. John Elway is the prototypical quarterback, one of the most revered men in Denver and a guy who would love to have a quarterback who plays like him—Aaron Rodgers, Andrew Luck or even Cam Newton...not Timmy Tebow.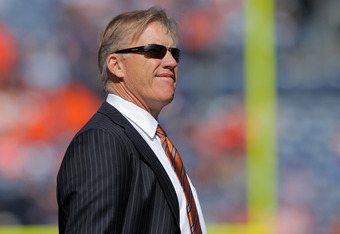 Doug Pensinger/Getty Images
So while Tebow lucked out to be drafted by McDaniels, that same ''lucky'' move could now lead to the demise of him. Fox and Elway want nothing to do with him and are only playing him because they have no alternative and they want to show the fan base just how bad he is so they can go and draft another QB next year. Because Tebow was selected so high, his ego and that of his fan base believe he is an NFL quarterback. 
I'll admit, Tebow has played admirably in his games this year.
There was a gut-wrenching second-half comeback attempt that barely fell short against the division rival Chargers, a gritty comeback win in his first start of the season against the Dolphins and a solid win against the Raiders, which put Denver in position to possibly contend in the hapless AFC West. 
Notice that I didn't mention the Detroit game in the paragraph above. That was one of the worst games I've ever seen a quarterback play. Tebow did not belong on the field. He played so badly that he didn't even deserve to be an emergency third-string QB. After watching that game I knew there is no way this guy can ever consistently play the position in the NFL. 
He came back and played decently against the Raiders, but that game only solidified my opinion of him. He made a few accurate passes, but more importantly he made many more what-the-hell-was-that-and who-could-he-have-been-possibly-throwing-that-ball-to plays. He is not close to being an NFL-caliber passer. 
Now, before you Tebow-lovers spew hate, hear me out. The guy sucks at QB. Hands down, bar none, he is not an NFL quarterback and will probably never become one. However, that does not mean he is not a gifted football player.
In fact, after watching him in his handful of games this year, it is very clear that he has the chance to become a great football player; now he just has to admit to himself that he is not a QB. I am not sure that will happen. His ego is just too big.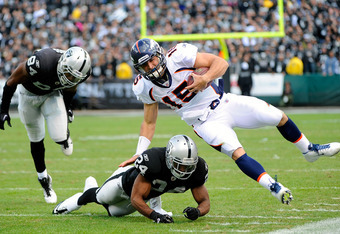 Thearon W. Henderson/Getty Images
So what to do with Tebow? Well, first, I think he has to get dumped by the Broncos. He has no chance of surviving in Denver under the current regime. They want him to fail, and trust me on this, there are conversations in the offices behind the scenes where they are trying to find ways to prove that this guy does not belong as their QB.
They want Luck, but unfortunately Tebow had enough drive to get them a couple of wins and out of the Luck derby. So, they want Landry Jones of Oklahoma or Matt Barkley of USC and they just might suck enough for either of those two players. But, more to the point, they want to prove to the fans that Tim Tebow is not an NFL quarterback.
They know it, but those damn fans with their cult idolization won't let the case rest. Every comeback is inspired by God, and every fault the curse of the non-believers. 
How does Tebow become great? He first admits that he is not a ''quarterback'' as much as a football player.
If he accepts his role as a football player, then he has a chance to do great things. He is a great runner and a big load. He would be great around the goal line and on short-yardage plays. He would probably be a pretty good blocker, a good pass-catcher, and all-around playmaker.
He would give defenses fits if he had a special package designed for him, much like the ''Wildcat'' led by Ronnie Brown while on the Dolphins, or like Kordell Stewart did with the Steelers when he was nicknamed ''Slash."
The problem is, I don't think this can happen in Denver. There is too much ego involved already. Fox and Elway know he isn't an NFL QB and Tebow is desperately trying to prove them wrong. 
Another problem is that no other team can actively pursue him because of all the backlash the team would receive for taking a risk on such a bad NFL QB. The only way to salvage his career then, is for Tebow to announce to the world that he is ready to be a great NFL football player— and willing to play any position on the field.
Until then, he will be considered a failed QB. 
The best case scenario is that the Broncos dump him, his ego is bruised and he signs with a new team knowing he has to prove himself by any means possible. Just as he would have if McDaniels didn't spend a first-round pick on him. Plenty of teams need playmakers, and no doubt Tebow can be one. 
Offensive Experiment
On this note, I have always wanted to install a ''new'' offensive scheme in football and one that would work wonders for Tebow. We already have the ''Spread'' and the ''Wildcat'' where teams use player mismatches to create opportunities. What is the next step?
What would confuse teams more than having two quarterbacks lined up behind center, both having a unique set of skills that require different defensive alignments and players to match up?
When Drew Brees is in the shotgun, you better have your dime package out and be ready to defend the entire field. With Tebow under center or Ronnie Brown in the backfield, you immediately stuff eight in the box, and get ready to plug the holes on the line. 
What if you had a player like Tebow or Terrelle Pryor, guys with mad ball-handling skills, next to a player like Colt McCoy or Alex Smith (not that they are great passers, but they have the ability to make reads and make good NFL passes against a defense that is schematically ill-designed against the pass).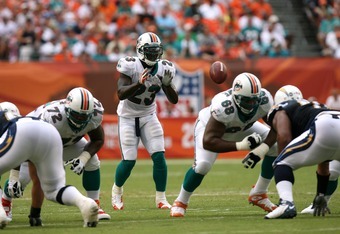 Doug Benc/Getty Images
You line up Tebow and McCoy next to each other, neither directly behind center. Snap to the right, Tebow has the ball and is running up the A gap. Snap to the left and McCoy rolls out to hit the guy on a deep corner route. Without switching in personnel, a team can audible based on coverage and have several different ''packages'' at play. 
True, Tebow is still a below-average passer, and if he gets the ball teams will expect the run, but that plays into your hands, because he still can throw the ball, and if you do it only three to four times a game, you keep the defense honest. If the defense gets sloppy, you let Tebow throw a deep pass.
You may also say that McCoy becomes a wasted player on the field, but that is not necessarily true. As long as the other QB is a guy like McCoy, Smith, Josh Freeman or others who can run, you can pull off a throwback when the defense gets lazy, and spring your QB for a nice gain of 20 down the opposite sideline. 
This is not going to happen now; it is years away, unfortunately, as it still has to move up the ranks before it gains any credibility.
It takes awhile to catch on in high school, then another few in college before it is something the pros will consider. But, just think, if it's third down and five, Tebow and McCoy are in shotgun behind center, what are you going to defend against and what are your options as an offense? Not to mention, the amount of ''film'' time your opponent will be spending trying to defend against all of your different plays. 
The one obvious downfall is that most teams want a guy like Manning, Rodgers or Brady to run the team and to lead them on every snap, and I get that. Who wouldn't want them? And, a guy like Cam Newton alone can do everything a Colt McCoy/Tim Tebow team could. The lucky teams wouldn't need to use this type of system. But, what about the rest of the league? Would the Browns be better? The Cardinals? The Bucs? Of course they would. 
This is not happening anytime soon, but maybe a high school or college coach can start the trend. Unfortunately it will not be in the NFL during Tebow's career. 
Until Tebow admits he doesn't belong behind center, or until we get a free-thinking coach with the ability to create a new offensive scheme that is designed to get the most out of the available players, then Tebow is just a bad quarterback who can't throw consistently in the pass-happy NFL.
A bad quarterback with a very large, vocal and uneducated fan base. A football player who is famous for doing nothing. A guy whose light will shine as bright as Kim Kardashian's, with much ado about nothing.