Oakland Raiders: A Divided House Pits Al Davis' Guys vs. Hue and the Cincy Crew
November 8, 2011
Justin Sullivan/Getty Images
After benching Darrius Heyward-Bey and Kevin Boss, Hue Jackson said Heyward-Bey's offensive packages just didn't factor into Sunday's game plan.
Really, Hue?
I guess the Raiders are going in a new direction. Jackson apparently felt that Al Davis's hand-picked tight end Kevin Boss no longer fit into the Raiders' game plan, either?
The Raiders are a run team, and Boss and Heyward-Bey are excellent blockers. Play them!
Wisdom is experience's best friend. And emotion is the friend of inexperience.
Al Davis, with many years of coaching and GM experience, brought in "his guys."
Hue—with five months of head coaching experience and zero years of GM experience—rids himself of Al's guys to bring back his old Cincy buddies.
Before Al Davis died, he single-handedly selected several players whom he felt fit the Raider mold, such as Darrius Heyward-Bey, Jason Campbell and Kevin Boss—and early in the 2011 season it appeared as if Al made the right personnel decisions in their cases.
However, Hue Jackson has decided that Carson Palmer is the Raiders' franchise quarterback, and Jackson and Carson Palmer have decided that T.J. Houshmandzadeh is the Raiders' possession receiver—and Kevin Boss just doesn't fit into their new game plan.
KA1Z3R, the moderator and author of the prestigious Raiders blog Silver and Black Pride, had this to say about Hue Jackson:
"Hue Jackson would now appear to be playing the game I hate most in football, the game of Favorites. Darrius Heyward-Bey was quickly going from scapegoat to savior. A legit No. 1 receiver on pace for nearly 1,000 yards. He was catching just about everything and being utilized to perfection. But then came along another one of Hue Jackson's old pals from Cincinnati. TJ Houshmandzadeh!"
When asked about his lack of playing time, Kevin Boss responded, "I was surprised… Coach's decision, but yeah, surprised.''
"I've got a lot of confidence in myself and I feel like I can help this team, but, you know, that's something I can't do when I'm not playing,'' Boss said. "But I think that things will work itself out and I feel confident that I'll get back out there and continue to do what I've done in the past and that's make plays and be a solid tight end.''
The Silver and Black Report questioned: "Was playing the best football of [Heyward-Bey's] career the last four contests and being Oakland's most reliable receiver not enough for the speedster to get into many of the packages Hue Jackson used on Sunday?"
Heyward-Bey, apparently upset over Jackson and Palmer favoring other receivers, bolted out of the locker room—missing the Raiders' open locker room session.
"He's a guy that made a lot of catches when it was sticky," Hue Jackson said of his receiver. "With people draped all over him, he made some uncommon plays for us in Cincinnati."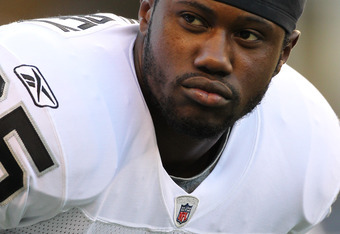 Otto Greule Jr/Getty Images
Update: that was 2007, and this is not Cincy, Hue.
Christopher Harris of ESPN.com had this to say: "T.J. Houshmandzadeh seemed as though he was all over the dang place, getting four targets from his old pal Carson."
The turmoil in Oakland starts at the top. Since Al Davis's passing, Hue Jackson has done everything possible to transform the Raiders into his vision of the franchise, and Al's guys have taken a backseat to Hue's guys.
And Hue's guys are 0-2 right now.
John Clayton of ESPN had this to say: "Palmer may have thrown for 332 yards Sunday, but he threw three picks in a 38-24 loss to the hapless Denver Broncos. Since the Palmer trade, the Raiders have lost back-to-back home games to the Chiefs and now the Broncos. Clearly, the Raiders are out of sync since the trade."
And if the Raiders can't right the ship against the San Diego Chargers, Hue Jackson and his Over The Hill Gang are to blame.