New York Giants
Eli Manning: New York Giants Quarterback Continues to Win Despite All Naysayers
Once again, Eli Manning got the better of Tom Brady on Sunday.
Jim Rogash/Getty Images
November 7, 2011
Can anyone think of a quarterback who has been scrutinized more often in recent memory than Eli Manning?
It all started when Manning refused to play for the Chargers after being drafted No. 1 overall by San Diego in the 2004 NFL Draft, subsequently forcing a trade to the Giants. People saw Manning as "spoiled" or as a "prima donna" for wanting to play for the Giants instead of the Chargers.
People forget that John Elway did the same thing to the Baltimore Colts 21 years prior, but seemingly all is forgiven with him (outside the fans in Baltimore).
He started the final seven games of his 2004 rookie season, and the team went 1-6, finally winning the final game of the season against the Dallas Cowboys. Manning had under a 50 percent completion percentage and a six touchdown to nine interception ratio. Those numbers already had skeptics wondering whether he would become a franchise quarterback worthy of his No. 1 selection.
The next season, despite Manning guiding the Giants to an 11-5 record, all people seemed to remember was his playoff game where they got shutout by the Carolina Panthers 23-0. Manning threw three interceptions in that game.
Despite an 8-8 record in 2006, the Giants still earned a playoff berth but lost in the first round to the Philadelphia Eagles. The doubters began to chirp again: Can Eli Manning win a playoff game?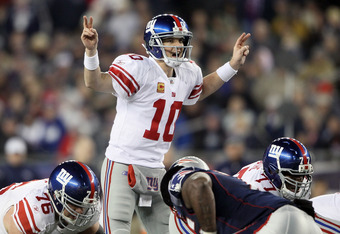 Eli Manning was able to stay poised, despite a late deficit.
Elsa/Getty Images
The 2007 season, Manning guided the Giants to a 10-6 record and a playoff berth. Before the playoffs began, people pointed out that he was tied for the NFL lead in interceptions with 20.
Manning did all he could to prove his naysayers wrong as he went on to win four road playoff games en route to a shocking Super Bowl victory over the historic 18-0 Patriots; Manning was named Super Bowl MVP.
That should shut those naysayers up, right? It didn't quite happen that way. Many people saw the Super Bowl win as a "fluke," and David Tyree being the true hero for what many people know as "the Catch." People ignore that Manning avoided sack after sack, just to be able to get the ball up to Tyree on the Catch. Manning goes down for a sack and the Patriots are celebrating the second undefeated season in NFL history.
Last season, Manning led the NFL with 25 interceptions and the nonbelievers started calling Manning turnover prone. People ignore that he also threw for 4,002 yards and 31 touchdowns, and led the Giants to a 10-6 record. They point out the interceptions as a reason why he is still not an elite quarterback.
Sunday against the Patriots, Manning threw a bad interception in the third quarter—same old Eli was what his detractors were thinking. Did that costly interception at the time stay on Manning's mind?
It sure didn't seem like it. Manning drove the Giants 85 yards for a touchdown late in the fourth quarter to give the Giants a four-point lead.
On a fourth-down play, Tom Brady struck back for a touchdown to get the Patriots right back to a three-point lead.
With 1:36 left, the Giants should be thinking about a field goal to send the game into overtime, right? Don't tell Eli Manning that. Starting at the Giants 20, Manning drove the Giants all the way down to the Patriots' 1-yard line, before finding tight end Jake Ballard on a perfectly placed ball in the end zone for the game-winning touchdown.
The win ended the Patriots' 20 game home regular season win streak and Tom Brady's 31 game home regular season win streak.
Maybe those who don't believe in Manning need to stop looking for reasons to not believe in him—look at the facts.
He has not missed an NFL start since his first start his rookie season in '04. That gives him 111 consecutive regular season starts—the highest active mark and tied for fourth-most ever for a quarterback.
He also has a 65-39 regular season mark if you take away the seven starts his rookie season, for a 62.5 percent winning percentage.
And how can anyone forget he achieved what is the ultimate pinnacle for a NFL player: WINNING THE SUPER BOWL.
So everyone needs to stop looking for his flaws and notice Eli Manning for what he is: a quarterback who shows up every Sunday to play, and more importantly, a winner.
Like the new article format? Send us feedback!